Holiday Outfit Safety Tips
Find the Right Fit
Fit is important so that your pet does not trip on their outfit or snag it on something. Sizing is generally based on a weight range, but there is a wide variety of body shape among different breeds that should also be taken into consideration. Some pet clothing can also be sized by taking measurements of your pet's neck, chest, and body length, as demonstrated in this video from Chewy.
Collars should fit snugly but not too tight. If you can't slide a finger under the collar it needs to be loosened. You should be able to snugly yet comfortably slide two to three fingers between the neck and collar. Any looser than that and a paw or limb could get stuck. 
Watch for Loose Strings or Small Parts
Any small bells, pom poms, or tinsel, if ingested, have the potential to cause gastrointestinal upset or in the worst case scenario an intestinal obstruction. If an object becomes lodged in the intestines causing a blockage, this is a medical emergency that requires immediate surgery. Linear foreign bodies (such as strings and tinsel) are especially dangerous for cats if they become stuck under the tongue or elsewhere in the GI tract. 
Always Supervise
Your pet should always be supervised while wearing their holiday attire. If left alone it's possible for clothing to become snagged, stuck, or chewed up. 
Breakaway Collars for Cats
Breakaway collars are the safest option for cats, as they have a safety latch that will release if the collar is pulled tight, preventing injury or choking. While elastic collars may seem like a good alternative, they are less safe as they can get stuck around your cat's mouth or limbs. 
Pay Attention to Your Pet's Body Language
Most dogs and cats are not used to wearing clothes. Depending on your pet's temperament and tolerance, they may feel scared and overwhelmed by something new on their body. If your pet is showing signs of anxiety it may be time to abort your mission or at the very least take a break and try again later. 
Signs of anxiety in dogs include panting, lip licking, furrowed brow, whining, backing away, making their body smaller, refusing treats or food, etc. 
Signs of anxiety in cats include ears to the side, small/low body posture, dilated pupils, vocalization, moving away, hiding, excessive grooming, etc. 
Take Your Time
If there is a specific event that you plan to dress your pet for, don't wait until that morning to put on their outfit for the first time. Instead give them ample time to explore the costume beforehand by leaving it somewhere they can see and smell it. Then get them used to wearing part of all of the costume for short periods of time. Be sure to go slowly and use lots of positive reinforcement like praise and treats. This should help things go smoother on the big day. 
Holiday Outfits for Dogs
There's not much cuter than a pup decked out in a cozy holiday outfit! Check out some of these recommendations to help your furry friend join in the festivities while looking like a top dog.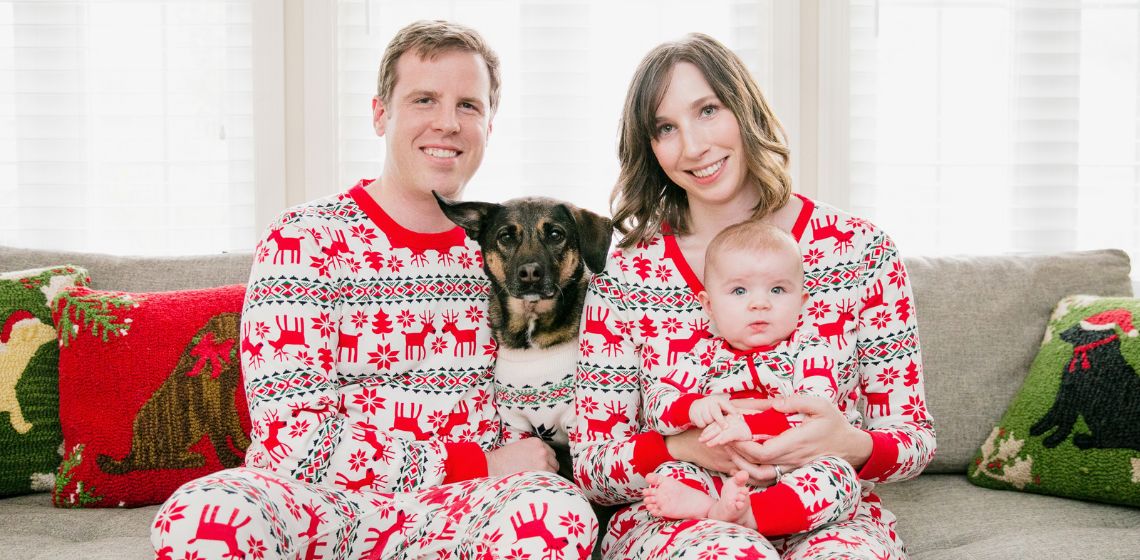 Matching Family Pajamas
Cozy pajamas are the best! We are a pajama-loving family, which means matching pajamas every year at Christmas. And yes, we have included our dog Izzy in this tradition as well. There are many options available in a wide range of price points to suit your budget and style.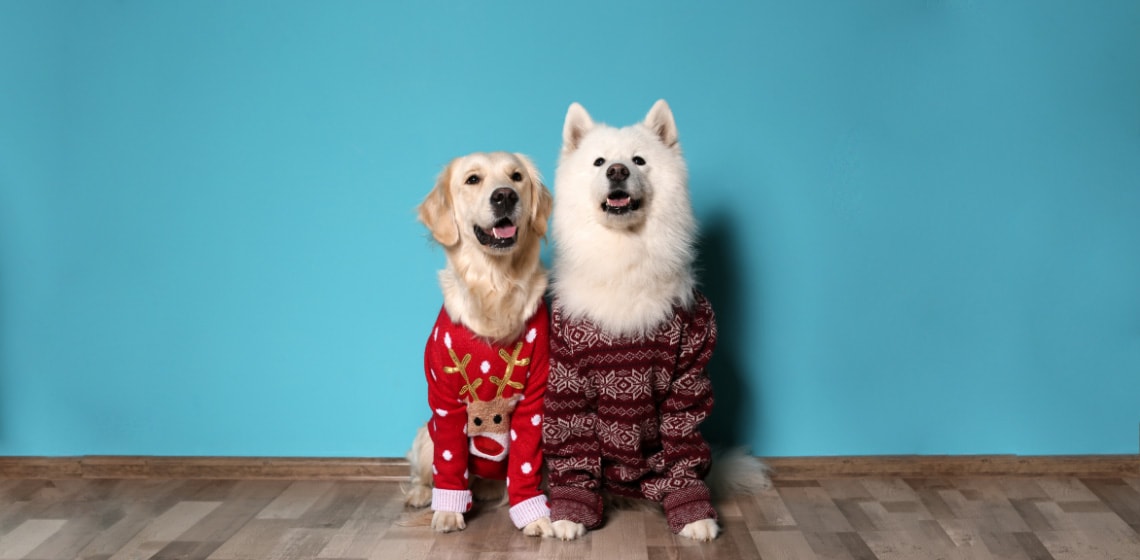 An Ugly Christmas Sweater 
This one speaks for itself and the options are hilarious and unlimited. 
A Personalized Bandana
A bandana can be extremely festive and is generally well tolerated by most dogs. Consider adding their name to make it extra special.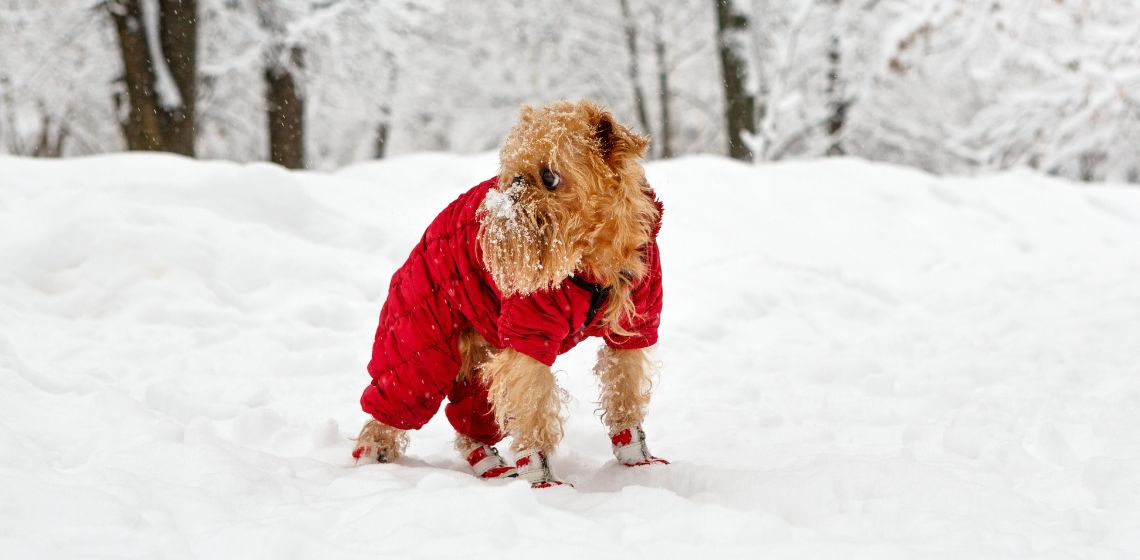 A Cozy Winter Coat and Booties
Just like us, dogs vary in their tolerance for cold. This may depend on their age, breed, any underlying health conditions, and personal preference. While a Husky may thrive in a snowy environment, smaller breeds with shorter fur coats will not. If you live in a colder climate consider keeping your pup warm and cozy on walks with a fashionable and useful winter coat. This Wirecutter picks will be sure to keep them warm and dry.

Booties can also help protect paws from snow, ice, salt, and de-icer.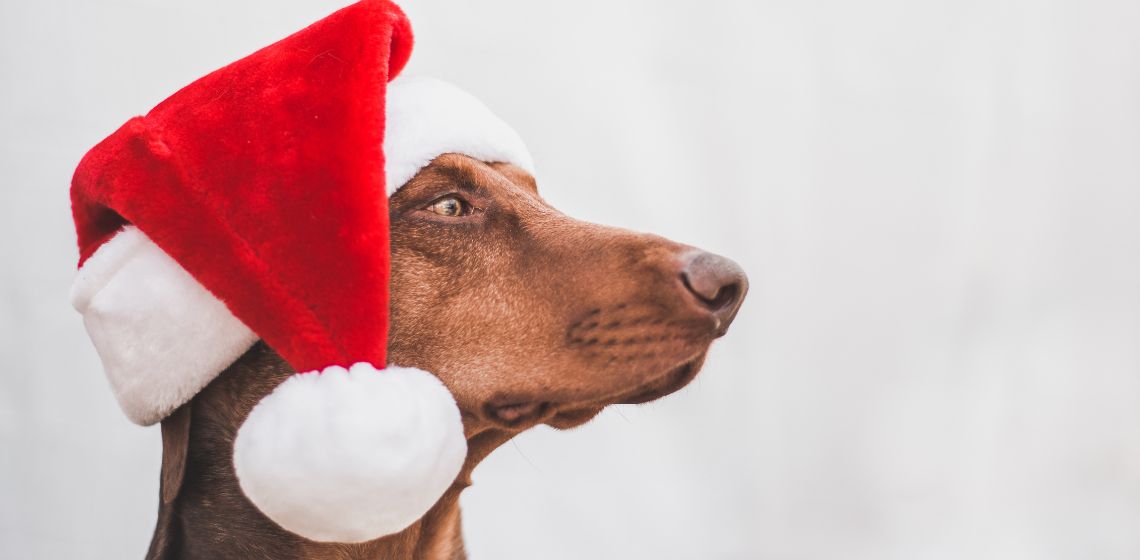 Here Comes Santa Clause
This type of costume is always a favorite, and comes in many varieties from Santa to Snowman to Reindeer, and more.
Holiday Outfits for Cats
Understandably, cats may be less tolerant of being dressed up than their canine counterparts. But there's no reason to leave them out of the festivities. If you do opt to dress your cat, even in something as minimal as a collar, be sure to go slow and use lots of positive reinforcement. If a cat isn't used to it, wearing something on their body can be scary and upsetting. Even bells may be too much for a fearful feline. If your cat isn't sharing your holiday spirit, don't force it – there are many other ways to include them in the holiday instead (keep an eye out for our upcoming articles).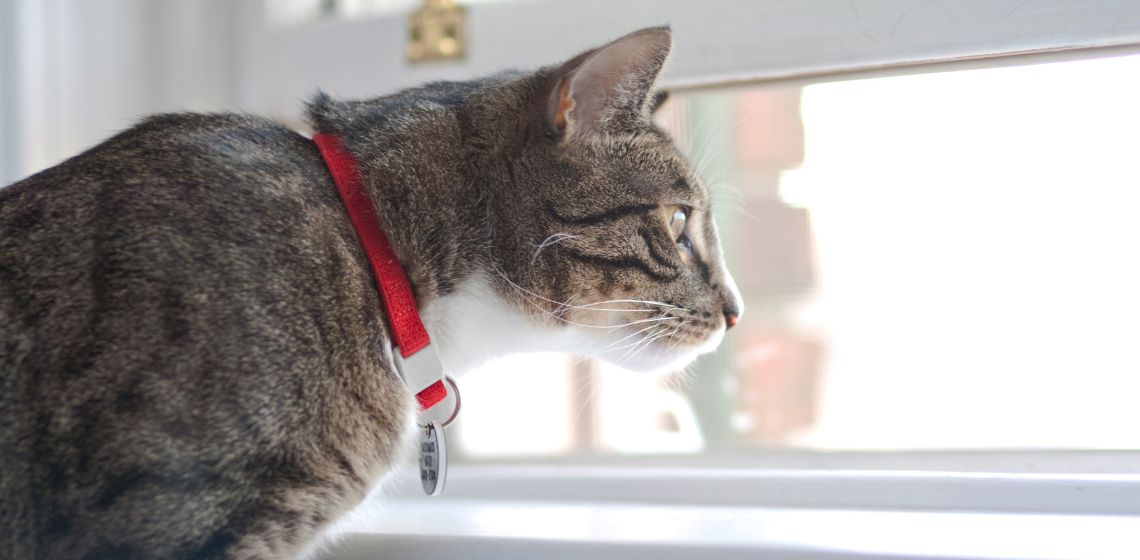 A Festive Collar
A festive collar is a great way to include your cat without overwhelming them too much. Cats should only wear breakaway collars. Feisty felines are notorious for climbing, squeezing through tight areas, and performing other activities where a collar could easily get caught. A breakaway collar will open, releasing your cat, while a traditional collar may get stuck leading to serious injury or choking. Consider something like this: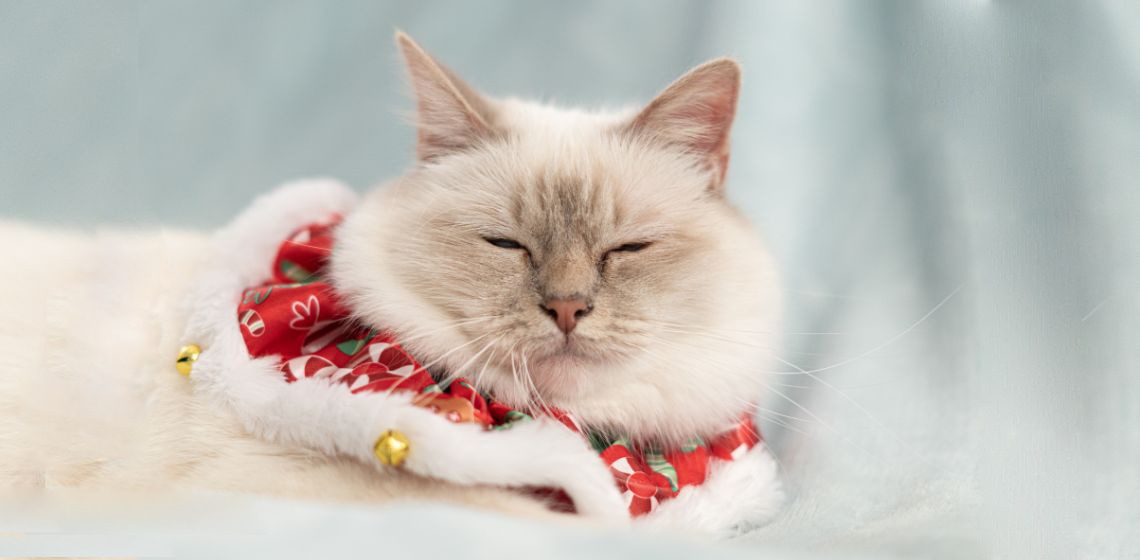 A Christmas Cape
If you and your cat are up for it, why not go all out! Something like a cape may be better tolerated by some cats than a full-body outfit.