Keep reading to learn the difference between vomiting and regurgitation, the potential causes of vomiting in dogs, what the color of your dog's vomit can reveal, and how you can support your dog at home during recovery.
Is My Dog Vomiting or Regurgitating?
A common concern from pet owners is, "my dog is throwing up," or "my dog just puked." Most people will assume this means their dog is vomiting. However, as a veterinarian, my first goal is discerning whether the dog is vomiting or regurgitating. This may seem like semantics but distinguishing between these two processes is crucial because the possible underlying causes for vomiting and regurgitation are very different.  
I recommend thinking of vomiting as active and regurgitation as passive. In other words, there is a considerable amount of visible effort associated with vomiting but not with regurgitation. Vomiting is usually characterized by forceful, abdominal contractions. Vomiting is also more likely to be accompanied by nausea, whereas regurgitation is not. In dogs, nausea can look like excessive drooling or lick-lipping.
Why Did My Dog Throw Up?
Vomiting can have a wide range of underlying causes. To help identify the cause, your veterinarian will ask you a series of questions about your dog's history and the nature of his vomiting. For example, your dog's age, diet, duration of vomiting, presence of other symptoms (e.g. diarrhea), and character of the vomit all help with diagnosis.
There are many potential causes of vomiting in dogs and while some of them will resolve on their own, other diseases are serious and potentially life-threatening. Therefore, it is ideal to consult your veterinarian as soon as your dog starts vomiting.
The different causes of vomiting in dogs can be organized into several categories. Please note that this is not an exhaustive list of all of the potential causes of vomiting in dogs.
Gastrointestinal diseases (disease within the stomach or intestines) causing vomiting in dogs:
Foreign body (e.g. toy lodged in the intestines)
Dietary

Indiscretion (getting into the trash or eating fatty table scraps)
Abrupt diet change
Adverse food reaction or food allergy

Infectious

Parvovirus
Food-borne illness (e.g. Salmonella)
Parasites (e.g. hookworms, roundworms)

Inflammatory bowel disease
Intestinal cancer
GDV (gastric dilatation volvulus aka "bloat" or twisting of the stomach)
Intussusception (telescoping of intestines)
Motility disorder (abnormal stomach and intestinal contractions)
Non-gastrointestinal diseases (diseases affecting organs other than the stomach or intestines) causing vomiting in dogs:
Pancreatitis (inflammation of the pancreas)
Hepatitis (inflammation of the liver)
Pyometra (infection of the uterus)
Infected abdomen (i.e. as a complication after surgery)
Systemic diseases (diseases affecting the entire body) causing vomiting in dogs:
Metabolic (e.g. Addison's disease, elevated calcium, chronic kidney disease)
Toxic (e.g. ethylene glycol in antifreeze)
Drug-induced (e.g. chemotherapy)
Nervous system diseases causing vomiting in dogs:
Meningitis/encephalitis (inflammation of the spinal cord or brain)
Vestibular disease (balance disorder)
As you can see, the potential causes of vomiting in dogs are extensive. But one of the most common causes we see in veterinary medicine is dietary indiscretion. This essentially means your dog ate something he normally should not, such as garbage or fatty, table food. Dietary indiscretion can cause gastroenteritis (inflammation of the stomach and intestines) and possibly pancreatitis (inflammation of the pancreas), both of which can induce vomiting. Similarly, I commonly see dogs vomit when their diet has been changed too abruptly. Thus, if you plan to switch your dog's food, please transition gradually over several days.
Common causes of regurgitation in dogs:
Eating too fast or too much
Anxiety, excitement, or over-activity after eating
Esophagitis (inflammation of the esophagus)
GERD (gastroesophageal reflux disease)
Megaesophagus (dilation of the esophagus)
Types of Vomit in Dogs
It may not be pleasant, but we can learn a lot by taking a closer look at our dog's vomit. The consistency and color of the vomit can reveal helpful clues.
First, we need to consider your dog's diet, including treats and any human, table food. If your dog's food is a specific color, please consider this when evaluating his vomit. Additionally, has your dog recently gotten into something he should not have? Are any toys missing?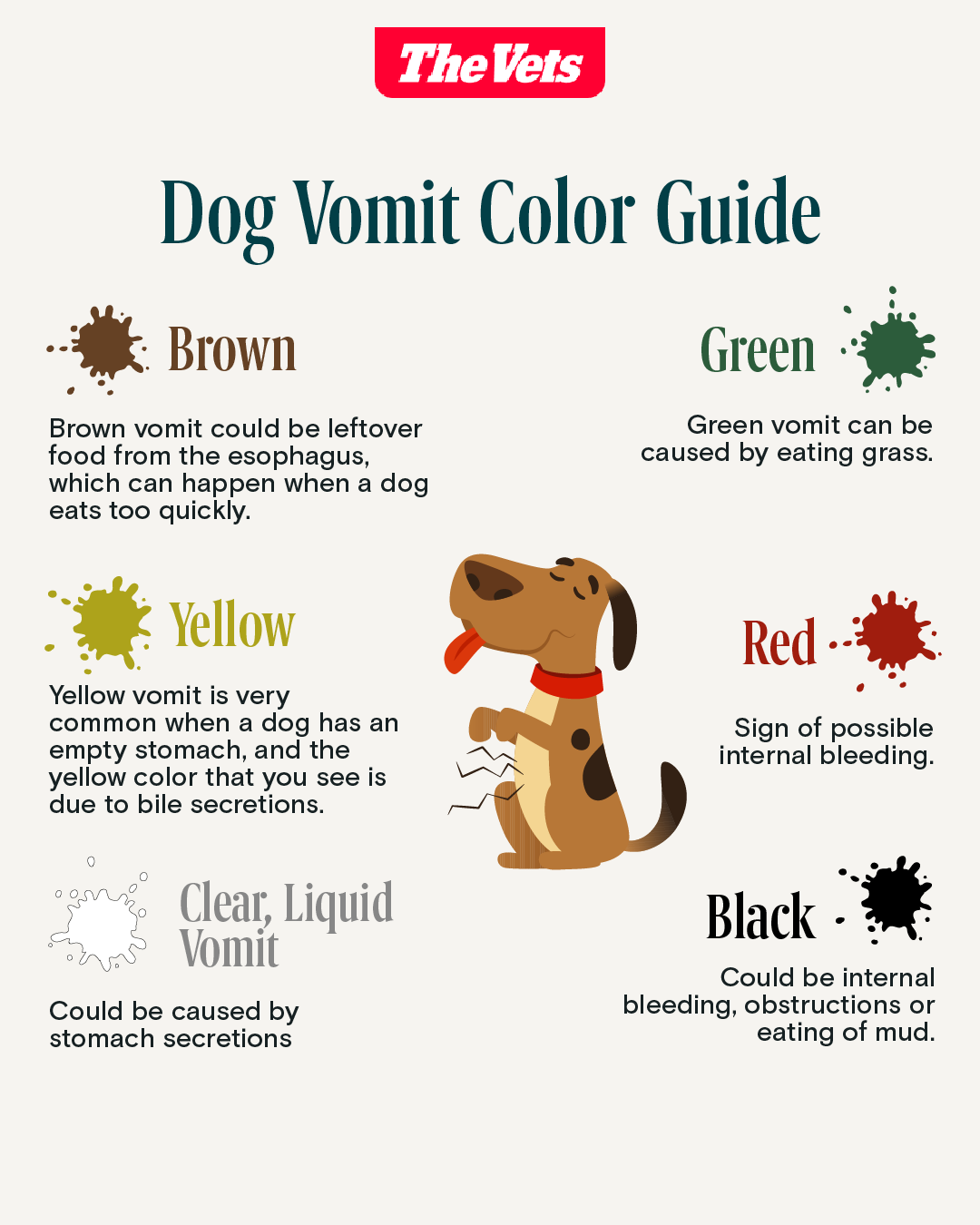 Yellow Vomit
Your dog's vomit will commonly be yellow due to bile. Bile is made by the liver and stored in the gallbladder. It is a yellow to green colored liquid, which helps with digestion. Yellow vomit may occur in dogs with bilious vomiting syndrome.
Green Vomit
If your dog's vomit is green and mostly liquid, the culprit may be bile. Another reason your dog's vomit could be green is grass, which dogs may eat when they are nauseated.
Brown Vomit
Most dog food is brown. Therefore, your dog's vomit may be brown due to undigested food, which will also be reflected by the texture of the vomit. Another disturbing cause of brown vomit is coprophagia, or eating feces.
White, Foamy Vomit
If your dog hacks up white foam, it may not actually be vomit. For example, dogs with kennel cough often have a terminal retch after a coughing fit when they can produce white, foamy phlegm.
Red Vomit
If you see red in your dog's vomit, call your veterinarian as soon as possible. This is because red or pink vomit may indicate blood. Undigested blood is red. Bloody vomit may happen for a variety of reasons, including a bleeding disorder or stomach ulceration.
Clear, Liquid Vomit
Your dog's vomit may be clear and liquid due to water. This may occur in dogs who drink a lot of water at once, especially if they get excited or are active shortly after drinking. Clear, liquid vomit usually indicates that your dog has not eaten in several hours.
Black Vomit
Ingesting dirt or mulch may cause black vomit. However, if your dog's vomit resembles black, or dark, brown, coffee grounds, it may be digested blood. Whether it is digested or undigested, blood in your dog's vomit is cause for concern and requires urgent veterinary care.
Mucus or Slimy Vomit
If your dog's vomit looks like slimy mucus, it may be from excessive saliva. Nausea is a common reason dogs will salivate or drool more.
Chronic Vomiting in Dogs
In terms of duration, vomiting is typically considered chronic if it lasts longer than three days. Even if the vomiting is intermittent, chronic vomiting deserves further investigation by your veterinarian. Long-term vomiting can result in malnutrition and weight loss. Furthermore, the vomiting may be due to a sinister underlying cause. Chronic vomiting typically requires advanced diagnostic tests such as abdominal ultrasound, endoscopy, intestinal biopsies, or specialized bloodwork.
Home Remedies for the Vomiting Dog
If your dog vomits, I recommend a visit to your vet. Your dog may require tests, hospitalization, and medications, which can only be administered by your veterinarian. However, your vet may determine that at-home care is appropriate in certain cases.
For example, with dietary indiscretion, vomiting often gradually improves with dietary management. Most vomiting dogs benefit from a bland, low-fat, easily digestible diet. There are several veterinary prescription diets available, which are appropriate. But if you prefer a home-cooked option, I recommend cooked white rice and plain, unseasoned boiled chicken. It is important to avoid all treats and human, table food while your dog is recovering. Additionally, smaller, more frequent meals will be more gentle on your dog's stomach.
Something else that may aid in your dog's recovery is probiotics. There are several veterinary probiotics available, which can help reset the normal, healthy bacteria in your dog's gut.
When to Seek Veterinary Care If Your Dog is Vomiting
As we have discussed, there are some diseases associated with vomiting, which are life-threatening. Examples include an intestinal foreign body, GDV or bloat, and parvovirus. Therefore, it is always better to be safe than sorry. If you have any concerns about your dog's health, I always recommend consulting your veterinarian as soon as possible.
But in general, there are certain situations when you should be concerned about your dog throwing up. For example, if your dog vomits more than once or cannot keep food down, you should consult your veterinarian. If your dog has other symptoms, especially lethargy, abdominal pain, or fever, he may have a more serious condition. If your dog's vomit is red or black, he should see a veterinarian urgently since bloody vomit is concerning. Additionally, if your dog has a tendency to chew or eat toys, he may have a greater chance of vomiting due to a foreign body — this would be a medical emergency requiring surgery.
It is difficult to evaluate the severity of a dog's vomiting solely based on the color of his vomit. That being said, solely judging the color of a dog's vomit, red or black vomit almost always warrants immediate veterinary evaluation.
Many factors, such as the duration and frequency of the vomiting, as well as the presence of other symptoms, all help determine the gravity of the situation. More than one episode of vomiting, red or black vomit, and the presence of other symptoms should prompt immediate veterinary assessment.
The color of vomit from a dog with parvovirus can vary. However, vomit associated with parvovirus may have a very foul odor to it. Rather than assessing the color of your dog's vomit, consider if he is at higher risk based on his age and vaccination status. An unvaccinated puppy throwing up is more likely to be suffering from parvo.