Yeast infection can be very itchy and unpleasant for our dogs, and often smell rather bad, too! Many different things can cause them, and it's important for your veterinarian to work out why your dog has developed this infection as well as treat it. Thankfully there is a range of effective treatments available, both to treat active infections and to reduce the risk of future issues.
Severity:
Mild to moderate
Key points
All dogs naturally have a small amount of yeast on their skin and in their ears, but in some cases, this yeast can overgrow and cause problems
Most yeast infections are caused by an underlying health condition, such as skin allergies or a hormone condition
Your vet will need to run tests to work out when a yeast infection is present, and to determine what underlying health condition has caused it
There are several different treatments available, depending on how much of your dog's body is affected.  
Common in
Dogs of all ages, especially those with skin allergies
Dogs Yeast Infection Symptoms & types
Most yeast infections in dogs are caused by Malassezia pachydermatis. This is a type of yeast that is naturally found living on dogs' skin in small numbers and usually causes no problems. 
However, if a dog's skin is weakened for some reason, then these yeasts may start to grow out of control. This can cause irritation and inflammation in the skin, leading to the symptoms of a yeast infection. These include:
Redness
Itchiness
Flaky skin
Crusts forming over the skin
Thickening and hardening of the skin
A musty smell 
Yeast infections are common in dogs and are usually caused by an underlying issue such as a skin allergy or hormone condition.
Yeast infections are most common on the skin of the torso (particular in the groin or armpits) or in the ear, but they can happen anywhere on the body. 
However, none of these symptoms are specific to yeast infections. This means that your veterinarian will need to run tests to confirm whether a yeast infection is present. 
Possible Causes
Many different health conditions can weaken the skin and lead to a yeast infection. These include:
Understanding the diagnostics
Your veterinarian will need to run some tests to diagnose your dog with a yeast infection, which involves taking samples from the infected area. They will also need to run some different tests to work out what has caused your dog to develop a yeast infection.
You must see a veterinarian if you are worried about your dog, or if the mucus in their stools doesn't resolve after a day or two.
Diagnosing the infection
Cytology
Your veterinarian can take a sample from the infected area using either a cotton swab or some sticky tape. They will then stain the sample with a special dye, place it on a slide, and examine it under a microscope. If they see large numbers of yeast cells in the sample, then it is likely that your dog has a yeast infection.
Culture
Using a sterile swab, your veterinarian can take a sample from the infected area and send it off to an external laboratory. They will attempt to grow any bacteria or yeast that are present in the sample, and then identify them so that they can be treated. 
This is usually more expensive and time-consuming than using cytology but allows your veterinarian to check for any bacteria at the same time. It is common for bacterial infections and yeast infections to happen at the same time, and choosing the right antibiotic for the bacteria is very important.
Most yeast infections are caused by an underlying illness, such as a skin allergy or a hormone condition.
Diagnosing the underlying cause
There are many different tests that your veterinarian may recommend to diagnose the underlying cause, depending on exactly what illness they think is most likely. These are some of the most common ones. 
Blood tests
A general blood panel can be used to look for signs of an underlying illness that might be affecting your dog's immune system and causing the yeast infection. There are also specialized blood panels available to check your dog's thyroid gland. 
Hyperadrenocorticism (Cushing's disease) requires a dynamic blood test to diagnose. This involves taking one blood sample, then giving your dog an injection of a synthetic hormone and taking another one or two blood samples some time later to measure how their body responds. Your dog will usually need to stay at the clinic while this test is being done.
Biopsy
Taking a biopsy of the skin can sometimes be useful to check for other causes of itchy skin, or to look for an underlying condition that might cause a yeast infection. This is usually done under sedation or general anesthesia and involves using a sharp "punch" tool to take several circular samples of skin. These are then sent to the lab for examination.
Allergy testing
If your veterinarian suspects that a skin allergy ("atopy") may be the cause of your dog's yeast infection, then they may suggest some special testing for allergies. This may be a blood test, which can normally be done by your regular veterinarian, or an intradermal skin test, which is usually done by a veterinary dermatologist.
If the underlying illness is not treated, then it is likely that the yeast infection will keep coming back.
Learning About The Causes
Many different illnesses can cause your dog to develop a yeast infection. These are some of the most common ones.
Skin allergies
Skin allergies are very common in dogs, and certain breeds are at a higher risk due to their genetics. Allergies may be triggered by food, or by things in the dog's environment, such as pollen, dust mites, or fleas. They cause inflammation in the skin, which weakens it and causes it to become "leaky." This makes the skin itchy and allows bacteria and yeast to overgrow, which is even more irritating. 
Hypothyroidism
This is a hormone condition that is most commonly seen in middle-aged dogs, where the thyroid gland gradually stops working properly. This leads to low levels of thyroid hormones in your dog's blood, which can have effects throughout the body. This includes thinning and weakening of the skin, and also weakening of the immune system. Both of these can lead to yeast infections. 
Hyperadrenocorticism (Cushing's disease)
This is another hormone condition that is usually seen in older dogs. It is caused by a growth in your dog's pituitary gland or adrenal gland, which leads to high levels of a hormone called cortisol in your dog's body. 
Cortisol has many different effects, including weakening the immune system and making the skin thinner and more fragile. These changes make it more likely that your dog will develop a yeast infection.
Scaling disorders
These are a group of genetic conditions where the outer layer of the skin does work properly. This leads to flaky skin, and sometimes an oiliness, too. These changes mean that dogs are more likely to develop skin infections, which includes yeast infections. 
A weak immune system
Many different serious illnesses will weaken your dog's immune system, meaning they are no longer able to fight off infections properly. These illnesses include:
Cancers
Kidney disease
Liver disease
Inflammatory bowel disease
Heart disease
Yogurt is not effective at treating yeast infections in dogs. In fact, many dogs are lactose intolerant, so feeding them yogurt may cause an upset stomach.
Best Treatment Options
The best kind of treatment for a yeast infection will depend on where the infection is, and on how much of the dog's body is affected.
Ear drops
Medicated ear drops are often the best treatment for yeast infections in the ear. These drops usually contain an antibiotic, an antifungal (which will kill the yeast), and a steroid medication to soothe the inflammation in the ear. 
These treatments are usually very effective and have few side effects as long as the dog's eardrum is intact.
Ointment
If your dog has a small patch of skin that is affected by a yeast infection, then your veterinarian may prescribe a cream or ointment for you to use. This may just contain an antifungal medication, or it may also contain an antibiotic and a steroid, similar to the ear drops mentioned above.  
You should always wear gloves when applying these kinds of ointments to your dog's skin.
Shampoo
If large areas of your dog's skin are affected by a yeast infection, your vet may recommend a medicated shampoo for you to use. These usually have to be applied and they stay on the dog's skin for a few minutes as a lather before being rinsed off. 
Initially, these may need to be applied quite often, but in the longer term, they can be used once every few weeks to prevent an infection from coming back.
Oral medication
For serious or long-term yeast infections, your veterinarian may recommend an oral anti-fungal treatment. These may be tablets, capsules, or liquids, and may be given every day or only a couple of times a week.
These treatments can be very effective, but many antifungal medications can affect the liver, especially if used at high doses or for a long time. Your veterinarian will do regular blood tests to check your dog's liver function, both before and after they start the medication.
Conclusion
Yeast infections can be irritating to our dogs. They are often caused by an underlying health condition and may keep coming back if this condition is not treated properly, especially in the summer season. There are many different treatment options available, but most infections can be managed without the need for oral medications.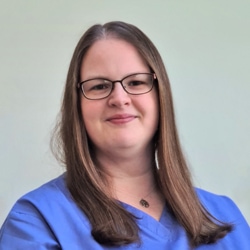 Ruth graduated from Cambridge in 2014 and has worked as a small animal GP vet ever since. She is particularly interested in internal medicine, as it combines her love of problem-solving and her somewhat geeky love of knowledge, and has completed her certificate in Small Animal Medicine. She loves animals of all species but is particularly fond of cats.