Hair loss in dogs is a common concern for pet parents and may be accompanied by other skin problems such as itching, scratching, or redness. There are many reasons why your pup might be losing their fur, some mild and easily treatable, others linked to more severe medical conditions that require long-term management. Regardless, getting the correct diagnosis from a veterinarian is crucial for a successful outcome.
Severity:
Mild to moderate to severe
Key points
Requires diagnosis by a veterinarian
Other symptoms may include itching, redness, or pain
Transmission is possible between animals or between animals and people in some cases
Resolves in days to months or may require lifelong treatment or management
Diagnosis requires a physical examination and/or laboratory tests, skin scrapes, cytology, culture and sensitivity, biopsy.
Common in:
Dogs of any age, gender, or breed. Sighthounds such as Greyhounds or Whippets may be genetically predisposed to hair loss and thinning. Seasonal hair loss is also common in Boxers, Airedale Terriers, English Bulldogs, Schnauzers, and French Bulldogs.
Symptoms and types:
It is important to remember that shedding fur (molting) is normal for dogs throughout the year. The extent of fur loss can vary depending on genetics, breed, coat type, season, and even hormonal fluctuations. Hair loss (alopecia) in dogs is considered a problem when bald patches or areas of thinning begin to form, and/or your dog is showing other signs of illness, discomfort, or stress. 
The following signs may be associated with hair loss and should be reported to your veterinarian to help them make a diagnosis:
Itching and scratching
Red and inflamed skin
Flaky skin 
Sores, scabs, or wounds
Skin lumps (masses)
Excessive grooming, licking, or chewing
Weight gain or loss
Increased thirst
Lethargy or behavior changes
Rashes or other skin problems on other pets or family members.
Seasonal hair loss known as season flank alopecia may also occur in certain breeds like Boxers, Bulldogs, Schnauzers, and Airedale Terriers.
Understanding the diagnostics
As there are many different causes for hair loss in dogs, a visit to your veterinarian is required to make a diagnosis so that the underlying cause can be treated properly. In many cases, the hair loss is temporary and will improve with treatment, but not always.
Case history
Your veterinarian will start by taking a thorough case history, including questions about your pup's environment and diet. They will then perform a thorough physical examination, which will often include checking for fleas with a flea comb. From here, your vet may recommend further diagnostic testing, depending on your pet's symptoms and history.
Skin scrape
A diagnostic test that is commonly performed on dogs with hair loss is a skin scrape to diagnose mites or "mange." This involves gently scratching the surface of the skin with a scalpel blade to collect a sample, which is then examined under a microscope. Your veterinarian may also collect surface samples of skin cells (cytology) to look for an overgrowth of bacteria or yeast.
In cases of severe infection, samples may be sent for culture and sensitivity to further identify the bacteria present and help guide antibiotic selection. It may also be necessary to take a biopsy (surgically remove a small piece of tissue under sedation or anesthesia) to help make a diagnosis. 
Bacterial infections, such as hot spots, will often result in patches of hair loss, as will fungal infections like ringworm.
Wood's lamp (UV light) examination
A Wood's lamp examination is another simple in-house test where a blue UV light is used to help detect ringworm. Ringworm is a fungal disease and certain species will glow green under UV light, although a negative result does not rule it out. If your vet is still suspicious they may recommend sending samples off to the laboratory for a fungal culture to confirm. 
Possible blood tests
If your veterinarian is concerned that your dog is showing signs of a hormonal disorder such as Cushing's disease, they will recommend blood tests. If they are more suspicious of skin allergies, they may recommend referral to a dermatologist for intradermal allergy testing (IDAT). 
Learning about the causes
Allergies
One of the most common causes of hair loss in dogs is skin allergies. Triggers in dogs include food and fleas, but many pups also suffer from atopic dermatitis or increased sensitivity to environmental allergens such as pollen or dust mites. Identifying the trigger can be challenging and it's important to work with your veterinarian to help keep your pet as comfortable as possible. 
Infection
Bacterial infections, such as hot spots, will often result in patches of hair loss, as will fungal infections like ringworm. Ringworm is a contagious disease that may spread to other animals or humans. Infection may also occur secondary to an underlying cause if your pup is constantly licking, chewing, or traumatizing the skin.
It's best to avoid applying anything to red, inflamed, or itchy skin without speaking to your veterinarian first.
Parasites
External parasites such as fleas, mites, or lice can also cause hair loss in dogs. This is caused by self-trauma from itching and biting, as well as inflammation of the hair follicle and weakening of the hair by mites in particular.
Hormonal disorders
Medical conditions that affect the endocrine system (glands that produce hormones) can also result in hair loss. One of the most common endocrine diseases in dogs is Cushing's disease (hyperadrenocorticism) and other typical signs to look out for are a pot-bellied appearance, increased thirst, and increased urination.
Hypothyroidism or an underactive thyroid gland is another common cause, with additional signs of weight gain, lethargy, and darkened skin frequently seen in dogs. Dogs may also experience temporary hair loss during pregnancy or nursing.
Seasonal flank alopecia
During the cooler seasons, some dogs may lose patches of hair over their flanks. This hair loss is considered harmless (no pain, inflammation, or disease present) and the hair starts to grow back in the springtime. The reason for seasonal alopecia is unknown but is thought to be linked to hormones and changes in day length. Breeds that tend to be affected include Boxers, English Bulldogs, Schnauzers, French Bulldogs, and Airedale Terriers.
Genetics
Certain breeds have been selected for hair loss, such as Mexican Hairless or Chinese Crested dogs. Other breeds are more likely to develop fur loss or thinning such as Greyhounds, Whippets, Dobermans, Dachshunds, and Chihuahuas. 
As there are many causes for hair loss in dogs, treatment depends on the correct diagnosis of the underlying cause by a veterinarian.
Best treatment options
Treatment options will vary depending on the underlying cause of the hair loss, which is why a visit to your veterinarian is crucial. For example, once identified, flea and food allergies can be managed with stringent use of flea prevention and a hypoallergenic diet trial respectively, but atopic dermatitis requires lifelong management with allergy medications. 
Antibiotics and antifungals are also commonly prescribed to treat cases of infection, and these may be tablets or topical solutions to be applied directly to the skin.
For hormonal diseases, such as hypothyroidism, lifelong medication and regular blood tests are required for treatment.  
Home remedies and their effectiveness
It's best to avoid applying anything to red, inflamed, or itchy skin without speaking to your veterinarian first. If your dog is licking their skin excessively, an Elizabethan Collar can be used to deter them until your appointment.
When to see a vet
All cases of fur loss are best seen by a veterinarian as the causes are so wide and varied, and the skin may be itchy or even painful in some cases.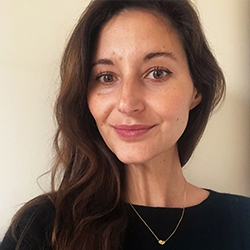 Ellen is an Australian vet who is currently combining her love of writing with traveling and working across the UK as a relief vet. Ellen graduated from the University of Melbourne in 2012 and is passionate about all things small animal health. Since graduating she has worked in clinical practice, including at a university teaching hospital in New Zealand. Ellen is currently based in Somerset and in her free time enjoys yoga, reading, travel, and modern calligraphy!