It's never pleasant when we find creepy crawlies on our furry friends. From fleas and ticks to roundworms and tapeworms, dogs are prone to getting extra 'passengers' if they are not regularly treated with parasite control treatments. So, what if you spot a tick on your canine companion? What should you do?
What is a tick?
Ticks are a type of parasite which feed on blood. Adult ticks have four pairs of legs, and they vary drastically in appearance before and after a feed. Males are typically smaller than females and have a hard shell. This shell stops them from engorging as much as female ticks, who reach a substantial size after feeding. They are common in long grass, forest, or moorland areas and are most active in the Spring and Autumn months. If your dog is walked in areas where ticks are present, they will attach to your dog to feed. They remain attached for the duration of their feed, which could be days or over a week. Once they have fed, they often detach on their own to continue their life cycle in the environment.
Ticks can carry diseases that can be very serious. In addition, if your dog has a large number of ticks feeding on their blood, it could cause them to be anemic.
Can ticks make a dog unwell?
So, if ticks naturally fall off after feeding, you might wonder why they are a problem. However, ticks can carry diseases that can be very serious. In addition, if your dog has a large number of ticks feeding on their blood, it could cause them to be anemic.
The diseases that a tick might carry depend on the location. In the US, there is some variation between states since the climates vary so much. However, some of the most common tick-borne diseases are Lyme Disease, Babesiosis, Ehrlichiosis, and Rocky Mountain Spotted Fever. The symptoms of these diseases can include fever, joint pain, bleeding, swollen lymph nodes, poor appetite, and anemia, and sadly they can be fatal.
As well as having the potential to make your pooch unwell, some tick-borne diseases also infect humans, making it even more important to take precautions.
How do you remove a tick from a dog?
If you spot a tick on your dog, you might want to consider removing it. However, it's not always easy because ticks seem to find the most awkward areas to attach, like behind your dog's ears, on their face, or in their armpits or groin. When removing a tick, it's essential to remove the whole tick, but it's easy to leave the tick's head or mouthparts behind if your dog is wriggling. If the mouthparts remain embedded in your dog's skin, an infection may develop.
The best way to remove a tick is with a tick fork. These two-pronged tick twisting devices allow the tick's mouthparts to 'unscrew' so that the tick is removed as a whole. To use a tick fork, slide the fork under the tick so that the prongs are on either side of the tick's attachment. Then, twist the device without pulling it until the tick comes away. You can then check the tick to see that it's been fully removed.
If you don't feel confident removing a tick yourself, then you should contact us. Our veterinary team will be able to remove the tick for you. If you like, they can demonstrate the technique so that you feel more confident to remove them in the future.
So, should I remove a tick from my dog, or should I call the vet?
If your canine companion has an unwanted visitor in the form of a tick, it can be hard to know what's best to do. After all, you can attempt to remove the tick and home with a tick fork, but won't it drop off eventually anyway? The most important thing if you notice a tick on your dog is to ensure it is removed or killed as soon as possible to reduce the risk of transfer of diseases. So, if you feel confident and your dog is well, with no symptoms of tick-borne diseases, you can try to remove the tick at home. However, if your dog seems unwell or if you are struggling to remove the whole tick, you should visit your veterinarian. They will be able to remove the tick or prescribe medication to kill it.
If your dog has had a tick or is walked in an area where ticks are abundant, it's sensible to use a tick control treatment. If you speak to one of our vets, we can find the preventative medicine that suits your dog best. Then you can enjoy time outdoors with your dog without worrying about the risk of ticks.
You should contact the veterinary clinic if you try to remove a tick but leave the mouthparts behind or if the tick seems too embedded to remove with a tick fork. They can examine the area, if needed, and assess whether antibiotic or anti-inflammatory medication is required. You should never try to dig out the tick's mouthparts from your dog's skin. Your dog's body will recognize the foreign material and will usually reject it over time. But, if not, your veterinarian will be able to help.
If your dog has a tick, it's best not to try to put anything on the tick to kill it or encourage it to drop off. Many home remedies and theories exist, but applying anything hot or a potential toxin or irritant could harm your dog. In addition, stressing the tick may cause it to 'vomit', and increases the risk that the tick will pass on dangerous diseases. The safest way is to use a tick fork or see your veterinarian.
The best way to stop your dog from getting a tick is to use regular preventative medication. However, if your dog does have a tick, your veterinarian can prescribe medication, including a spot-on, a medicated collar, or a spray that will kill the tick and cause it to drop off in a day or two.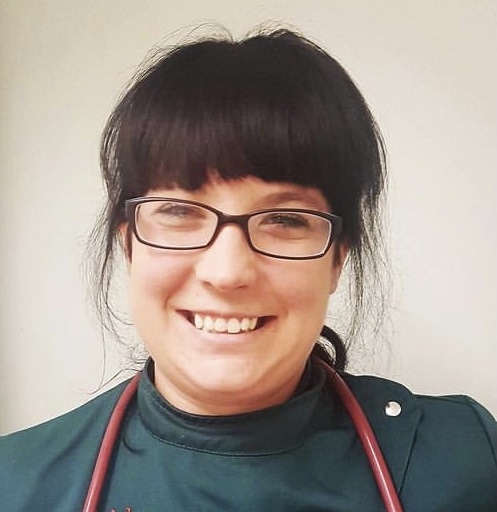 Dr. Hannah Godfrey MRCVS graduated from the Royal Veterinary College in 2011. Although she initially worked in mixed practice treating all species, she found a love for small animal work and has worked exclusively with dogs and cats since 2014. She lives in Wales with her partner, son, and two cats (named Poppy and Ashton Kutcher), and writes comedy fiction in her spare time.