dog poop colors chart
Why is my Dog Pooping Blood?
Blood in dog's poop – whether bright red blood or a severe bloody diarrhea – happen for a variety of reasons including parasites, infectious diseases, gastric ulceration, inflammatory diseases, and cancer. 
What Causes Blood in Dog Stool?
Gastrointestinal Disorders
A sudden change to a dog's normal diet can disrupt the normal health of the gastrointestinal tract. This can lead to inflammation leading dogs to vomit and have diarrhea. With inflamed intestines, bleeding can occur leading to dogs pooping blood. 

Maintaining the same diet or one advised by a veterinarian will help reduce gastrointestinal disorders. 
Acute Hemorrhagic Diarrhea Syndrome (AHDS)
This is a condition where dogs develop significant bloody diarrhea that can make them life-threateningly ill. Hemorrhagic gastroenteritis is a disease that causes diarrhea and vomiting and is more common in small breed dogs. 

It may be caused secondary to bacteria overgrowth, dietary indiscretion, or toxins. 
This is a serious disease where the pancreas becomes inflamed and leads to the leakage of digestive enzymes causing damage to tissue and systemic illness. 

Common signs include abdominal pain, anorexia, vomiting, and diarrhea. 
Dogs are prone to getting into things they shouldn't which can cause the digestive tract to become inflamed or damaged if the items are not digestible. 
Parasites
Parasites

 are a common cause of liquid, bloody stools in dogs. They are found in growing puppies or dogs that have not being given appropriate preventatives. Invasive diagnostic testing might be needed. 

The cause include giardia, hookworms, roundworms, and coccidia. 
Parvovirus
Parvovirus

 is a severe, potentially life-threatening disease caused by a virus that attacks the small intestines and immune system. This causes damage to the intestines leading to profuse diarrhea, often passing blood. 

It is common in unvaccinated dogs. This disease is contagious and requires aggressive treatment. 
Inflammatory Disease
Dogs are prone to

inflammatory

bowel disease

like humans. Dogs with this disease will often have frequent vomiting, diarrhea, and weight loss. Diagnosis requires scanning of the digestive tract followed by biopsies of the stomach and intestines. 

Proper treatment is diet change to a hypoallergenic diet with medications. 
Cancer
Dogs can get tumors of the stomach or intestinal tract. Common types of cancer include leiomyosarcoma, lymphoma, and adenocarcinoma. Diagnosis requires ultrasound assessment of the digestive tract followed by biopsies. 

Treatment is based on the type of cancer and surgery can occur. 
Anal Gland Disease
Anal gland problems can lead to straining to defecate and blood in the stool. The most common anal gland problems are either an abscess or impaction. These require surgical drainage by a veterinarian. If the gland ruptures, you may find blood in the stool or fresh blood around the anus. 

Dogs can develop anal gland tumors that can lead to straining to defecate and the presence of blood.
Ulcerative Disease
Diseases like liver disease, renal disease, IBD, zinc toxicity, NSAID, or corticosteroid use can cause 

gastric ulceration

. NSAID therapy or ibuprofen/Tylenol toxicity are very common causes of gastric ulceration. 

Stomach ulcers lead to bleeding into the gastrointestinal tract. Symptoms include melena or vomiting. 
Coagulopathies
A disease that interferes with the body's ability to clot blood or prevent bleeding can lead to evidence of melena or hematochezia. 

The most common causes of bleeding disorders in dogs are rat bait toxicity, immune-mediated thrombocytopenia, liver failure, or congenital bleeding abnormalities. 
What Does Blood in Dog Poop Look Like?
Bloody diarrhea or blood in a dog's stool can be characterized in two ways: hematochezia or melena. 
Hematochezia is the appearance of frank, red blood in the stool. Bleeding is occurring in the lower digestive tract, colon, or from the anus as opposed to coming from the upper digestive tract. The stool may either contain blood or be coated in blood. 

Melena is the dark, tarry stool seen in dogs when there is upper gastrointestinal bleeding. The noticed blood is darker. The presence of dark feces is due to the digestion of blood by the enzymes in the stomach or upper intestines. Melena ranges from very dark brown specks within the feces to tar-like stools.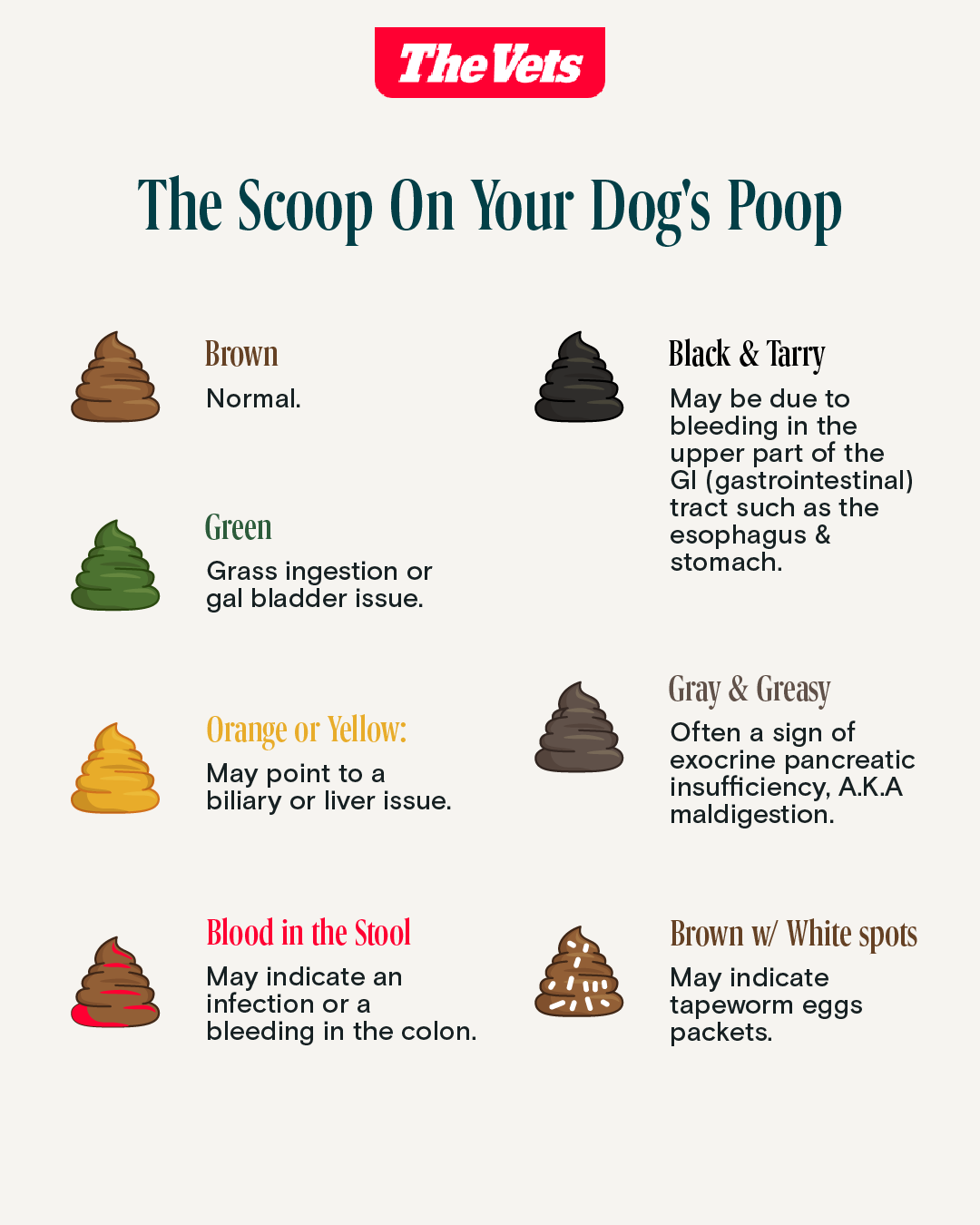 What is The Treatment For a Dog That's Pooping Blood? 
The treatment for a dog pooping blood is centric on resolving the underlying cause. Sometimes more invasive diagnostic testing is needed to identify the infectious agents. 
Many simple cases of hemorrhagic gastroenteritis will improve with minimal intervention. A bland diet can help the inflammation of the digestive tract subsides. 
If parasites are suspected, deworming treatment is indicated. Dogs positive for parvovirus require aggressive treatment with intravenous fluids, anti-nausea medication, and antibiotics. 
Dogs with inflammatory bowel disease will need a specialized hypoallergenic medical diet and often benefit from corticosteroids.
Home Remedies For Blood in Your Dog's Stool
Anytime there's blood in your dog's stool, I recommend going to the emergency vet so that they can evaluate your dog's medical history. 
While Google is helpful, it does not always constitute medical advice for bloody diarrhea. 
However, if clinical signs are mild, there are some things you can try at home:
Trial a bland diet of boiled chicken and rice 

Offer a probiotic

Add fiber to the diet with canned pumpkin or psyllium husk 
It is possible that the intestinal infections will come back. Rest with a plain diet can make then a gradual return to your blood in your dog's poop. 
Some parastic infections require corticosteroid therapy and in emergencies, its best to bring your dog to the pet vet for an accurate diagnosis. 
What Will The Vet Do if I Bring My Dog In for Bloody Diarrhea?
Urgent medical care for a dog's bloody vomit or poop, and will help identify internal health conditions and help dogs respond to treatment quicker. Consult your vet about any abnormal stool that your dog has.
If your dog is pooping blood, you should seek veterinary care. Your veterinarian will collect a history and examine your pet. A rectal exam should be performed to remove anal gland problems or tumors. 
Bringing in a fecal sample to routine diagnostic procedures will help facilitate fecal testing for parasites. 
Depending on the severity of the bloody stool and other clinical signs, your vet may recommend systemic illness testing with bloodwork, radiographs, and urine testing. 
Preventing Your Dog From Pooping Blood
Apart from going to an emergency vet when bloody vomiting or blood in the stool occurs, there are preventive ways. 
The key to preventing blood in dog poop is to ensure you are supporting a healthy gastrointestinal tract. 
Here are some tips for pet owners:
Feed a balanced dog food and be gentle when introducing food additives as dog's can have certain food allergies and sudden dietary changes can lead to bloody poop.

Watch out for your dog eating bones as it causes bacterial infection trauma and general trauma to the immune system stomach, which sometimes have to be rectified by surgical remedies.

Keep medications out of reach to prevent toxicity.

Perform fecal testing and use  deworming medication monthly. 

Ensure appropriate vaccinations and keep puppies away from public areas. 

Give pets food that is more highly digestible nutrients. 
Some conditions cannot be prevented, but we should stay on top of our dog's health.
The dog's underlying issue comes from either the upper part of the small intestine or the upper intestinal tract, and can be detected by taking medical history into account and looking at other symptoms. 
FAQ
Sometimes. Any dog that has a bloody stool, large amounts of blood, dehydration, and/or vomiting it shouldn't be left untreated.  
Yes. Stress colitis is a common cause of diarrhea in dogs and will resolve with a diet change and time. 
Mucus in the stool indicates inflammation of the lower intestinal tract and can be seen secondary to colitis, parasites, or bacterial overgrowth.