Key points
Down's syndrome does not exist in dogs
Other congenital conditions may look similar
Seek veterinary attention if your dog isn't developing properly
Treatment options and prognosis will depend on your dog's diagnosis
Common in
Down's syndrome has not yet been recognized in dogs, but there are a variety of other congenital conditions that may appear similar. These are usually first noted in young or growing animals.
Dog Down Syndrome Symptoms & Types
Down's syndrome is not a condition that dogs experience because there are some genetic differences between them and humans. Humans have 23 pairs of chromosomes whilst dogs have 39. Down's syndrome is caused by a person having 47 chromosomes (the usual 23 pairs plus an extra copy of chromosome 21). As dogs have 78 chromosomes they can't be diagnosed with this condition.
There are however a variety of other genetic conditions they can suffer from. Some of these may look like Downs syndrome, but they are caused by different abnormalities.
Pituitary Dwarfism
This condition is mostly seen in young German Shepherds. The pituitary gland in these animals doesn't produce enough thyroid-stimulating hormone and growth hormone. This leads to a stunted dwarf-like animal, that usually has poor coat condition and a shortened life span. Hormone supplementation may be helpful in these cases.
Congenital Hypothyroidism
A rare condition where again dwarfism may be seen as well as mental retardation, due to a lack of hormones released by the thyroid gland.
Congenital Heart Disease
Issues with the heart could cause problems with your puppy's development and ability to exercise. Exact symptoms depend on the severity of the condition.
Congenital Hydrocephalus
Animals affected by congenital hydrocephalus usually have a large domed skull and abnormalities with the position of their eyes (strabismus). This is caused by a build-up of spinal fluid in and around the brain. These dogs can be affected to varying degrees, some very mildly with no symptoms and others may have blindness, seizures, and abnormalities with movement.
Portosystemic shunt
A portosystemic shunt (PSS) is an abnormal connection in the blood vessels of affected dogs meaning that toxins, proteins, and nutrients bypass processing by the liver and end up straight in the circulating blood. This can cause affected animals to be smaller than usual and have behavioral abnormalities. Some will also have seizures and gastrointestinal signs. Animals can usually be stabilized medically, ahead of having surgery to correct the issue.
Dogs can't have Down's syndrome as they have a different number of chromosomes compared to people.
Understanding the diagnostics
If your puppy is not developing as well as you think it should be or if it is showing signs of ill health, then you should allow a veterinarian to examine it. Depending on their findings they may suggest some additional tests.
Bloodwork can be useful to check your dog's blood cell counts (hematology) and chemical markers in the blood (biochemistry) which gives an overall picture of their health. Depending on the results, your veterinarian may ask for more specific tests to be done. These may look at hormone levels in your dog, which could indicate thyroid issues, or markers like ammonia which could indicate a PSS.
Diagnostic imaging such as ultrasound can be useful in some cases to check the liver and associated blood vessels. Magnetic resonance imaging (an 'MRI' scan) can also be useful to look at spinal cord fluid and brain development.
Learning about the causes
Most congenital conditions are a chance occurrence. However, some breeds are more prone than others. For instance, German Shepherds more commonly get pituitary dwarfism, and small breed dogs such as Chihuahuas are more susceptible to congenital hydrocephaly. There is usually nothing that could have been done to prevent the condition from occurring, just as with Down's syndrome in people.
Dogs can be born with several other conditions which could look similar to Down's syndrome. If your puppy isn't developing as you think it should then contact your veterinarian for advice.
Best down syndrome
treatment options

Treatment options will depend on the congenital issue that your dog has been diagnosed with. Some animals can be managed or stabilized medically, whereas others will require surgery to improve their quality of life.
Your veterinarian will be able to advise you on the correct treatment plan and the prognosis for your pet.
Home remedies and their effectiveness
There are no home remedies available for genetic or developmental abnormalities. You can try and support your pet through a good quality complete diet and exercise appropriate to their condition. Managing their environment at home to make it as safe as possible can help if your dog has developmental abnormalities. Stair gates can stop them from falling down the stairs, and keeping obstacles out of their way can also be useful. especially if they suffer from movement or vision problems.
None of these take the place of seeking advice from your veterinarian, as your dog could require medication or other interventions.
When to see a vet
You should seek advice for your dog or puppy if they have any of the following symptoms –
Abnormal facial features
Poor growth
Vision problems
Hearing problems
Skin problems
Short limbs
Mental and/or developmental delays
Poor muscle tone and/or weakness
These could all be signs of a congenital abnormality or could be caused by other health complaints. It is best to get your dog checked out as some animals can have their quality of life improved by medications or surgery.
No, dogs can't have Down's syndrome as they have a different number of chromosomes compared to people. They can however be born with several other conditions which could look similar to Down's syndrome. If your puppy isn't developing as you think it should then contact your veterinarian for advice.
There isn't any conclusive evidence that autism exists in dogs, but some animals may exhibit symptoms that raise the suspicion of this disorder. Repetitive and compulsive type behaviors might point towards this being the case, such as compulsive tail chasing sometimes seen in bull terriers.
Animals are unable to get Down's syndrome as they carry different numbers of chromosomes to people. Chimpanzees are the only animal species that seem to have a genetic disorder comparable to Down's syndrome. Most animals that have physical features that look like Down's syndrome are suffering from inbreeding or other congenital abnormalities.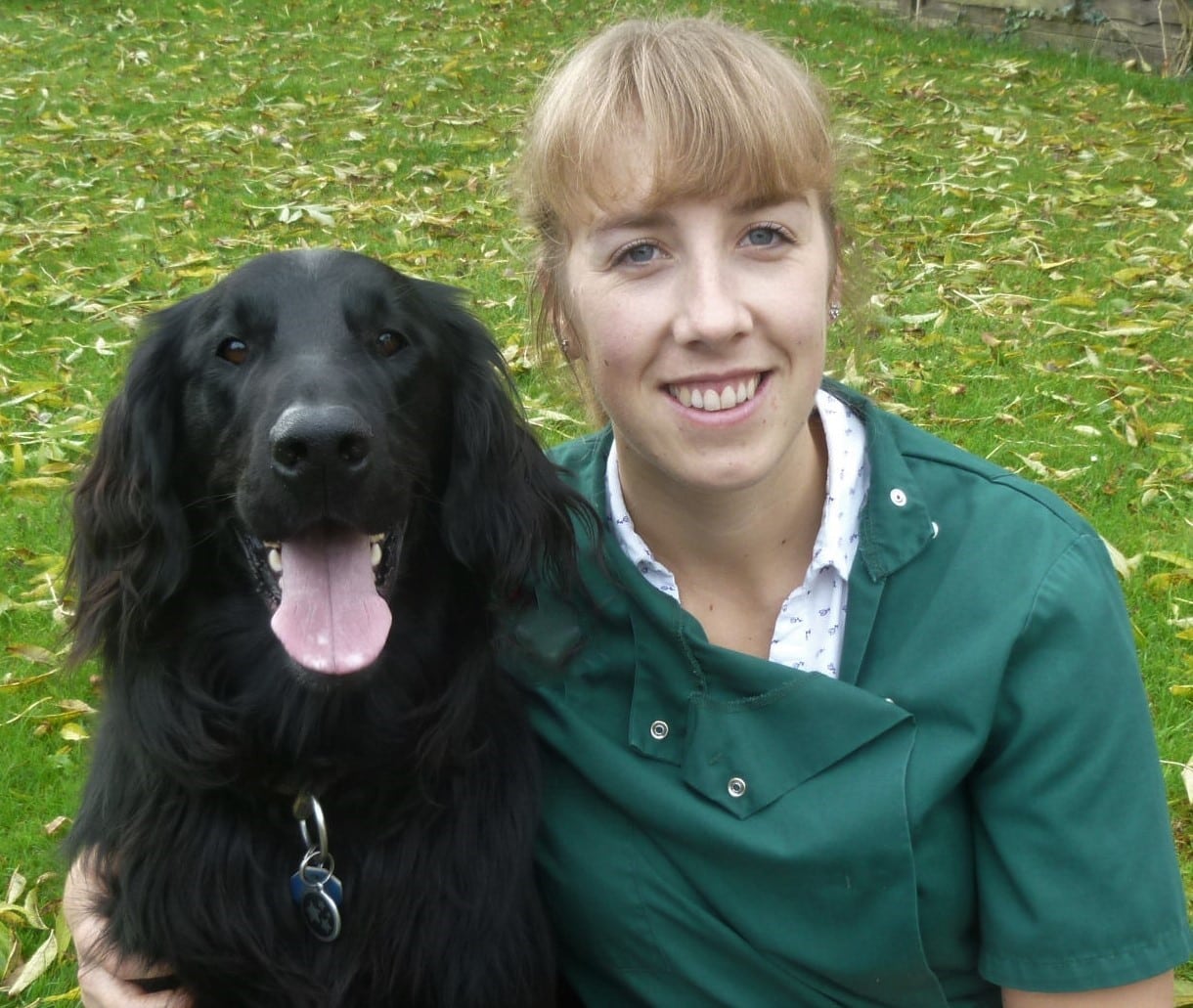 Rebecca is a companion animal vet who has always had a passion for writing and client communication. Since her graduation from the Royal Veterinary college in 2009, she has gained a wealth of experience in first opinion small animal practice, in both clinical and managerial roles. She currently works in the South West and deals with a variety of routine and emergency appointments, but particularly enjoys medicine cases. Outside of work and writing, she enjoys spending time with her family, including her bouncy flat-coated retriever George!