Puppy teeth, we all know they have them (chewed slippers anyone!?) but how much do you really know about them? In this article, we will look at the normal development of puppy teeth, puppy chewing behavior, as well as potential abnormalities to look out for.
Puppy teeth development
Puppies are like people in that they have a set of deciduous (milk) teeth, which are later shed and replaced with adult teeth as they grow. The development of puppies' teeth will follow this approximate timeline –
Newborn
Puppies are born without teeth. They feed solely from their mother, suckling and drinking milk.
2-4 weeks
Puppies' teeth start to erupt and break through the gums. At this time, they will still be getting all of their nutrition from mum. Their eyes and ears start to open during this period as well.
5-6 weeks
Their puppy teeth will be mostly through by this stage, and they will start to tackle moist puppy food as they begin the weaning process. Puppies have 28 deciduous teeth in total.
4-5 months of age
Dogs start to lose their deciduous teeth around this age. You may or may not see these teeth around the house – sometimes they are swallowed by your pet. Occasionally you may notice a small amount of bleeding. The small incisors at the front of the mouth are usually the first teeth to go.
6 months and older
Your puppy will have lost all his deciduous teeth and will have all 42 of his permanent teeth.
Oral care
It is important to take care of your dog's teeth, which should start from a young age. Teeth brushing should be performed daily to be most effective. Start by introducing things gradually though. Begin by letting your pup lick a dog-specific toothpaste from your fingers. These are often meaty flavored and are lower in fluoride than human pastes. Then let them lick it off a soft-bristle brush before you start actually brushing the teeth.
Keep sessions short, to begin with, and give your dog plenty of praise. Have a look at this more detailed guide for further information.
You can also keep your dog's teeth healthy by avoiding hard treats or chews. Things like bones (cooked or raw), antlers, and some rawhide treats are too hard for dogs to bite down on and could lead to painfully fractured teeth.
Special dental treats and chews will also help with your dog's oral care to a degree but are not as good as actually brushing the teeth.
Tooth abnormalities
Sometimes puppies run into problems with their dentition. Here are some of the most common abnormalities that veterinarians see –
Retained puppy teeth
Some dogs don't shed all their deciduous teeth. This most commonly affects the canine teeth and is seen more frequently in small breed dogs. If the retained tooth is left in place, it can cause problems with the adult tooth that is growing in behind it. The abnormal dentition makes it more likely that food will become trapped, leading to plaque, tartar, and gum inflammation.
Lingually displaced canines
This condition usually affects the lower canines, which grow pointing slightly inwards, pressing abnormally on the roof of the dog's mouth. This leads to pain and trauma of the soft tissue in the dog's mouth. Specialist dental treatment is usually required for these dogs.
Undershot or overshot jaws
Undershot jaws are the most common of the two and are frequently seen in brachycephalic breeds like bulldogs and pugs. The lower jaw is overlong compared to the upper jaw, meaning it sticks out. We sometimes see things the other way round, where the lower jaw is shorter than the upper one (overshot). Both can mean there are associated dental abnormalities due to malocclusion, so dogs should be monitored closely.
Overcrowded and rotated teeth
Some dogs, particularly small and brachycephalic breeds, can suffer from overcrowding of their dentition. They are trying to fit all the same 42 teeth in a much smaller space than a dog with a normal-length nose. The teeth may be crowded and overlap each other, or they may be rotated. This can cause increased tartar build-up, and gum inflammation compared to a normal dog.
If you notice anything unusual about your dog's teeth or mouth, then make sure you get it checked out by your veterinarian.
Chewing behavior
Puppies chew! This is normal behavior but it can be frustrating. Puppies will often chew when they are teething, as biting down on something seems to help alleviate some of their discomfort.
Make sure your puppy has plenty of dog-safe toys to chew, and that you make sure you don't encourage chewing of non-toy items (like old shoes or plastic bottles) as this can confuse them.
Make sure you do not allow your puppy to bite you as this can lead to behavioral problems as he gets older. Try and replace your hands with chew toys. If your pup is overexcited and mouthing at you, bring your hands close to your body and give a calm "No" before ignoring him. You may even need to leave the room. Your dog will soon get the message when he doesn't get rewarded with any attention.
Plenty of mental stimulation, exercise, and play will also help to reduce destructive behaviors in your puppy.
Conclusion
Puppies lose their deciduous teeth from around 4 months of age, replacing them with permanent adult teeth. Many puppies will chew excessively during this time, so be prepared with plenty of dog-safe toys, avoiding anything too hard! Seek help from your veterinarian if you think there is something wrong with your pup's teeth or if you need help with how best to introduce teeth brushing.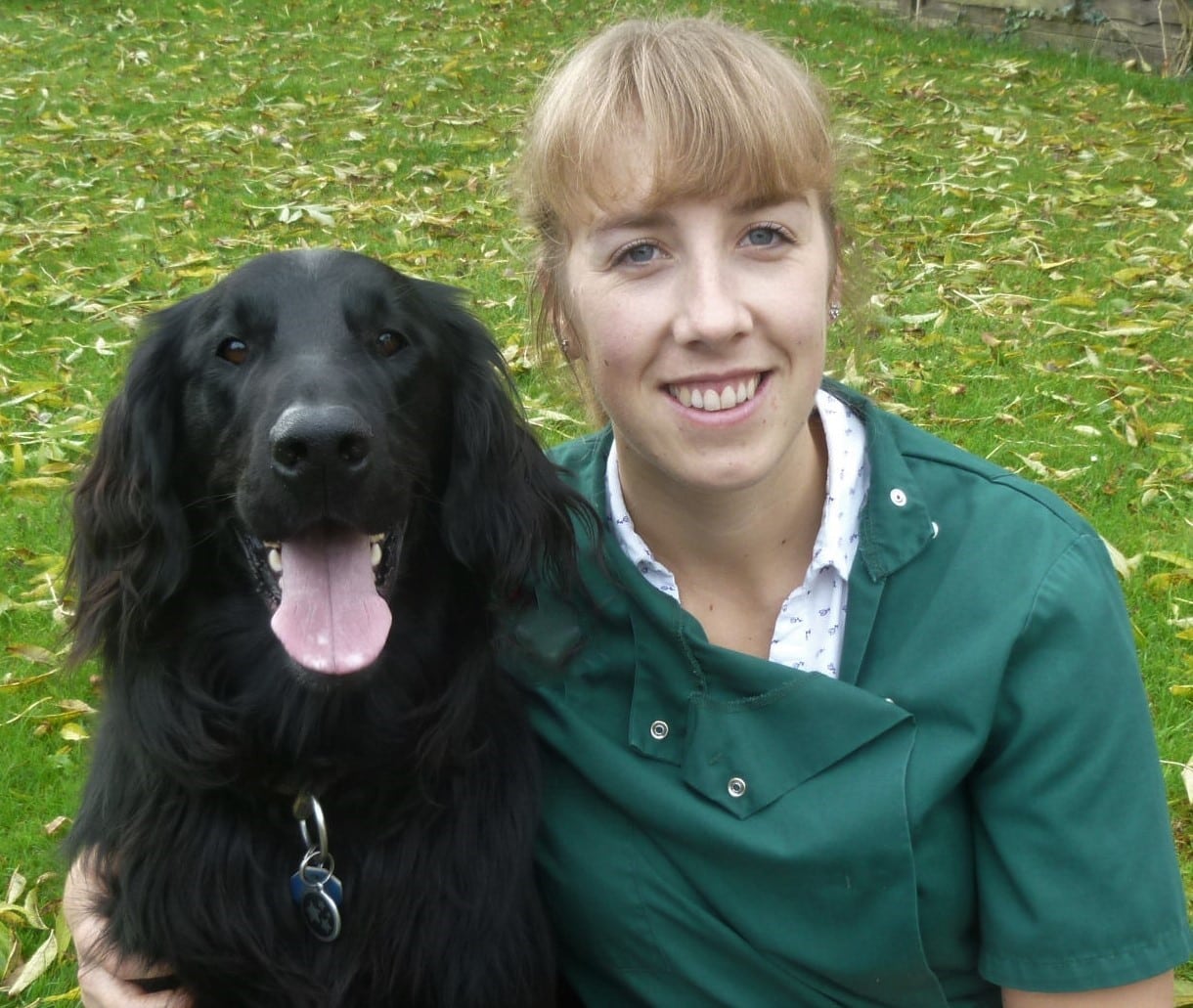 Rebecca is a companion animal vet who has always had a passion for writing and client communication. Since her graduation from the Royal Veterinary college in 2009, she has gained a wealth of experience in first opinion small animal practice, in both clinical and managerial roles. She currently works in the South West and deals with a variety of routine and emergency appointments, but particularly enjoys medicine cases. Outside of work and writing, she enjoys spending time with her family, including her bouncy flat-coated retriever George!