If you live in Dallas, where the weather is usually warm and fine, then you are fortunate that many of the best restaurants in the city also have outdoor seating. This is ideal if you want to take your beloved dog with you when you head out, as many restaurants allow your dog to sit with you while you eat if you are in their outdoor patio section.
So, if you do live in Dallas, here are our top picks for the best restaurants with outdoor patio dining areas where your pup can join you for a good meal.
Don't forget to ensure that your dog is properly trained for sociable environments before taking them along to a restaurant. It is important to keep your dog under control and with you at all times whenever dining out together.
4830 McKinney Ave at Monticello Dallas, TX 75205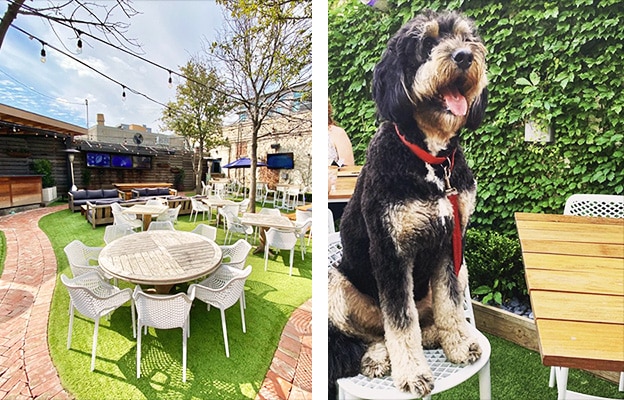 Photos by Chelsea Corner / Yelp
This little sports bar (with 21 screens) has a hidden patio backyard that matches an immaculate green lawn with a casual atmosphere. But just because it is hidden doesn't mean it is small—it covers 2,500 square feet.
Your pup is more than welcome to join you in this green beer garden, at a sunny picnic table or in one of the many shady spots.
Try their brunch and early dinner menus for the best bites, and their signature cocktail menu based on the history of the building.
2008 Greenville Ave, Dallas, TC 75206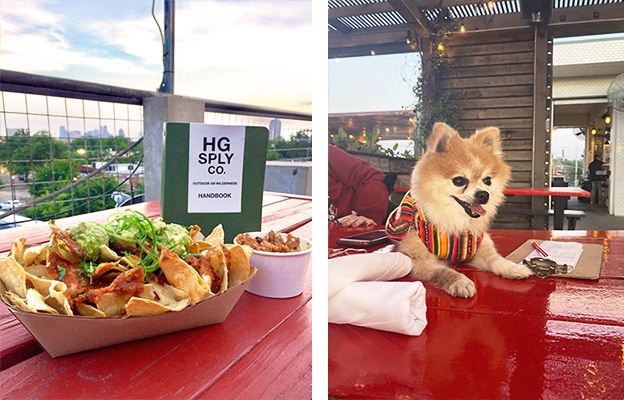 Photos by Karlita P., Conchinita Nachos / Yelp
Located in Lower Greenville, you and your pooch can sit together on the rooftop patio with fantastic views and a refreshing breeze.
The restaurant serves a "back to basics" menu inspired by the paleo diet, combined with classic drinks for a good laugh with friends.
3127 Routh St, Dallas, TX 75201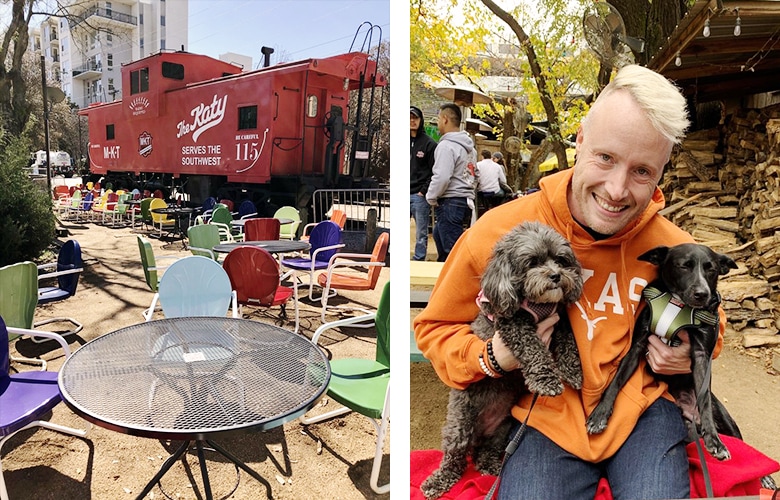 This patio isn't just dog-friendly, it is more or less designed for dogs and their humans to get together and have a good time.
Take your dog for a walk along the Katy Trail, and then sit down for a meal and a beverage with your pup in this large, shady beer garden.
There are water bowls for your dog, and you are free to feed them while you indulge in something from the delicious menu.
5625 Bell Ave, Dallas, TX 75205
5600 W Lovers Lane Ln Unit 128, Dallas, TX 75209
3330 Oak Lawn Ave, Dallas, TX 75219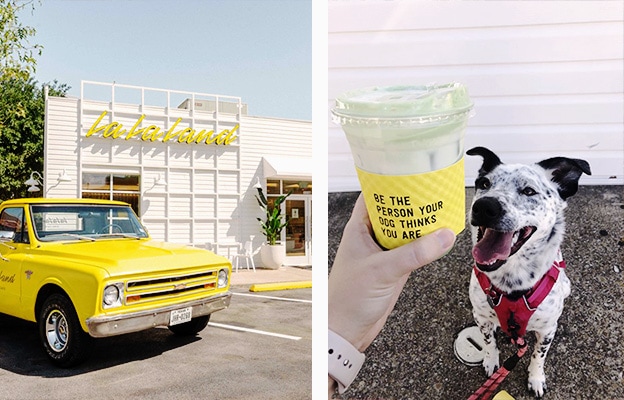 Photos by La La Land Kind Cafe, and Lauren B. / Yelp
La La Land is more about coffee and cake than beer and pub garb, but that is why it's so popular with so many residents of Dallas.
Your dog is free to join you on the patio, and there is also a mini dog park where pups can run around off-leash as long as they are supervised.
There are three Dallas La La Land Kind Cafe locations (and one California location), so it isn't hard to find the perfect one near you.
5100 Belt Line Rd Suite 500, Addison, TX 75254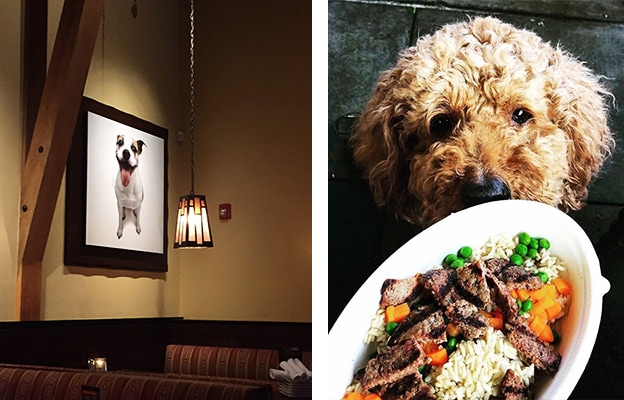 Photos by Maripao S., Karly C./ Yelp
This is another great brand with multiple locations in the Dallas area that is more than happy to welcome both you and your dog on the premises.
Every location has an outdoor patio with a bar where you and your pup can sit together, and expect bonfires to warm you up on colder days.
There is a special dog menu. Choose between chicken or beef mixed with brown rice and veggies. Delicious.
2889 City Place West Blvd, Dallas, TX 75204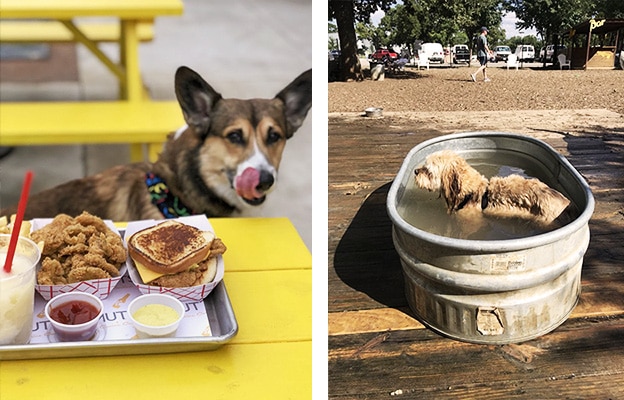 Photos by Scooby T., Teakre V./ Yelp
This is another spot that is not only dog-friendly but designed for dogs to bring their human along with them for an afternoon of fun.
Mutt's combines an off-leash dog park with a beer garden where dogs are free to frolic. There are also several dog-oriented events throughout the year, including doggy yoga and canine movie night.
Pups must be older than four months and spayed or neutered in order to enter, and of course be sociable animals that like to be in a crowd.
7. The Ranch At Las Colinas
857 W John Carpenter Fwy, Irving, TX 75039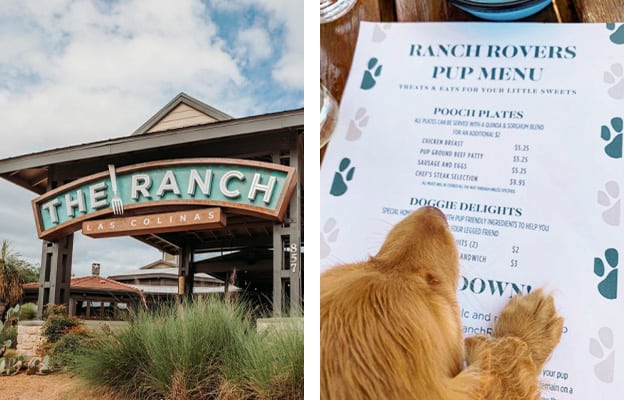 The Ranch at Las Colinas is not only dog-friendly, it is also pro-pet, often hosting adoption and rescue charity events.
There is a large patio area that feels a bit like sitting in your friend's backyard, and they serve delicious meals for both humans and dogs.
Make sure to pop in for happy hour, Monday to Saturday from 3pm to 6pm, and don't miss their annual Pups, Pints, and Processo event in the fall.
While all of these restaurants are happy to welcome your dog, you need to make sure your pup is properly trained for the environment before you take them there.
Your dog should know how to behave around other people and their dogs, as aggressive behavior, and even friendly jumping and barking, won't be acceptable in a restaurant setting.
Toilet training is also essential, as you don't want your dog to think they can do their business near people who are eating just because they are outside.
Finally, your dog should always be clean and well-groomed when they head out to these kinds of public spaces. This limits the likelihood that dog hair will end up in anyone's food, or that other patrons will complain about the strong dog smell, to which many dog owners are immune.