Your dog needs enough exercise and sufficient playtime to stay healthy and happy. But, as your vet will tell you, running around the yard and walking with you on the leash doesn't always give them the space they need to stretch their legs and burn off energy.
This is why dog parks are great. These are parks that have large fenced areas designated for dogs where pups are free to roam off-leash under the supervision of their owners. Most parks will also be equipped with other facilities such as doggy drink stations, hoses to clean up your pup after playing, bag dispensers, and of course restrooms, seating areas, and picnic spaces for you.
Dog parks aren't just great for exercising your dog, they are also good for socializing your pooch with other dogs so they know how to react when they encounter an unknown canine. (Don't worry, most parks have different designated areas for small and large dogs.)
Are you a Florida resident looking for a dog park for your best friend? Or are you visiting the Sunshine State with your pet and considering mobile pet care? Check out this list of our seven favorite dog parks in Florida.
1. Amelia Earhart Bark Park, Hialeah (Miami Area)
401 E 65th St, Hialeah, FL 33012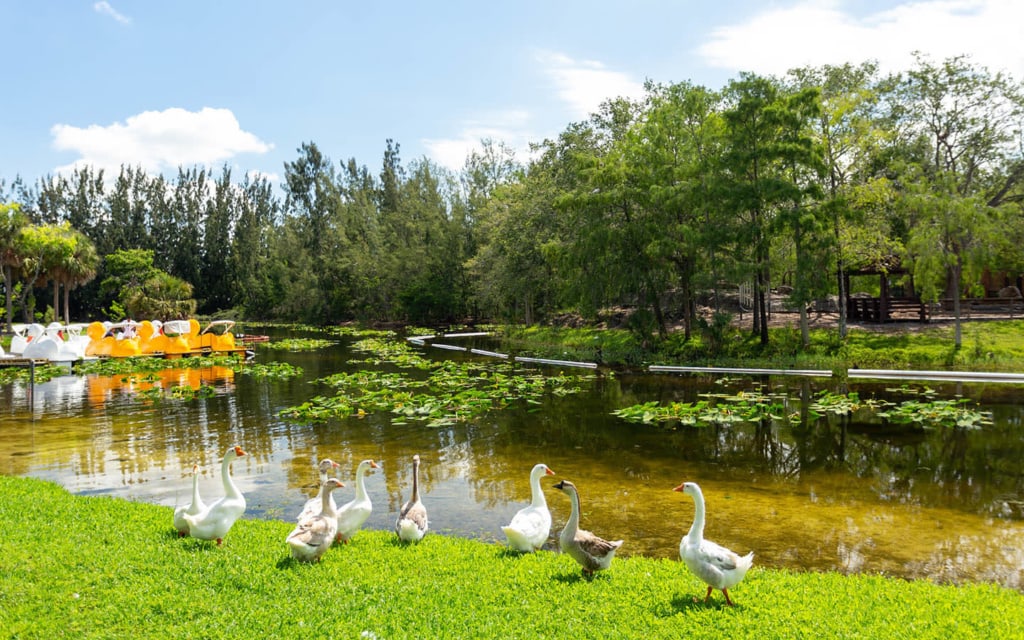 Cost: Free parking during the week, $7 on weekends
Conditions: Dogs must be fully vaccinated and wearing their current license and rabies tags. No pit bulls allowed.
If you are in Miami, you don't have to head far out of the city to find this 515-acre park. It includes a five-acre fenced dog park where your pup can play off-leash.
There are separate sections for dogs of different sizes, so you can be sure that your canine baby is rough-housing within their weight range.
There are lots of facilities including dog obstacle courses, dog water fountains, shaded areas, and owner seating.
3500 Pinellas Bayway S., Tierra Verde, FL 33715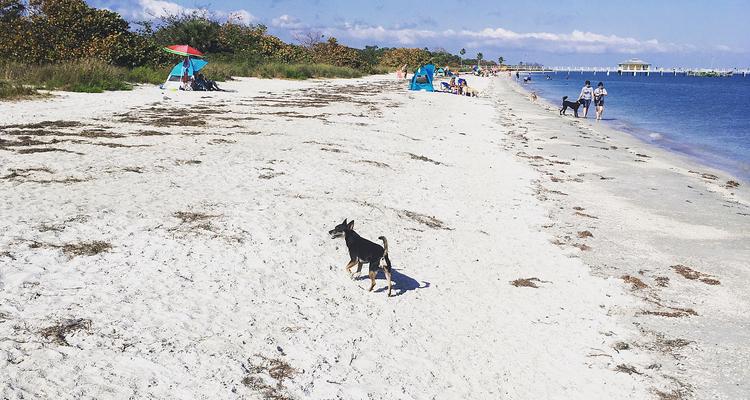 Cost: Parking $5
Conditions: A maximum of 3 dogs per handler are permitted. Handlers must be over the age of 16, and dogs must be older than 4 months
All of this 23-acre park is dog friendly, which means they are free to roam off-leash anywhere on the grounds, as long as they are supervised and under control.
A lake, pavilion, picnic tables, and restrooms are available throughout the park. There is also a fenced dog area for those who prefer the enclosure.
This is one of the most wheelchair-accessible dog parks you will find in the Florida area.
7374 Monterey Blvd, Tampa, FL 33610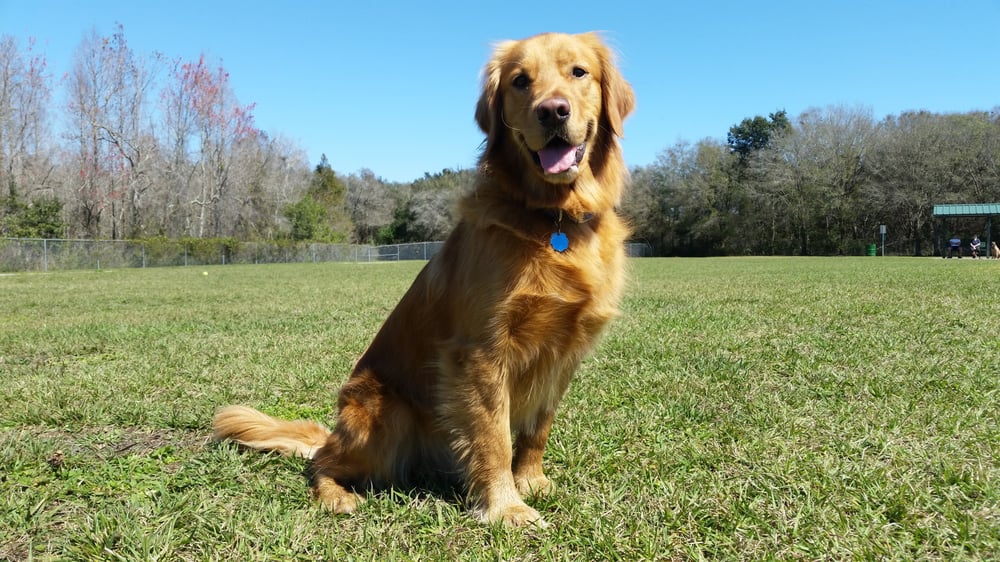 Cost: Free
Conditions: Dogs must be up-to-date with vaccinations, and dogs under 4 months are not allowed.
Highly accessible from most of Tampa, this dog park has two separate off-leash areas for large and small dogs to play freely.
There are water fountains for both dogs and people, hitching posts for when you can't supervise your dog, and wash stations to clean your pup before returning home.
The park provides a full list of guidelines for expected etiquette so that you know exactly what to expect.
2200 S Marti St, Tampa, FL 33629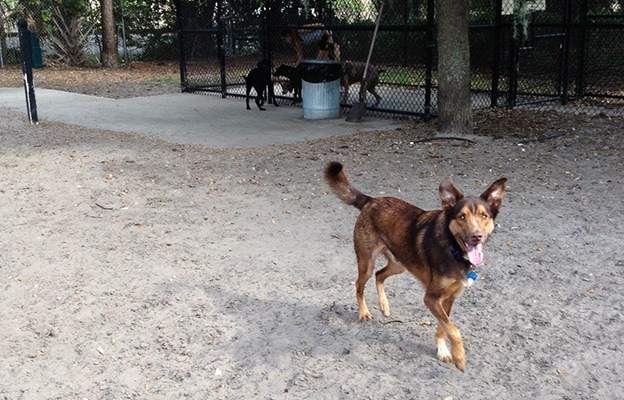 Photo by Courtney L. / Foursquare
Cost: Free
Conditions: not specified
While a lot of people prefer it when dog parks have separate off-leash areas for small and large dogs, so they don't have to worry about outsized rough-housing, this can be challenging if you have multiple dogs of different sizes, or you want to visit with a friend who has a different breed dog to you.
Palma stands out in that it is designed for dogs of all breeds and sizes to mix in a relaxed and safe environment.
There are lots of shady trees and seating for pup parents to socialize as well, plus hydrating stations for both humans and canines.
5. Perrine Wayside Park, Miami
16425 S Dixie Hwy, Miami, FL 33155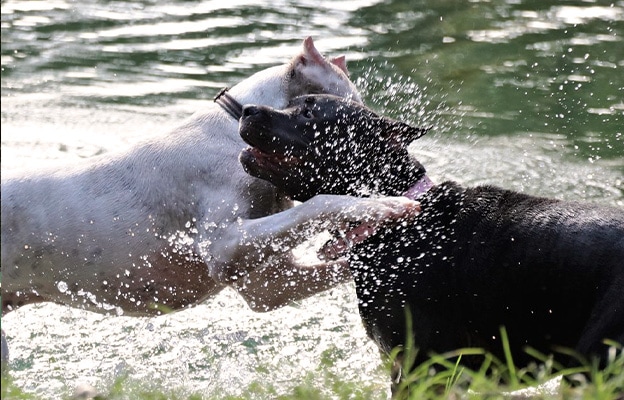 Cost: Free
Conditions: not specified
Dogs that love the water will enjoy this dog park the most since it not only has plenty of open space for running around, but also a giant lake where they can go for a swim and cool off.
There are benches for you, and a fenced off play area for kids to get their exercise in as well. Hose your dog down before you leave to keep the car clean.
But be aware that parking is quite limited, and it also sits next to a daycare. Best for dogs who are accustomed to children.
This riverside park has 1.35 acres of fenced areas in which dogs are free to romp off-leash. There is lots of grass and mulch, which will be kind to any dog with joint problems.
There are separate spaces for small and large dogs, each with full facilities including bag dispensers, washing stations, drinking fountains, and picnic areas.
Visitors to the area might like this park as there are a few opportune photo spots.
6. Picnic Island Beach Dog Park, Tampa
7409 Picnic Island Blvd, Tampa, FL 33616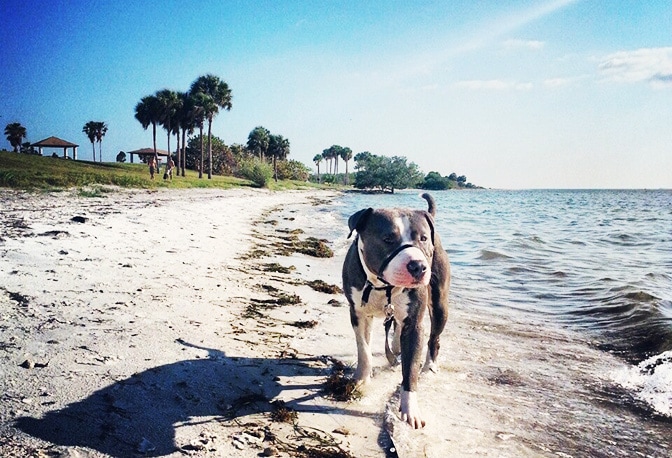 Photo by Bianca F. / Foursquare
Cost: Free
Conditions: not specified
This is another spectacular Florida beachside park with a gated dog beach where your pup can enjoy the sand and surf off-leash. But be careful as the area is not entirely fenced.
Near the dog area, you will find picnic tables and grills as well as hoses to wash the sand and salt off your pup.
Dogs are also permitted in the remainder of the park as long as they remain on a leash.
7. Tropical Dog Park, Miami
7900 SW 40th St, Miami, FL 33155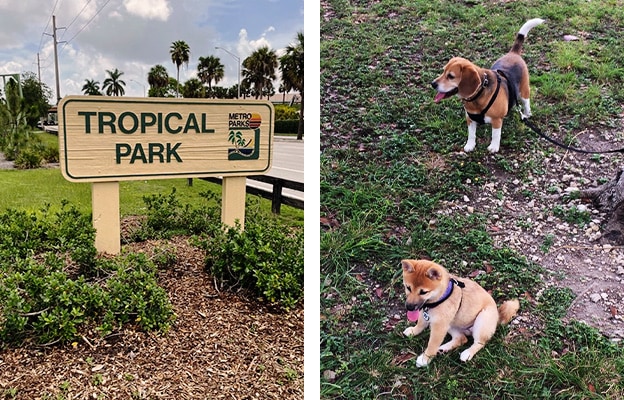 Photos by Tank G., Kalvin K. / Yelp
Cost: Free
Conditions: All dogs must be up-to-date with vaccinations and have a current city dog license, both of which must be visible on their tag.
If you have a dog with a lot of energy to burn off, or an intelligent pooch that appreciates a challenge, then Tropical Dog Park should be on your list.
As well as separate areas for small and large dogs, there is a fun obstacle course that will keep your dog entertained.
The dog park adjoins the popular Tropical Park which has eqestrian, tennis, and track facilities, and hosts a weekly farmers market. Perfect for a day out for the whole family.
The rules at every dog park will be different. Some parks will require you to register your dog before you enter, while others generally leave things to the discretion of the owner. 
Below are a list of the most common rules that you can expect at dog parks in the state. If you are in doubt about anything, contact our mobile vets in the Florida area to get the guidance that you need.
Dogs must enter and leave the park on-leash

A maximum of 3 dogs per handler are permitted (handlers must usually be over 16)

Dogs must be up-to-date with their vaccinations and often are required to show evidence of this on their collar

Dogs must be supervised at all times and should be removed from the area if they are roughhousing excessively

Handlers must clean up after their dogs

Puppies under 4 months old are not allowed