There is no shortage of fun places in Houston, Texas but your pet dog won't find them equally interesting. In fact, you need a list of the top 8 dog-friendly places in Space City you can take your pooch to times and times over.
Houston's dog-friendly parks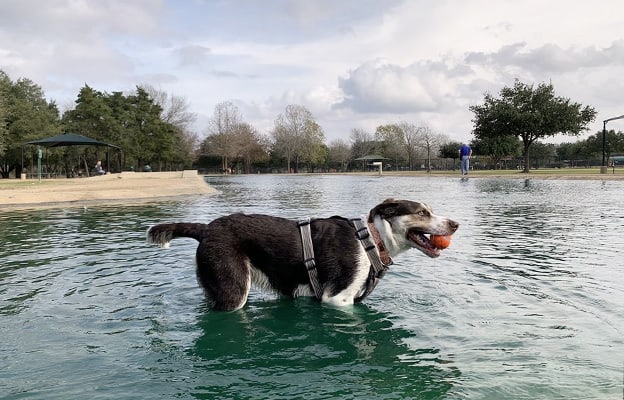 Congressman Bill Archer Bark Park – Photo by Alison C. / Yelp
According to The Houston Parks and Recreation Department, there are 366 parks in the city and additional 200 green spaces. This means that canines and humans alike have plenty of space to chase after frisbees or jog.
In addition, your dog will have a chance to meet other hounds in one of Houston's parks. The most popular parks in downtown Houston include: Buffalo Bayou Park, Discovery Green, Market Square Park, Sam Houston Park, Allen's Landing, Hermann Square, and Tranquility Park.
Buffalo Bayou Park and Market Square Park aren't just among the largest parks in the city but they incorporate dog parks. For instance, the Johnny Steele dog park features shade structures, drinking fountains, and dog washing areas.
Another great park is Congressman Bill Archer that is a whopping 926 acres in size. The local dog park spans 17 fenced-off areas that are used exclusively by dogs and their owners. There are separate spaces for big and small dogs, respectively. Ornate benches, water features, and leafy trees add up to the aesthetic impression.
The Houston Arboretum welcomes dogs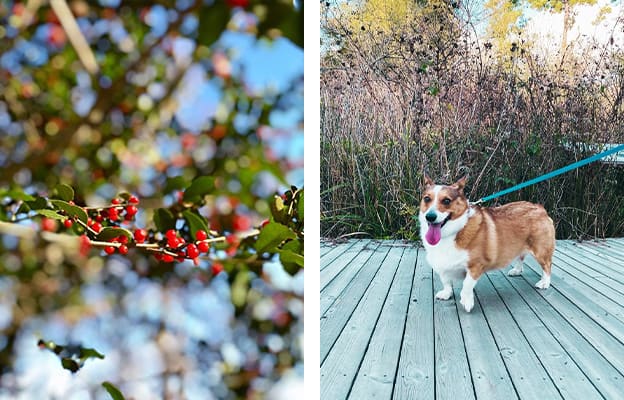 Photos by Shaili B., Elisa M. / Yelp
The Houston Arboretum & Nature center is situated on the western edge of Memorial Park and it's a gateway into untamed nature for Houston's residents. The non-profit urban nature sanctuary offers guided tours, so visitors (including children) will learn more about nature.
When it comes to the Arboretum's dog policy, they allow canines inside provided they are on a leash and don't wander off trails during the visit. The policy is there to protect both the wildlife, as well as Fido, as contact with poison ivy and venomous snake bites pose a real danger to your pet.
Dog Day at an Astros game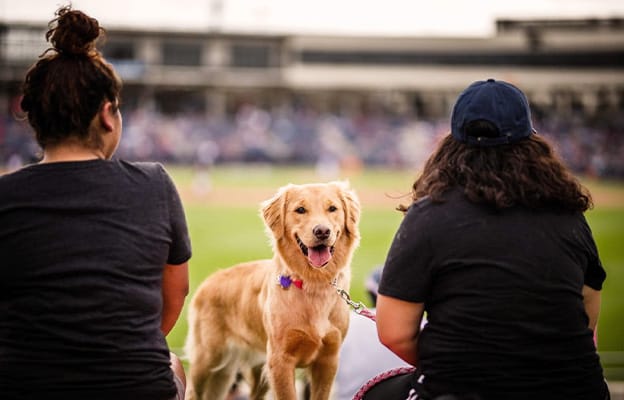 Photos by Houston Astros /Facebook
Every year, the Houston Astros organize a dog day when fans are allowed to bring their pet dogs to a baseball game. This year, the date was August 22nd and the game against the Seattle Mariners. The only prerequisite is that you buy a special ticket for you and your pooch in advance.
There are two dog day ticket packages to choose from, ranging from $30 to $99. The amenities include access to the "Barking Room Only" zone in Home Run Alley and the dog zone at the Plaza on Crawford Street. Only one dog per human is allowed.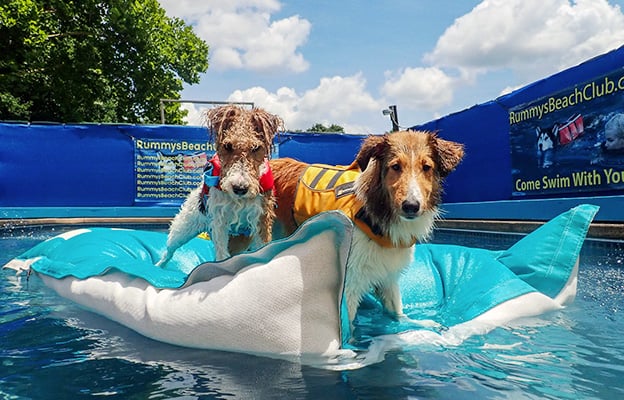 Photos by Rummy's Beach Club /Facebook
The general rule in the United States is dogs are not allowed in public swimming pools. However, there is one private pool in Houston where this rule doesn't apply: Rummy's Beach Club. The swimming pool is located just north of Houston in Spring, TX.
The club is actually private, meaning it doesn't just allow dogs, it welcomes them. The venue offers a one-acre dog park complete with Dog Mountain, which is a dirt mount dogs can dig into.
They also have a heated pool for dogs, which was designed and is operated by the owner who was involved in dog rescue most of her life. Moreover, the whole place was named after the owner's childhood sheepdog.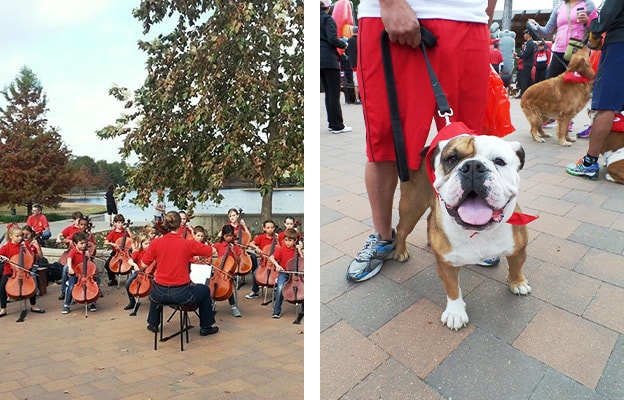 Photo by Hermann Park Conservancy / Facebook
We've already recommended Hermann Park as a great location for taking your dog for a walk. However, the venue features an outdoor theater with some 1,500 seats for humans and dogs. Concerts are held here often and pets are more than welcome to attend.
Apart from musicians, performers of all sorts play here, as this is one of the most multicultural places in Houston. And if your dog feels ill at an event, you can always call the vet that serves the Houston Museum District where Hermann's Park is situated.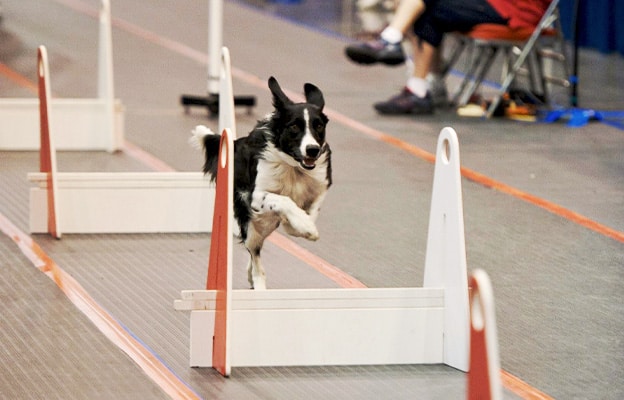 Photos by Houston World Series of Dog Shows / Facebook
The Houston World Series of Dog Shows is an event that takes place every year in the summer. In 2021, the dog show took place from July 21st to July 25th. The event's venue is traditionally the NRG Center, located in NRG Park.
There is a multitude of events to attend, from Meet the Breeds to a Canine Musical Freestyle. The show is also competitive, as there are over 30 breed specialty competitions your dog can enter. The event presents a great opportunity for dog owners and breeders to interact with each other.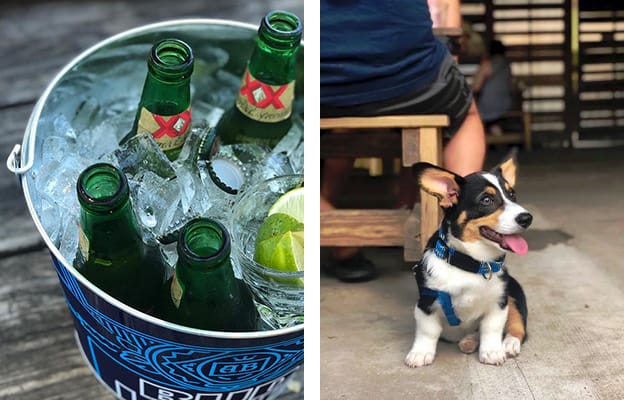 Photos by Cottonwood Houston / Facebook
Although most Houston bars and restaurants don't allow dogs inside, there are several great restaurants that have outdoor seating. One such establishment is Cottonwood on 3422 North Shepard Drive.
The outside patio, much like the ones found in nearby Dallas, offers plenty of space for dogs to run about and humans to try some 42 beers on tap.
They even have live music from time to time and they organize deck games. The place was redecorated in 2012, so the inside gets plenty of natural light. Sports lovers will love the 60-inch LCDs. There is no dress code, so everything from flip-flops to business attire goes.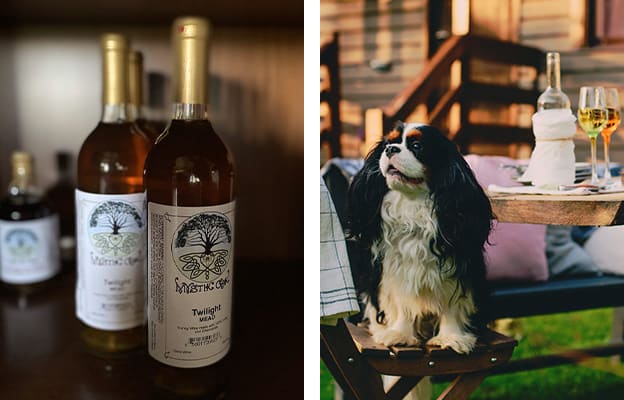 Photo by Frascone Winery / Yelp
If you wish to escape the hustle and bustle of the city, then head east from Houston to Frascone Winery situated on the other side of Trinity Bay. The winery opened in 2003 and despite the devastation caused by Hurricane Ike in September 2008.
However, the owners have gone back to producing exquisite Italian wines and serving Texas-grown food In addition, the have their own brand of meads, i.e. honey wine. Just make sure to make a reservation if you're planning a dinner for two with a dog.
The 8 places we have listed above should only be the starting point of the journey to find the ideal spot for your dog in Houston. Once you start roaming through the city with Fido, you will diver many more hidden pet-friendly venues your dog would never want to leave.