Most cat parents will be familiar with cat kneading. Perhaps there've been times when you've just sat down on the couch with a cup of coffee, and your cat has appeared from nowhere, invading your space and kneading on your lap. Or maybe you regularly get into bed, make yourself cozy ready for sleep and suddenly feel the rhythmic pressure of your four-legged friend kneading. Cats knead their owners at the most awkward times, especially if you're desperately trying not to spill your piping-hot coffee or you just want a good night's sleep! But why do cats knead? 
What is cat kneading?
When cats knead, it is also known as "making biscuits" because that's exactly what it looks like! It's when your cat moves their feet rhythmically, clenching its paws and alternating sides as if kneading dough. It often causes them to sway from side to side, and if you're around, they might purr and fix you with a stare. 
Most cats will use just their front paws to knead, although some cats have been known to use all four feet! It sounds pretty weird, doesn't it! So why do cats knead? 
If a cat kneads, it generally means they're contented and relaxed, which is undoubtedly a good thing.
Why do cats knead?
Kneading is a purr-fectly natural behavior for your cat. It's completely instinctive and is something even tiny kittens do. So, what is its purpose, and what does it mean?
It's something they did as a kitten
Kittens knead on their mothers as they are nursing and other soft objects. This helps to stimulate milk production and releases oxytocin to help keep the mother-kitten bond strong. 
Of course, adult cats don't feed from their mothers anymore, but the behavior remains a source of comfort to them. Adult cats forever associate kneading, or making biscuits, as they get older. It's like taking kitten instincts to cats kneading into adulthood. 
Some cats will dribble while kneading, which might be due to the memory of suckling from their mother. However, if your cat suddenly starts dribbling when they are kneading, they might have bad teeth, so it's worth getting them checked over by a veterinarian.
They're making their bed
There's nothing better than getting into bed when it's clean, fresh, and made just how you like it. Well, it's just the same for cats. 
If you notice cat's kneading and padding around on a blanket or bed before they lie down for a snooze, they're probably just making it as comfortable and in a calm mood.  
They're displaying happiness or affection
If your cat approaches you and starts kneading and purring, it probably means they like you!
Not only that, but it also means that they are feeling relaxed and comfortable around you, which is a lovely compliment.
They're marking their territory
So, you now know that your feline buddy kneads on you as a sign of affection, but there's more to it than just love.
Cats have high numbers of scent glands around their paws, pads, and claws, so kneading is a way to mark their territory. This is why you might find your cat kneading on your favorite cozy blanket or a soft throw cushion.
If it's your lap that they favor, they're probably covering you with their scent. This doesn't only let other cat competitors know that you're off-limits; it also means that when they sleep on your lap, you smell familiar.
They're working out
Cats love to stretch, and scratch posts and cat trees can give them the perfect opportunity. However, kneading will also provide them with the chance to limber up and get their joints moving.
They're in season
This one applies to female cats only, but cats can also knead when they're in season.
Female cats who are in heat will be more tolerant and accepting of male attention, and they might even get a bit flirty.
To show that they're feeling friendly, they might do a kneading display to entice a male.
Can I stop my cat from kneading?
Kneading is a natural behavior for cats, so you definitely shouldn't try to stop it. However, if your cat is particularly enthusiastic or has long or sharp claws, kneading can be pretty painful.
The best thing to do is to ensure they have plenty of scratching stations around the house, like scratch mats, scratch posts, or cat trees.
You can also clip their claws so that they are kept relatively short and aren't so sharp. If you're not confident about cutting your cat's claws, speak to your veterinarian or a groomer.
If your cat kneads on soft furnishings and is causing damage, you can try to redirect the behavior by encouraging them to knead elsewhere.
Try providing them with their own bed and use a calming or pheromone spray to help attract them to their own comfy corner.
Summary
Cat kneading is a little bit odd, but when you understand the reasons behind the behavior, you realize it's quite endearing! So, make sure your kitty has had a recent manicure and try to embrace the love!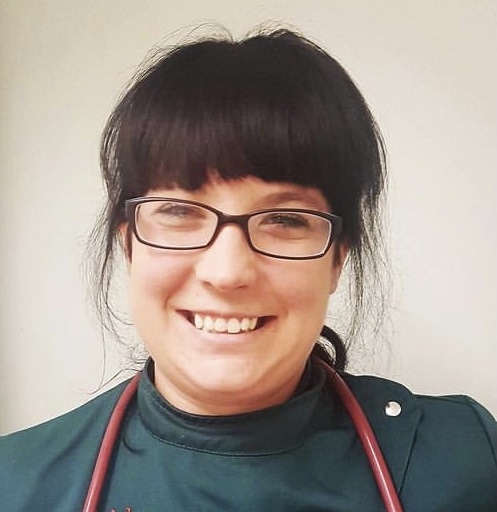 Dr. Hannah Godfrey MRCVS graduated from the Royal Veterinary College in 2011. Although she initially worked in mixed practice treating all species, she found a love for small animal work and has worked exclusively with dogs and cats since 2014. She lives in Wales with her partner, son, and two cats (named Poppy and Ashton Kutcher), and writes comedy fiction in her spare time.