Cats are complex creatures, who are often misunderstood. Their behaviors can be subtle and hard to read. Many cat parents will have experienced the odd nip from their kitty but may have been left bemused by what it meant. The key to a harmonious home is understanding why your cat may bite you, so that you can respond appropriately. 
There are many reasons that a cat may bite, and it's really important to be able to distinguish between them. A cat biting out of fear or aggression will need a very different approach from a cat nibbling you out of affection. Let's look at some of the reasons a cat might bite you
Kitten biting
Biting is actually a normal, natural behavior for kittens. They bite while learning to hunt, when teething, and when learning to play and communicate with their mother and siblings. 
This is one of the reasons it is so important for kittens to stay with their mother until they are 8 weeks old. During this early play with mum and siblings, they learn about "bite inhibition." This means when it's appropriate to bite properly and when to be gentle.
Cat "love bites"
Some cats will lick and nibble you, often during petting. It is thought this could be their attempt at grooming you. In cat colonies, allogrooming ("grooming another") is common between family members. So, your cat is probably showing you affection with this behavior, and acknowledging you as part of their family. A great compliment from your feline friend!
Cat "love bites" are usually harmless. They don't break the skin and usually don't hurt. Your cat will be relaxed and calm while nibbling on you.
Your kitty can bite you when you are petting around the belly or tail, since cats are very sensitive here.
Cat biting suddenly during petting
This type of biting is often the most confusing for pet parents, as it seems to come out of the blue! If you are lovingly petting your cat one minute, and the next they suddenly sink their teeth in, this can be a sign of overstimulation, or that they have had enough of the petting session. This type of behavior can be more common when petting around the belly or tail, since cats are very sensitive here.
Although this behavior can seem to come from nowhere, there will have been some subtle warning signs. These can include tail swishing, staring, ear flattening, or a tensing of the body.
Playful cat biting
Just as adult humans must remember to leave time for play, adult cats do the same. Chasing, pouncing, and biting are all play behaviors that cats tend to retain into adulthood, which mimic hunting. It's important to note that playful biting can turn into aggressive biting in a cat that is overstimulated, or one who has not learned bite inhibition when they were a kitten. This can happen when a kitten leaves their mum too early.
Aggressive cat biting
Aggressive cat bites are usually accompanied by aggressive body language, such as hissing or back arching. However, there is usually an underlying reason. Cats often show aggression due to fear, anxiety, pain, illness, or as a defense mechanism. 
Aggressive cat bites can break the skin and often become infected. It's important that you wash the bite thoroughly and contact your primary care physician for advice.
Playful biting can turn into aggressive biting in a cat that is overstimulated, or one who has not learned bite inhibition when they were a kitten.
How to stop cat bites
Whatever the reason for your cat biting, it's important to deter or redirect the behavior. What seems like a cute and playful kitten nip may not seem so cute when your adult cat continues the behavior. Ouch! So, here's some tips for stopping your cat from biting.
Firstly, take your cat to your veterinarian for a check-up. They will be able to determine if any underlying pain or medical conditions are causing the behavior. This is especially important if the behavior is new.
Keep still
If your kitten is play biting, be sure to keep still until they stop. If your adult cat is play biting you, again it's really important to keep still. If you make a sudden movement, your cat's natural hunting instincts will kick in, causing them to "attack" further. Then distract them with a chasing cat toy and reward them with treats for playing with the toy. They should soon learn! Provide plenty of toys and puzzle feeders, to keep your cat entertained.
Check their body language
If your cat is biting you out of nowhere when petting them, it can be helpful to learn to read their body language. If you can pick up on the subtle clues that they have had enough, you should be able to stop petting before the biting occurs. If you aren't sure, it's safest to keep petting very short. Stick to stroking your cat on their head and under their chin, which are usually their favorite spots! Avoid their belly, legs, and tail base.
Consider avoiding petting if your cat is aggressive
Aggressive cat bites are the hardest to overcome, as they usually indicate that your cat is stressed or in pain. If your cat is showing genuine aggression, then it's safest to avoid petting them and to seek advice from your veterinarian. If there is nothing physically wrong, they can refer you to a suitable feline behaviorist.
If your kitten is play biting, it's best to redirect the biting to an appropriate toy and reward with threats for playing with the toy.
Most importantly, whatever the situation, you should never shout at, push, or scruff your cat. This will most certainly lead to an escalation of the behavior and enhanced aggression. Cat bites can become infected, so it's important to avoid them, not to mention the stress for your kitty.
Hopefully, your feline friend just gives you the occasional affectionate nibble. Any more than this should never be encouraged, no matter how gentle or playful it seems. The behavior could escalate, or be transferred to other humans. It's important to seek advice from your veterinarian if you have any concerns about your cat's behavior.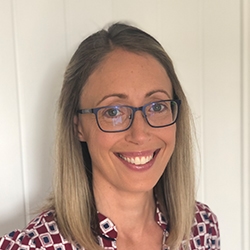 Sarah-Jane Molier wanted to be a veterinarian from around the age of ten. After much hard work, and her first degree in animal science, she realized this dream and graduated in 2009. She has been working in small animal clinics ever since.