Clindamycin is an antibiotic medication, so it works against bacteria. Different antibiotics work in different ways; some kill the bacteria, for example, which is called bactericidal. Clindamycin works by stopping the bacteria from multiplying, termed bacteriostatic. However, it can have a little bactericidal action too.
Clindamycin gets absorbed quickly from the guts and is widely distributed in the body. This means it's good at reaching some areas that other antibiotics may not be able to reach, such as bones and abscesses.
Clindamycin is a prescription-only medication, meaning it can only be supplied to your dog if it has been prescribed by a veterinarian, following a clinical assessment (an exam). 
It is available as a liquid, a tablet, or a capsule. It can taste pretty bitter, so usually needs to be hidden in something yummy! Clindamycin can be given with or without food, but it's easiest to offer it with a bit of wet food or water to help wash it down. Some tablet or capsule forms can cause ulceration if they become lodged in the food pipe, although thankfully this is more of an issue in cats and isn't common in dogs.
What is clindamycin used for in dogs?
Clindamycin has a fairly broad spectrum of activity, meaning it works against lots of different bacteria, including anaerobic bacteria, gram-positive aerobic bacteria (including most Staphylococcus and Streptococci), and some protozoal infections. This means it can be used to treat a variety of infections, including:
Skin infections (pyoderma)

Wounds and abscesses

Bone infections (osteomyelitis)

Dental / oral infections

Inner ear infections

Urinary tract infections (UTIs or water infections)

Prostate infections 

Toxoplasmosis 
Some of these uses are 'off label'. This means that it's not licensed for use in these situations. However, it can be used if the prescribing veterinary surgeon follows the prescribing rules and deems it necessary.
What are the side effects of clindamycin for dogs?
All drugs have the potential to cause side effects. Symptoms of gut upset can be seen in dogs, such as vomiting and diarrhea. If you notice any side effects, let your veterinarian know so they can decide if the medication is still appropriate for your dog.
An overdose can cause symptoms such as vomiting, inappetence, and diarrhea. If you suspect your dog has had more than the prescribed clindamycin dose, contact your veterinarian straight away. Clindamycin is short-acting, so most dogs clear it from their body in 24 hours, but they will likely need treatment.
Thankfully, severe allergic reactions to clindamycin are relatively rare. If you notice any unusual or worrying symptoms in your dog after starting clindamycin, such as difficulty breathing, you should treat this as an emergency. Contact your veterinarian or nearest emergency clinic straight away.
Contra-indications of clindamycin for dogs
Clindamycin should not be given to dogs who are allergic to clindamycin and/or lincomycin preparations.
The liver primarily metabolizes clindamycin, so this medication needs to be used cautiously in animals with liver disease. This also means the drug may reach higher concentrations in the bloodstream of dogs with liver disease and will take longer to be eliminated from the body. Any dog on long-term (more than 3-4 weeks) clindamycin ought to have regular blood work, to check that the liver is OK.
Some clindamycin is also eliminated by the kidneys, so it should also be used cautiously in animals with kidney disease. If a dog is on clindamycin for prolonged periods, regular blood work to check kidney function is advisable.
Although there are no known risks to pregnancy, safety during pregnancy has not been proven. 
Some drugs can interact with clindamycin, so be sure to tell your veterinarian if your dog is taking any other medication, even over-the-counter or herbal supplements.
Clindamycin is a useful antibiotic for a number of bacterial infections in dogs. It should only be used when prescribed by, and under the direction of, your veterinarian. As with all drugs, side effects are possible, so you should contact your veterinarian right away if you have any concerns.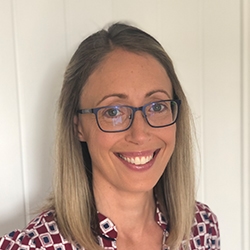 Sarah-Jane Molier wanted to be a veterinarian from around the age of ten. After much hard work, and her first degree in animal science, she realized this dream and graduated in 2009. She has been working in small animal clinics ever since.