Sometimes, it seems like dog dewclaws exist only to cause problems, especially when they are on the hind legs! While some dogs will go their whole lives with no issues, many dogs have injuries or issues associated with their dewclaws during their lifetime.
Severity:
Often mild but can occasionally be more serious
Key points
All dogs are born with dewclaws on their front feet, but some also have them on their rear feet and even double dewclaws.

Hind dewclaws are often more "floppy" with less of a boney attachment.

Dewclaws may need clipping more frequently than your dog's other nails.

Dewclaws can get caught, torn, and damaged and can bleed a lot.

A veterinarian can help to stem the bleeding and may prescribe antibiotics.
Common in:
Young, energetic dogs, especially those with hind dewclaws. However, any dog can be affected.
Symptoms and types:
Dog's dewclaws are the small digits slightly higher up a dog's leg than their other toes. They are similar to human thumbs. All dogs are born with front dewclaws, and some have hind and front dewclaws too.
Hind dewclaws tend to be less well attached and floppier than front dewclaws, so they are more likely to get damaged. Another common problem with dewclaws is that the nail can grow too long and become ingrown, resulting in the dewclaws removed by a vet. 
If your dog has an injury to its dewclaw or the surrounding skin, you might notice them licking at it excessively. If the nail is torn off the nail bed, there might be a lot of bleeding. If the dog's declaws have an injury severe or is particularly painful, you might notice them limping on the affected leg, and you'd need to visit a vet and acquire some veterinary medicine to treat the pain and sometimes have a dewclaw removal. 
If you can get a good look at the dewclaw itself, you might spot that the nail is at an odd angle or even hanging off.
All dogs are born with front dewclaws. They are essentially another toe or the equivalent of a human thumb.
Understanding the diagnostics
If your dog's dewclaws are damaged, most dogs will visit a vet where a member of our veterinary team will need to check on the broken dewclaws. 
Sometimes sedation is necessary if your dog is too painful to be examined. The vet can determine whether the dog's dewclaw is cracked, split, or detached by seeing how dogs react when they make contact with the ground. 
Depending on the damage, ingrown nails or infected dewclaw on the hind leg, the vet can also decide whether the nail is still viable or needs removal. They may also check that the other nails are not overgrown. 
If the veterinarian is unsure whether there is a fracture, they may recommend an x-ray of the foot so that treatment can allow the dog to heal properly. 
Equally, if there is a foul smell or the wound looks infected, they may prescribe antibiotics. If antibiotics don't resolve the problem, they might need to take a swab to see which bacteria are causing the infection.
Learning about the causes
Long dewclaws can get caught on undergrowth, branches, and other obstacles, especially if the nails are not kept at the proper length. In certain breeds, this can cause the nail to rip off the nail bed, causing bleeding and pain and leaving the area exposed to bacteria. 
In dog breeds, nail bed infections can become more concerning if the infection spreads to the underlying bone. 
If your dog dewclaws are not checked and clipped regularly, they can become overgrown and sometimes penetrate the skin and will have to be removed with nail clippers or by a vet. Not only is this painful, but it also means a risk of infection. So, it is best to remove dewclaws or get regular nail trims to prevent injuries.
One of the most important things you can do to prevent dew claw issues is to keep the nails short by getting them trimmed regularly.
Best treatment options
If your dog has an overgrown or ingrown dew claw, this can be pretty simple to resolve. A member of our vet team can clip the nail shorter and remove an ingrown nail. If there is a wound on the rear leg from the dog's dewclaw or rear dewclaws, they might prescribe antibiotics, and your poor pooch might need a cone buster collar to stop them from licking at it.
If your dog has a damaged or torn nail, it may need to be clipped shorter or even completely removed. Sometimes these procedures have to be done under sedation because the dog is too painful. However, some dogs cope well without the need for sedation. If your dog's nail has been damaged, your veterinarian might prescribe pain relief and antibiotics. Your dog might also need a bandage after a dewclaw removal or cone collar to stop them from interfering. Don't worry – your dog's nail will generally grow back. Although, it may grow at a different angle and need clipping more frequently.
If your dog has repeated problems with their dew claws, our veterinary team might suggest removing them. This can prevent future problems but shouldn't be done without good reason. Working breeds, or those at high risk of dewclaw injuries, occasionally have their hind dewclaws removed as young puppies or at neutering as a preventative measure.
Home remedies and their effectiveness
One of the most important things you can do to prevent injury or dew claw issues is to keep the nails short by getting them trimmed regularly. 
If your dog damages their dewclaw, applying pressure with a clean dressing will help stem the bleeding. 
Using salt water to bathe the area a couple of times a day will help prevent infection on your dog's dewclaws, but make sure you keep an eye for signs of pain, swelling, or a foul smell.
When to see a vet
If your dog injures their dewclaw, the dog's leg often bleed pretty substantially. You should take your dog straight to the veterinary clinic if, despite constant pressure, the bleeding has continued for more than 15 minutes without slowing down.
However, once the bleeding stops, it would still be sensible to take your dog for a check-up in case they need the nail removed or need any medication. 
It's especially important to get them checked by a veterinarian if you notice signs of infection, including pus, swelling, or a smell. If you think that your dog is having problems with their dew claws too regularly, you could discuss dewclaw removal with a member of our team.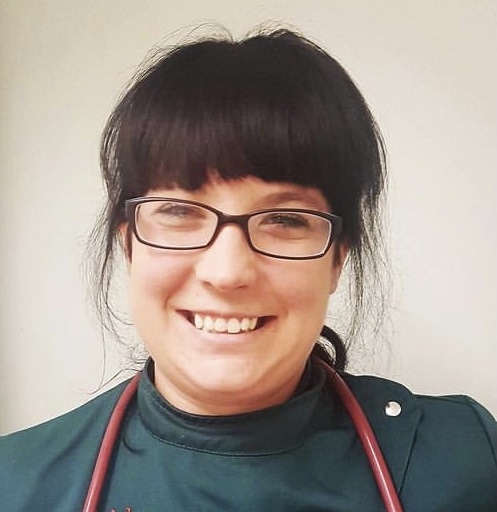 Dr. Hannah Godfrey MRCVS graduated from the Royal Veterinary College in 2011. Although she initially worked in mixed practice treating all species, she found a love for small animal work and has worked exclusively with dogs and cats since 2014. She lives in Wales with her partner, son, and two cats (named Poppy and Ashton Kutcher), and writes comedy fiction in her spare time.