Finding accommodation in Chicago shouldn't be complicated even when you are traveling with your four-legged pal. However, not all dog-friendly hotels in Chicago offer the same level of hospitality, so it's worth exploring the following 7 locations to determine which one suits your travel preferences the best.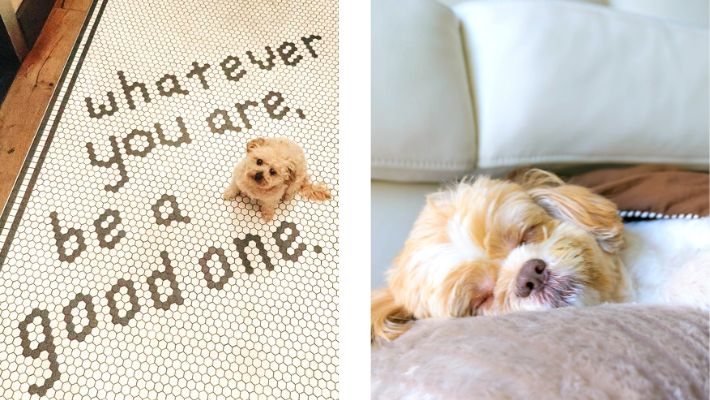 Located in the heart of the Lincoln Park neighborhood, Hotel Lincoln is dedicated to making canine guests feel at home. Namely, they offer the "Park in the Park" package that includes a doggie travel kit (a dental treat and a water bowl), a trademark bandana, and a map of the local dog-friendly places. 
Oh, yes, did we mention that two pets of any size stay for free (guests sign a pet agreement at the reception desk)? There is no grassy area on the premises, since Lincoln Park, featuring the largest dog-friendly area in the city, is right across the street.
Human guests can look forward to flat-screen LCD TVs, a 24-hour fitness center, and Jonathan Adler bath products; to name just a couple of amenities. Check-in is after 3 PM and check-out is until 11 AM.
Kimpton Hotel Monaco Chicago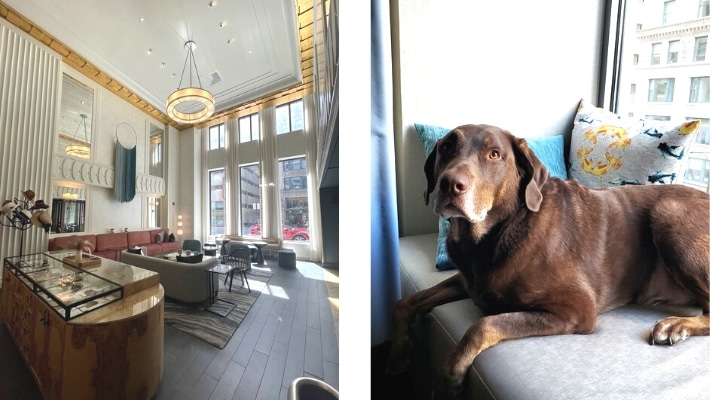 The famous Loop central business district is home to Kimpton Hotel Monaco Chicago. The amenities that the hotel offers are truly exquisite: a 37-inch LCD TV in every (designer) room, a 24-hour gym, and in-room spa services.
The location is also favorable: it will take you 16 minutes to get to the beach on foot and some 9 minutes to Millennium Park. The Kimpton welcomes both dogs and cats of all sizes absolutely for free!
When staying with a dog, expect to get a room on a lower floor in which the animal can stay unattended provided it's on its best behavior. Upon arrival, you can ask for complimentary bowls, treats, and beds.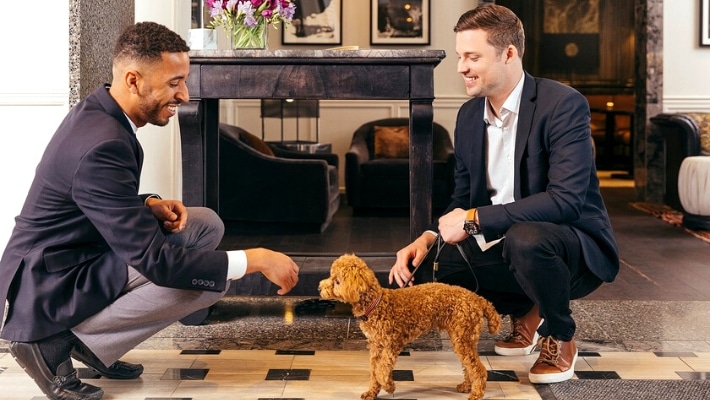 This upscale boutique hotel offers its patrons a restaurant, a fitness center, free coffee or tea, wake-up calls, and much more. The property is smoke-free and there is public parking nearby at $50 per day. 
Pets are also more than welcome at The Talbott Hotel, as they stay for no additional fee (two dogs or cats is the max). You'll get dog treats and a bowl at the front desk and if you leave them your phone number, the animal can be left in the room alone.
Rooms are spacious, so even larger breeds, such as the Golden Retriever will feel comfortable. The nearby lakefront trail along Lake Michigan is ideal for walking your dog (canines are legally permitted to swim in the lake).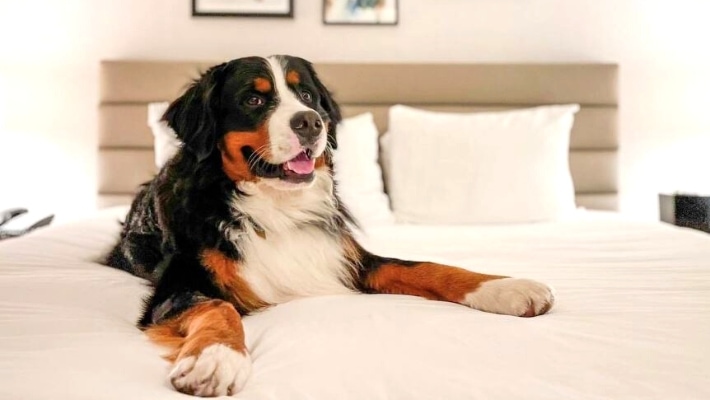 Another Gold Coast location, Claridge House is a hotel that is well within the area covered by Chicago vets (it stretches down to South Commons). You can bring two pets (up to 75 lbs.) for $100, which will serve as a refundable deposit. 
You can bring both dogs & cats and don't worry about the ease of access, as you'll be assigned a lower floor room. The animal should be crated if you're leaving it in the room alone. 
There are two dog parks in the vicinity: Wiggly Field (get the pun?) and Montrose Harbor Dog Beach. On-site public parking near the hotel is $65 per day.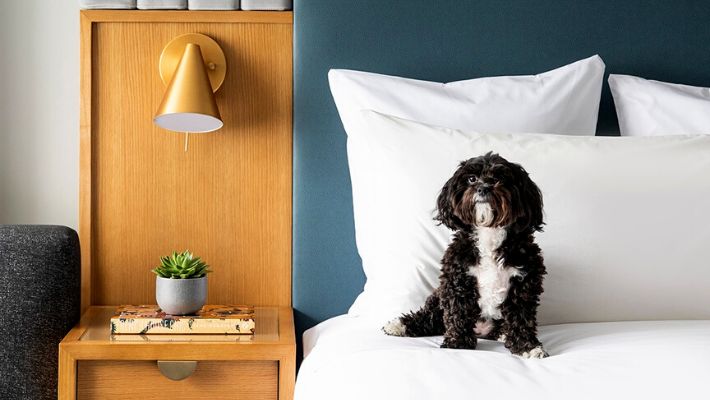 This four-star downtown Chicago hotel welcomes two pets of up to 50 lbs. for a fee of $75 per stay. 21c Museum Hotel is all about contemporary art, both in terms of its architecture and the location near several museums.
This "Art Museum, Hotel & Restaurant" boasts 297 guest rooms; 106 of which are suites. There is also a business and a 24-hour fitness center. You get to the beach after a 12-minute walk and the Magnificent Mile, the city's commercial district is just 5 minutes away.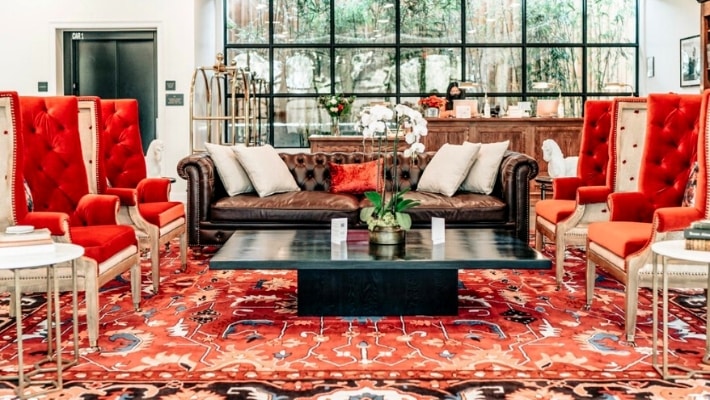 Even though The Guesthouse is a luxurious boutique hotel, their price range is affordable for Chicago's standards. Moreover, they won't charge you a fee if you bring up to two dogs, regardless of their size. Cats are not welcome, though. 
You can leave your pooch alone in the room with a dog bed and you'll get a water bowl. There are several pet shops, dog beaches, and dog parks in the vicinity, so four-legged patrons won't get bored.
Free Wi-Fi access is available in the entire hotel; they offer suites with a gourmet kitchen and a fitness center. On-site parking is $24 per day and needs to be reserved in advance.
Sheraton Grand Chicago Riverwalk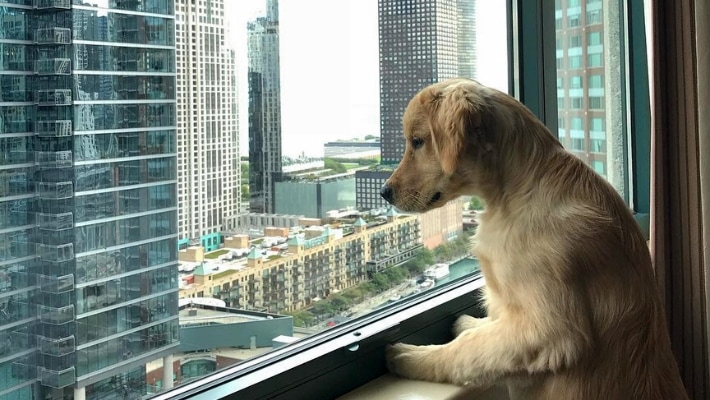 No pet fee if you're bringing one dog up to 75 lbs. is reason enough to stay at Sheraton Grand Chicago. Of course, you can bring more pets (cats can come, too) but with prior approval. The hotel's pet policy states that you cannot leave them in the room alone.
Ogden Plaza Park, with plenty of grassy areas, is located just across the street and the dog park in Bennett Park isn't far either. The hotel's location on the River Esplanade means you'll get great views of the Chicago River and the city's skyline.
Most of the hotels listed above don't charge a pet fee, so you'll be left with extra cash to spend in dog-friendly bars in Chicago. Joking aside, Windy City is truly dog-friendly, which becomes evident to anyone who decides to book a stay in any of the dog-friendly hotels in Chicago.