Constantly ranking among America's top 10 most dog-friendly cities, Phoenix is a great place to live in if you bark and walk on four legs. Joking aside, here are the 9 activities in and around Phoenix humans and their canines can enjoy all year round.
Hike the Apache Wash Trail
1600 E Sonoran Desert Dr.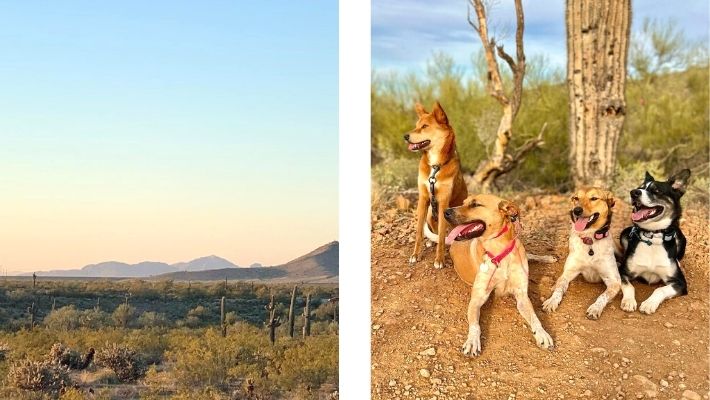 Photos by @catchgroove & @jolenethedreamer / Instagram
Fairly flat (the elevation gain is a mere 155 feet) and suitable for beginners, Apache Wash Trail in Phoenix Sonoran Preserve is something you and Fido should give a go, literally. On average, it takes an hour and a half to cover nearly 4 miles of the out-and-back length of this trail.
Apart from other hikers and their respective canines, you will probably encounter bird watchers, horsemen, and cyclists. The best time of the year to hit the trail is from May to September. Keep in mind that your dog should be leashed and bring along enough water.
A canine workout at Esteban Dog Park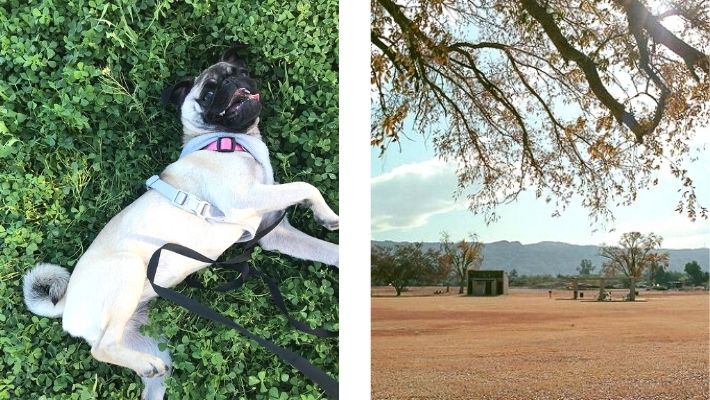 Photos by @popis_the_pug & @jacoberod / Instagram
Since Phoenix has a hot desert climate, every park within city limits is essentially an oasis for local residents. One such location is Esteban Dog Park which is open daily from 5:30 AM to 11 in the evening. The park features separate areas for large and small dogs, plenty of seating, and there is water available on-premises.
Spanning some 2.4 acres of grass, the dog park is vast, which is something pet owners like, as they can see their canines at all times. Moreover, there is a fence around the park, as well as a double gate at the entrance, so not even a German Spitz can escape unnoticed.
Visit Bookmans Entertainment Exchange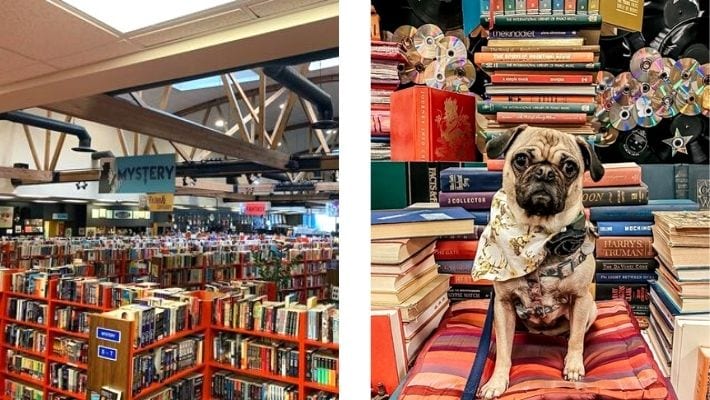 Photos by @lunalunthepug & @bookmanseast / Instagram
Did you know that well-behaved and leashed dogs are welcome at Bookmans Entertainment Exchange? Arizona's largest used books sellers began operation back in 1976 when Bob Oldfather bought his father's old bookstore for a single dollar.
Nowadays, you can buy everything from CDs to video games at Bookmans. The venue is perfect for people who love vintage stuff as much as they love their dog. The Phoenix store organizes events frequently, ranging from poetry slams to a tarot study group.
Shop at Biltmore Fashion Park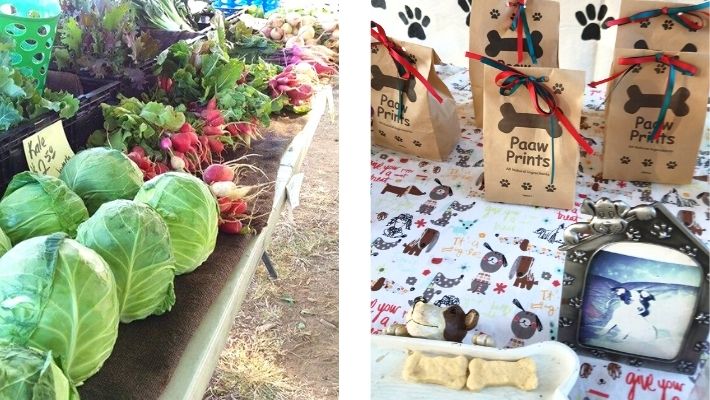 Photos by @kellygarashay / Instagram
In operation since 1963, Biltmore Fashion Park is today an upscale shopping mall in the eponymous area of Phoenix. With plenty of grassy surfaces and water bowls in front of most stores and boutiques, the mall is inviting for pets and their shopaholic owners. Another perk of Biltmore Fashion Park is that it sits well within the service area of mobile veterinary services in Phoenix. Once you know Fido is safe, you can turn your attention to luxury brands (e.g. The Clotherie or Ralph Lauren) or outdoor restaurants (e.g. Obon Bisutoro).
Chill out at The Barking Bodega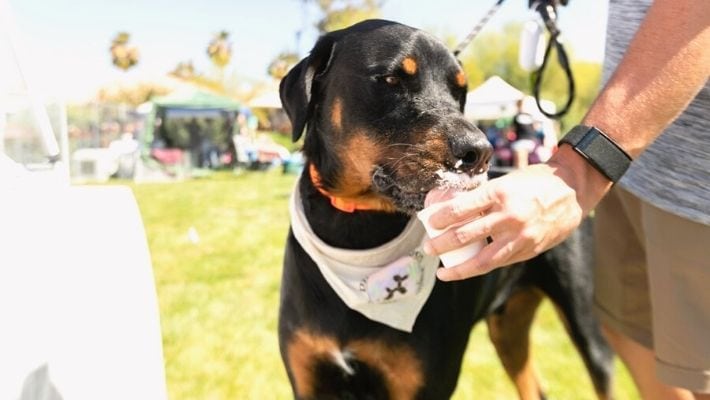 Photo by Elizabeth M. / Yelp
Speaking of restaurants, you definitely need to visit The Barking Bodega, "Arizona's only dog park bar & restaurant." A short drive to the east from downtown Phoenix sits this dog park-cum-cafe.
They offer two acres of fresh green grass that is divided into respective areas for small and large breeds. There is also a café where you can savor locally sourced wines and beer, or just have an espresso.
Here you can try local dishes from a seasonal menu comprised out of farm-to-table food. The weekend brunch is particularly popular. Finally, there is a third dog park reserved for private bookings.
Buy local produce at Roadrunner Park Farmers' Market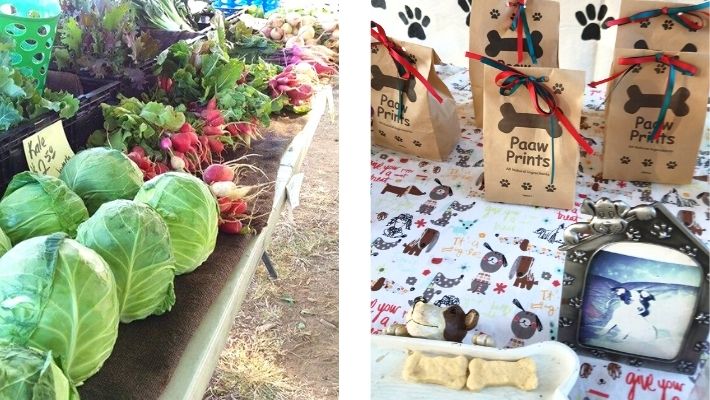 Photos by @RoadRunner Park Farmers' Market / Facebook
Usually taking place on Saturday, Roadrunner Park Farmers' Market is an eclectic place where you can buy locally-farmed fruit and vegetables, baked goods, organic pork, jams, jellies, honey, fish, handcrafted artwork, nursery items, etc.
Situated near Paradise Valley, the market is open every Saturday from 7 AM to 11 AM from June to September (or from 8 AM to 1 PM October through May). Leashed dogs on their best behavior are always welcome and you are bound to find fellow canine lovers among the vendors.
Travel through time in Pioneer Living History Museum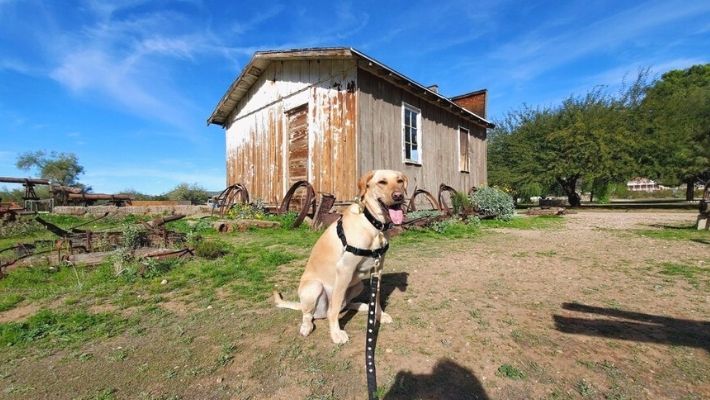 Photo by Brooks P. / Yelp
Spread across 90 acres west of I-17 (near Anthem). Pioneer Living History Museum takes its visitors on a journey through time, back to the 1800s. Apart from historically-accurate reproductions, there are authentic buildings on the site, brought to life by costumed interpreters.
As long as your dog is on a leash, it is welcome to join you on a tour through this open-air museum. Since the compound is located in a desert, just be alert for venous snakes. Pioneer Arizona is closed on Mondays and Tuesdays and the admission price for adults is $10.
Take a ride on the Valley Metro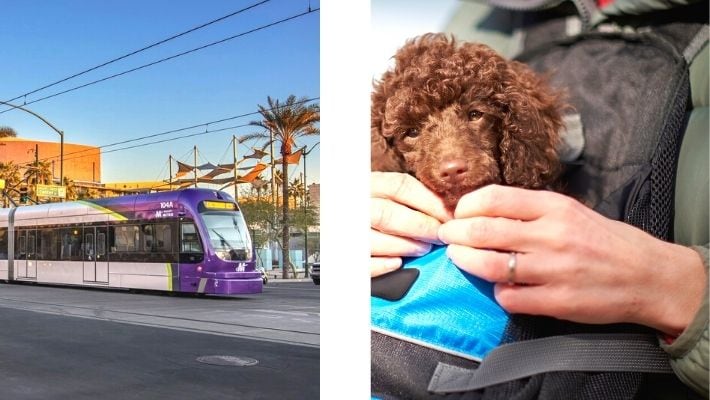 Photo by Valley Metro / Facebook
Did you know your pet can ride on Valley Metro? Officially, only service animals and therapy pets can come on board but as long as the animal is inside an enclosed pet carrier, Fido will have no trouble boarding public transport in Phoenix.
Valley Metro serves the greater Phoenix metro area, which means you can use it to explore nearly all of the destinations from our list. Founded in 1993, the company operates bus and light rail lines that nearly 220k people ride on every day.
Not in the mood of hitting the city when your little companion is in need of a local Phoenix veterinarian? Schedule a home visit with our expert mobile vets team in Phoenix to get him checked in the comfort of your home.