When traveling to the Almond Capital of the World it is worth knowing which hotels welcome canine guests. Once you explore all the amenities of the top 9 dog-friendly Sacramento hotels, it will be easier to decide where to stay and more importantly, where to take your dog for a walk.
Hilton Sacramento Arden West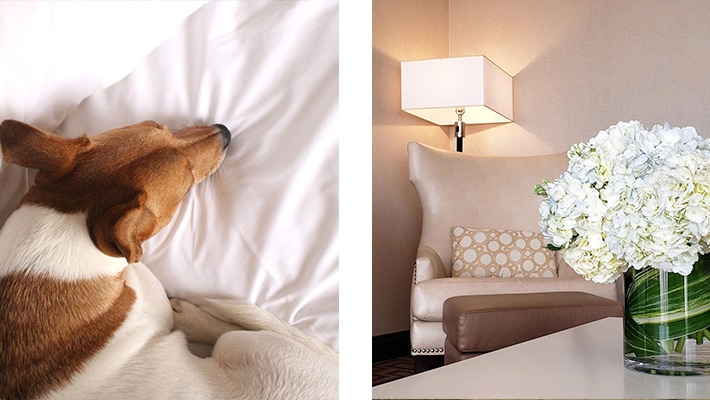 Photos by @hiltonsacramentoardenwest / Instagram
Pet-friendly rooms are just one amenity you can find at Sacramento Arden West, part of Hilton Hotels & Resorts. Other amenities include room service, an EV charging station, meeting rooms, an on-site restaurant, free Wi-Fi, an outdoor pool, Braille room numbers, etc.
Your dog can stay at Arden West for a non-refundable fee of $50 per stay, provided it doesn't weigh more than 75 lbs. (large dogs).
However, you cannot leave your dog alone in the room, which shouldn't be too hard, as there is a grassy area behind the hotel. Check-in is after 3 PM and check-out is before noon.
7780 Stockton Blvd., Elk Grove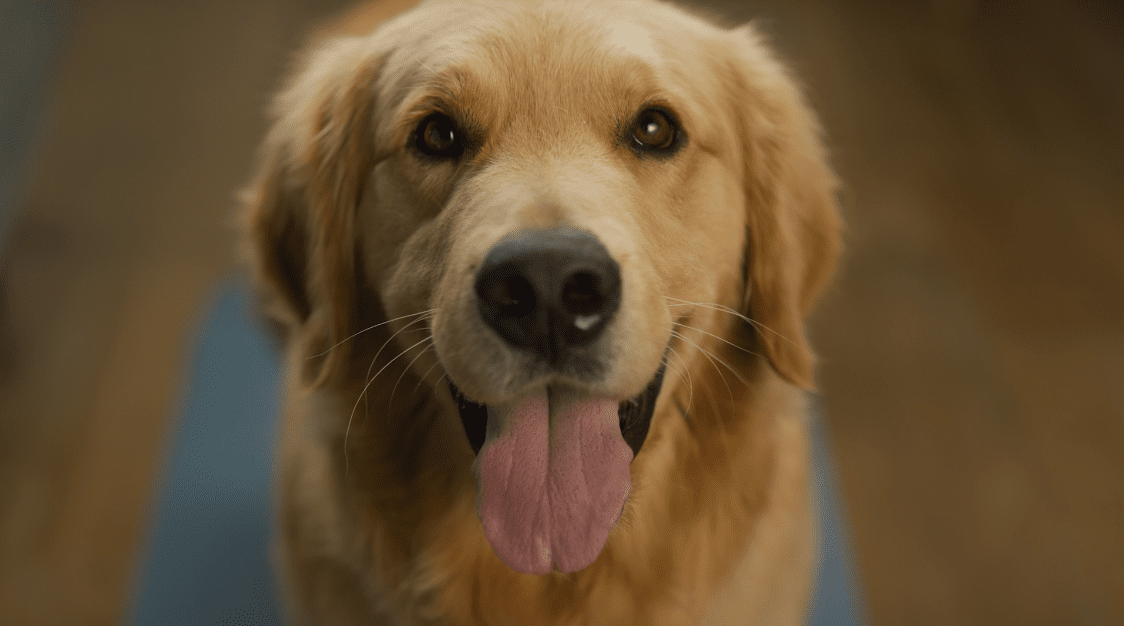 Photos by @shortyrossi & @redroofinn / Instagram
Conveniently located near the Sacramento Zoo, The Sacramento Convention Center Complex and Sacramento International Airport, Red Roof Inn in Elk Grove offers "modern comfort." Guests get to use free Wi-Fi, in-room coffee, and a free, expanded cable package (HBO included).
Canine guests are welcome to stay for free if they are no larger than 80 pounds. The inn's pet policy allows for one dog (you have to book in advance for two dogs) that can stay in the room even when you're away. Check-in time is 2 PM and check-out time is 11 AM.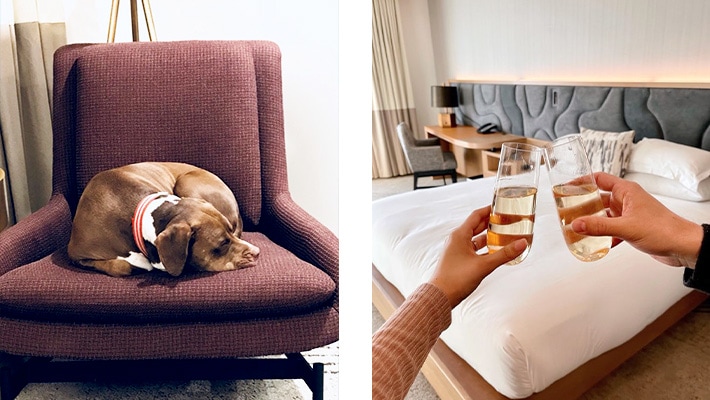 Photos by Lisa C. & Eric S. / Yelp
This downtown Sacramento hotel offers "amenities that are unmatched in the capital city." This is actually true, as you get complimentary morning tea (or coffee) and newspaper service, an evening social hour (5-6 PM) featuring local wineries, and pet-friendly accommodation.
The latter policy states that dogs of all sizes are welcome for no fee whatsoever! Apart from a scratch behind the ear at the reception desk, expect mats, food bowls, and dog treats in your room.
Then there are courtesy bags (when walking your dog), door hangers that alert other guests of your canine, and a friendly recommendation from the staff on where to take your four-legged friend in the city.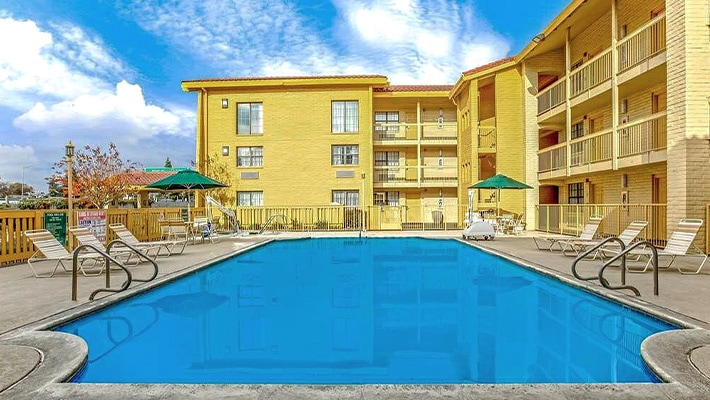 Photos by ICE Portal / Tripadvisor
One of the more affordable hotels on our lists, La Quinta Inn is a charming hotel off the I-80 (near McClellan Park; exit 96). Their pet policy states that you can bring along two dogs of any size for a fee of just $20 per night. When leaving the room without Fido, it should be left in a dog crate.
Just a short drive away is the Arden Fair Shopping Mall and Old Sacramento Historic District. Staying at La Quinta Inn means you won't have to worry about your dog's safety, as the service area of local vets extends north all the way to Rocklin.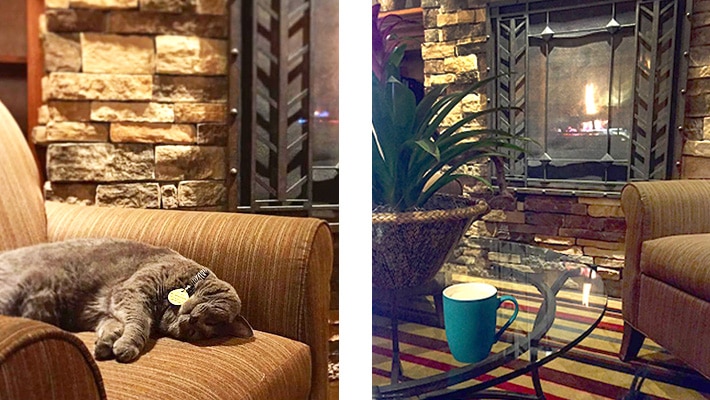 Photos by @aryaofhouseotoole & @mbstutz / Instagram
This suite hotel advertises itself as "a home away from." Indeed, all of their suites are equipped with a kitchen, plush bedding, and a large living room area. Whether you are traveling for business or pleasure, staying at Larkspur Landing is an overall pleasant experience.
The pet policy states that there is a non-refundable fee of $75 per day, per pet. The maximum weight of the animal is 60 lbs. and you can bring two dogs.
You aren't allowed to leave your pet unattended, which shouldn't be a problem because there are dog trails in the vicinity (as well as a Starbucks).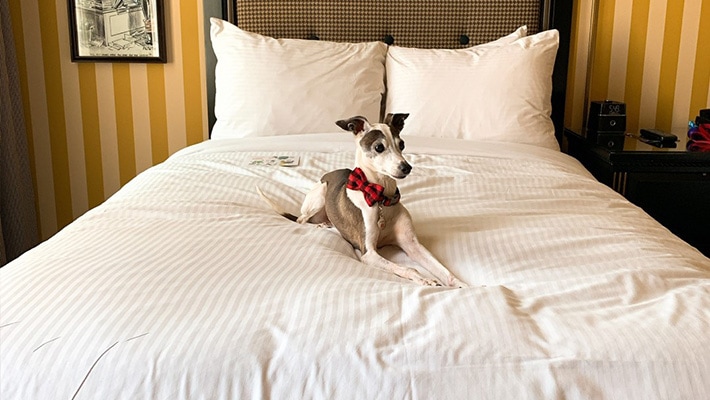 Photos by @thecitizenhotelsacramento / Instagram
A Marriott Autograph Collection Hotel, The Citizen is a place where "historic glamour abounds." The luxurious suites offer numerous amenities, from concierge services, across valet parking for overnight guests, to same-day dry cleaning & laundry service.
When traveling with a dog, you can leave it in the room unattended but there is a $50 fee per stay. California State Capitol Park is located nearby and it's ideal for taking your dog for a walk, although it should be leashed. You get the view of the Capitol building from the hotel itself.
Sheraton Grand Sacramento Hotel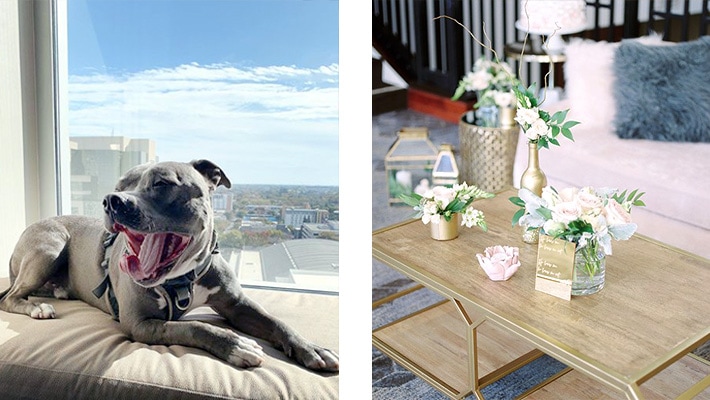 Photos by @eddiethepittie & @typentecost / Instagram
Situated near a convention center, the second Hilton hotel on our list is perfect for business travelers. This modern lodging offers on-site valet parking, an outdoor pool, free lobby Wi-Fi, and access to a 24-hour Sheraton Fitness center.
One pet is allowed per room unless it weighs more than 80 lbs. Since this is a luxury hotel chain, there is a non-refundable fee of $100 involved (per room, per stay).
The property is smoke-free and you can check in late (3 PM) and check out by 12 PM. Keep in mind that the hotel's downtown location means there aren't many places near it for a dog with an upset stomach.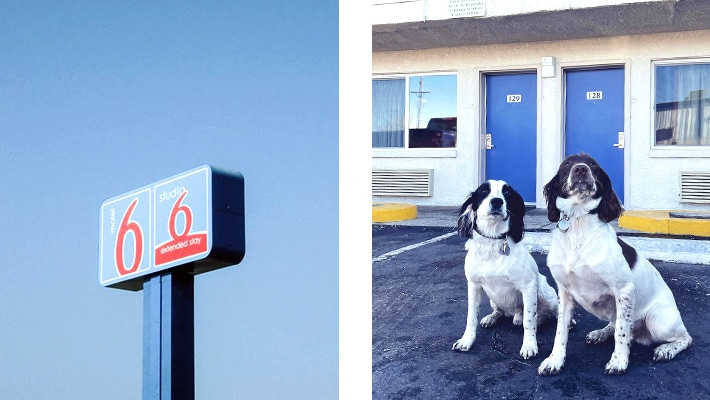 Photo by @eruiz.jpeg & @mountainandpaw / Instagram
Located just off Route 50, this 2-star hotel is perfect for canine owners who don't appreciate the hustle and bustle of downtown Sacramento. Guests have repeatedly commended the staff for being friendly both to hoomans and dogs.
You are welcome to bring up to two pets to Motel 6 for no additional fee (when their combined weight is less than 60 lbs.). Apart from an outdoor pool, the property features a grassy surface for pet relief. Also, children can stay for free and they provide complimentary local calls.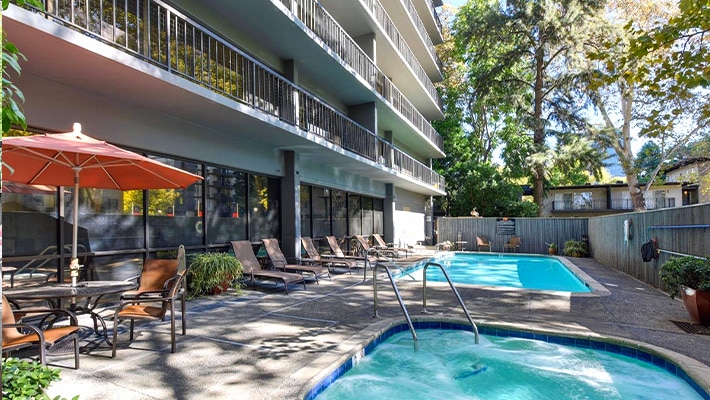 Photos by 500 N street / Facebook
Finally, we have a condominium complex in downtown Sacramento that allows dogs of all sizes. Staying with a dog at one of two studio apartments involves no additional fees and you can even bring cats along (if you think that is wise).
However, you should state in advance that you are bringing Fido along, as certain breeds might not be permitted. Other amenities include access to high-speed internet, on-site retail, a fitness center, ceiling fans, non-smoking accommodation, washer/dryer hookup, etc.
Choosing among several dozen dog-friendly Sacramento hotels can be tricky, as their respective pet policies vary. Some, like the Hilton, will charge you $100 per night, while others, more "humble" hospitality services don't charge extra for bringing Fido along. The final choice is yours! 
Did you know that you can invite our mobile veterinary team straight to your hotel? Schedule your visit today and enjoy your stay in Sacramento without unnecessary hassle.