Life in New York is hectic both for people and canines but if you live in Brooklyn then you're in luck, as this is borough is one of the dog-friendliest parts of the city. The sheer number of dog parks is the main reason for this statement, as there are several dozen off-leash parks in Brooklyn for dog owners to explore.
North 12th St., Driggs Ave. & Union Ave.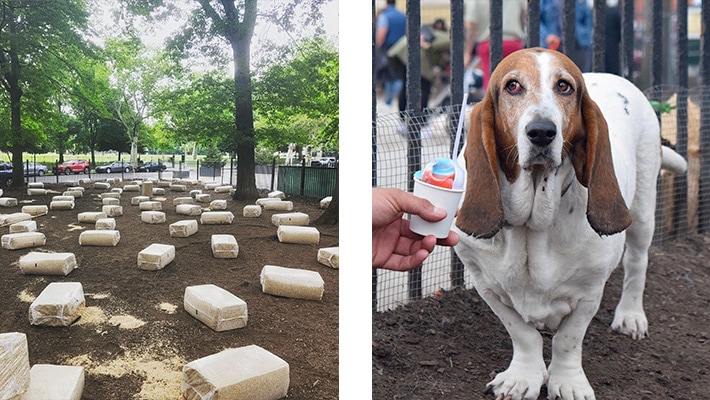 Photos by @buddysdogden & @sallylongdog (Instagram)
Conveniently located in the Greenpoint neighborhood, McCarren Park spans 35 acres, which means pups have plenty of room for a solid runout. The dog friendly-area at this park features separate areas for small and large dogs, as well as a shaded area for animals to cool off in summer.
The off-leash dog run area is open every day from 9 AM to 9 PM. If you walk your dog outside of this area, it must be on a leash no more than six feet long. Keep in mind that McCarren Park has an issue with waste disposal, so there is a whiff in summer that neither canines nor humans enjoy.
Columbia Hts., Hicks St., between Middagh St. & Vine St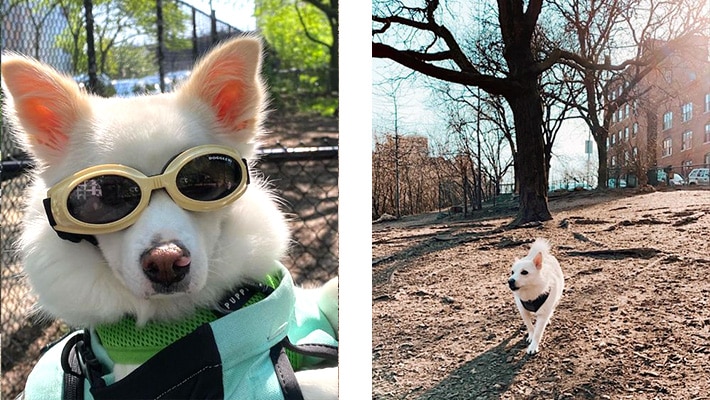 Photos by @brooknicklyn & tofubooski / Instagram
Hillside Dog Park began its life as an undesignated patch of land left after the building of the Brooklyn-Queens Expressway during the late 1940s. Today, this area east of Columbia Heights is a huge dog park that welcomes all breeds.
The fact that this is the biggest dog park in Brooklyn isn't such a great thing, as dirt paths turn into mud roads after heavy showers. Even dirt can cause skin problems once it gets into the animal's fur.
On a positive note, the park has a lot of seating options in the form of benches and picnic tables. Also, keep in mind that smaller breeds can easily eat out through the front gate.
86 St., Belt Pkwy. between Bay 8th St., 14 Ave., & 7th Ave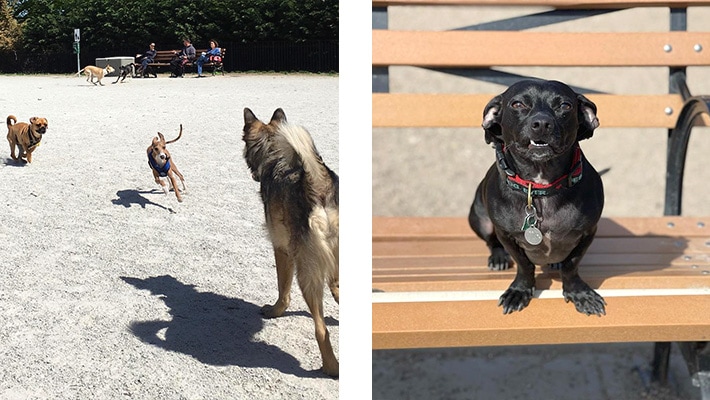 Photos by @onequarterdead & @manyfacesofkorra / Instagram
Moving on from the biggest to the most diverse dog park in Brooklyn: Dyker Beach Park. The whole park is actually a patchwork of eight pieces of land acquired over several decades that features everything from handball and baseball fields to an 18-hole golf course.
The scenic location of the park offers multiple secluded areas, ideal for your dog to play. However, there are already cliques of dog owners, so brining a new animal into the bunch might be problematic. Also, the gravel in some areas can get caught in Fido's paws.
Middle & Upper Long Meadow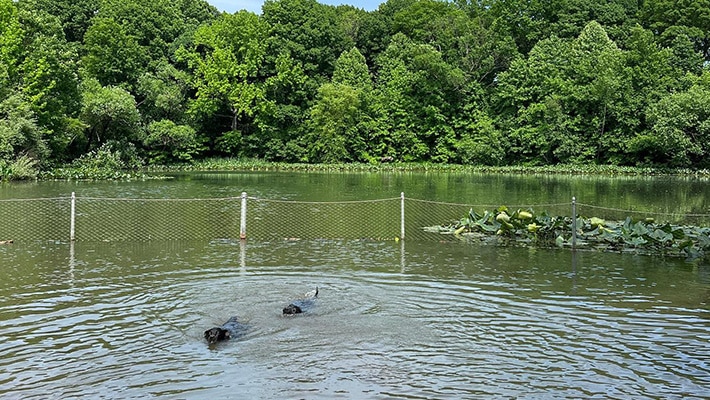 Photos by @oliveprincessdoggy / Instagram
Situated inside Prospect Park, the dog field stretches across several acres and it includes a fenced-off area with access to water. The location and other amenities available at Prospect Park mean that dog owners will hardly ever get bored.
Like in other NYC parks, the off-leash hours are either before the park officially opens at 9 AM (the earliest from 5 AM) or after the park closes at 9 PM but no later than 1 AM. If you live nearby, then you can count on local Brooklyn vets for on-call support if you require it.
Eastern Pkwy., Flatbush Ave. between Underhill Ave. & Washington Ave.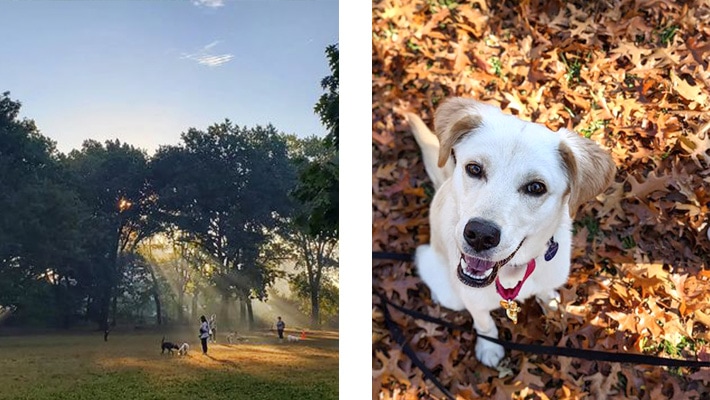 Photos by @m2thei & @devi.the.dogtrainer / Instagram
Speaking of location, Mount Prospect Park is arguably the best-positioned dog park, within the Brooklyn Botanic Garden. As the second-highest point in Brooklyn, the park was used by the Continental Army in 1776 as a lookout point.
The view might have changed nowadays but there is plenty of shade and peace & quiet for visiting pups and their owners. On the downside, there isn't that much space as in other Brooklyn parks and the off-leash hours are just as restrictive (only dawn and nighttime).
East of Ocean Ave., North Shore Rockaway inlet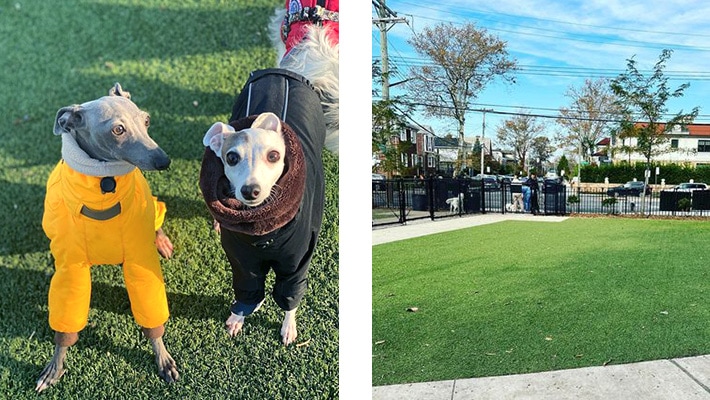 Photos by @nolaprincessmonkey & @mikej75 / Instagram
For people living in Manhattan Beach, this park is the place to go for Fido's runout. In addition, there are numerous sports venues here, from baseball diamonds to volleyball courts, which speaks about the size of the whole place.
In the center, there is a grassed amphitheater, ideal for lounging during the summer months. However, locals have been complaining for some time that big dogs are not separated from
small ones, which causes conflicts. Also, bring a water bowl and a baggie, as the hygiene in the park is fairly low.
St. Mark's Ave., Park Pl. between Brooklyn Ave. & Kingston Ave.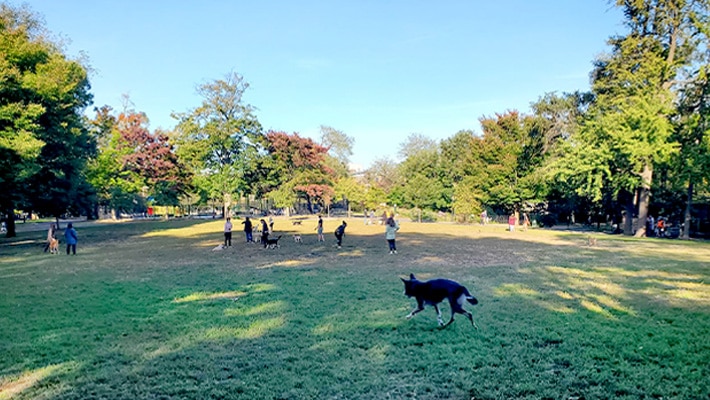 Photos by @@friendsofmanhattanbeachdogrun924 / Facebook
When you visit Crown Heights, Brower Park is the place to go. With plenty of picnic room on grassy lawns and a skate park, this park is the ideal grounds for fun. Because the park is frequented by families with small children, a leash is required during the daytime.
However, in the morning and after 9 PM, you can set your canine free (except on playgrounds, of course). Even though the dog area is not fenced-off, the paved sidewalk serves as a natural barrier that well-behaved dogs will never cross.
Spanning some 180 square kilometers, Brooklyn offers plenty of parks with off-leash areas for dogs. We have listed only the 7 most popular venues but once you move beyond your neighborhood, you'll discover that the borough has plenty of dog parks to offer.
Schedule an appointment with our Brooklyn mobile veterinary team to make sure your pooch is in its best shape and ready to hit the parks!