It's lovely to receive flowers, be it to mark a special occasion or for no reason at all. But did you know that some flowers can be harmful to your cat? So, does this mean you can't ever have cut flowers in your home? Thankfully not! There are plenty of options for flowers that are safe for cats, so read on to find out which are okay and which to avoid.
Which flowers are poisonous to cats?
Many flowers and plants are toxic to cats, but the severity of the symptoms varies. Lavender, Alstroemeria, and Peonies, like the majority of "poisonous" flowers, will cause a bit of sickness and diarrhea. Flowers including Carnations and Dahlias again tend to cause mild tummy upsets but also cause skin irritation. Daisies (Chrysanthemums) and Irises cause more severe gut upsets and skin lesions and sometimes cause dribbling and incoordination. 
However, some flowers are far more deadly, causing more serious symptoms that can be rapidly life-threatening. An example is Agapanthus (the African Blue Lily), which can cause the gums, lips, and tongue to become painful and swollen. This causes excessive salivation, and if the swelling is too extreme, it can cause difficulty breathing. Tulips, Daffodils, and Lily of the Valley commonly cause vomiting, dribbling, lethargy, and diarrhea. However, they can cause convulsions or affect the heart in more severe cases. Sweet peas can also cause seizures, as well as other neurological signs like tremors and head-pressing. 
Finally, perhaps the most well-known plant that is poisonous to cats is the lily. Lilies are highly toxic to cats, with even a tiny amount of pollen, leaf, or stem causing kidney failure. Sadly, many cats die of acute renal failure despite prompt treatment.
Many flowers and plants will cause your cat to have an upset tummy if they eat them. However, the most severe symptoms are associated with Lilies, Daffodils, Tulips, Sweet Peas, and Agapanthus.
So, which flowers are safe for cats?
It's not all bad news, though! Many flowers commonly used by florists are safe for cats. However, it's still worth keeping them out of reach of your furry friend because if they decide to have a nibble, it might not agree with them!
Aster
Since Daisies are likely to make your cat unwell, why not choose a bouquet with Asters? These bright and colorful, star-shaped flowers look similar in appearance to some types of Daisies, but without the risk to your furry feline.
Baby's Breath
Baby's Breath is a staple in many floral bouquets. They're great at filling out an arrangement with clouds of tiny white flowers on a delicate network of stems. Thankfully, Baby's Breath is non-toxic to cats.
Cosmos
Cosmos are from the same family as Sunflowers. Their large and striking flowers make an excellent addition to any bunch of flowers. They're pet-friendly too, so you can enjoy your flowers worry-free.
Freesia
If you like color, you probably love Freesias. These beautiful bluish-purple blooms are cat-friendly, making them an excellent option for households with cats.
Gerbera
Gerber Daisies, also known as African Daisies, are pet-safe, despite any confusion their name might cause. Although they are known as Daisies, they are not part of the Chrysanthemum family and are non-toxic to your furry family members.
Jasmine
Jasmine flowers aren't just pretty to look at; they smell pretty amazing too! If you receive a bunch of flowers containing jasmine, you can rest assured that this plant is purr-fectly safe for your purry pal.
Lily of the Valley Orchid
The Lily of the Valley Orchid is not the same plant as the Lily of the Valley. Confusing as it may be, this particular flower is not part of the Lily family after all and is a pet-safe option for your home.
Limonium
Also known as Sea-Lavender or Marsh Rosemary, Limonium is often found in bouquets. Limonium is not part of the Lavender or Rosemary family. Its frilled stems and clusters of purple or violet flowers are great for bulking up a bunch of flowers, and as an added bonus, they're also feline-friendly.
Lisianthus
Lisianthus is also known as Eustoma, or Prairie Gentian, and its flowers look similar to roses. The flowers are usually shades of pink or purple, and they won't harm your kitty.
Magnolia
Although Magnolia plants are trees, bushes, or shrubs, they are still often used in floral bouquets and arrangements. Their fragrant, creamy white flowers are perfect for attracting pollinating insects, which might explain why they look and smell so beautiful. Luckily, Magnolia is non-toxic to cats.
Orchid
Orchids come in a vast range of colors, shapes, and sizes and can be an eye-catching addition to any room. Although orchids aren't toxic to cats, if your curious feline decides to try and eat them, it might cause them some indigestion!
Rose
For some people, roses are a simple and elegant way to show love and affection; for others, they're a tacky gesture reserved for February 14th! Whichever side you're on, roses are undeniably one of the best flower options when it comes to keeping your cat safe.
Snapdragon
The proper name for Snapdragons is Antirrhinum, but who can resist the common name when it so perfectly describes these uniquely shaped blooms? As well as looking lovely, Snapdragons are another pet-safe flower.
Stock
From the same family as the cabbage, Stock flowers form the shape of a spire. And it's not just their flowers that are appealing; the leaves and foliage of the Stock plant are blue-green in color and contrast well with the bright blooms. This is another safe plant that won't harm your pets.
Sunflower
Sunflowers are increasingly popular in bouquets, perhaps because the sunflower heads are so large and the color so vibrant. Sunflowers are non-toxic, meaning they're the perfect centerpiece for your feline-friendly floral arrangement.
Summary
Every cat parent wants to keep their feline friend as safe as possible, so having cut flowers in the house can feel like an unnecessary risk. However, if you stick to flowers that are known to be safe for your cat, you can still enjoy having beautiful blooms in your home.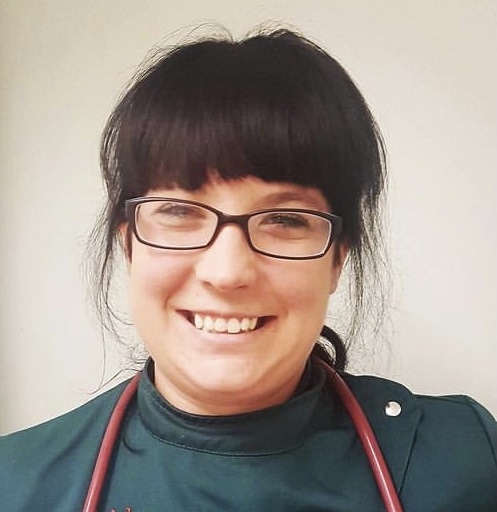 Dr. Hannah Godfrey MRCVS graduated from the Royal Veterinary College in 2011. Although she initially worked in mixed practice treating all species, she found a love for small animal work and has worked exclusively with dogs and cats since 2014. She lives in Wales with her partner, son, and two cats (named Poppy and Ashton Kutcher), and writes comedy fiction in her spare time.