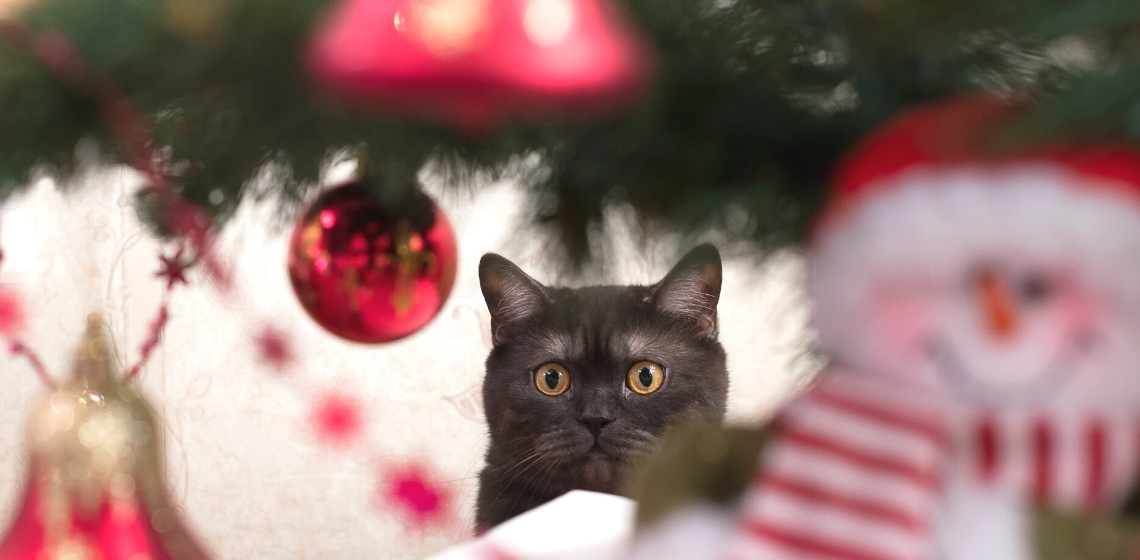 Be Mindful of Your Decorations
Nothing says holiday spirit like festive decorations. However, some of the most commonly used holiday decorations can pose dangers to curious pets. Here are some that you should avoid, place out of reach, and/or closely supervise:
Plants and Flowers: If plants and flowers are part of your holiday decorating plans, be sure to avoid toxic varieties. Several common holiday plants such as poinsettias can cause gastrointestinal upset if consumed. Others, like holly, mistletoe, and lilies, can have more serious consequences. 
Christmas Tree: Pine needles contain irritating oils that may lead to nausea and vomiting, or in the worst case scenario an intestinal obstruction, if a large amount are consumed. The water under the tree may contain fertilizer or contaminants that can make pets sick. Lastly, curious pets may try to climb the tree injuring themselves, others, or your ornaments in the process. Consider securing your tree, blocking it off with a baby gate, and hanging lemon-scented air freshener to deter cats from climbing. 
Glass Ornaments: These lovely ornaments can shatter easily, causing injury to paws and noses, and GI upset or internal damage if eaten. 
Strings, Ribbons, and Tinsel: These are especially appealing to cats. However, linear foreign bodies such as string can cause life-threatening intestinal obstructions, requiring emergency surgery. 
Lights: Animals can easily become tangled in strings of lights, or get electrical burns from chewing on the wires. 
Small Pieces: Any small objects that are consumed have the potential to get stuck in the intestines causing an obstruction, an emergency that requires surgical removal as soon as possible. 
Candles and Open Flames: Be sure to keep candles out of reach of curious cats or wagging tails, and never leave them unattended. 
Snow globes: Some snow globes contain a small amount of antifreeze, which is extremely toxic to dogs and cats. Even a small amount can cause fatal kidney damage if ingested.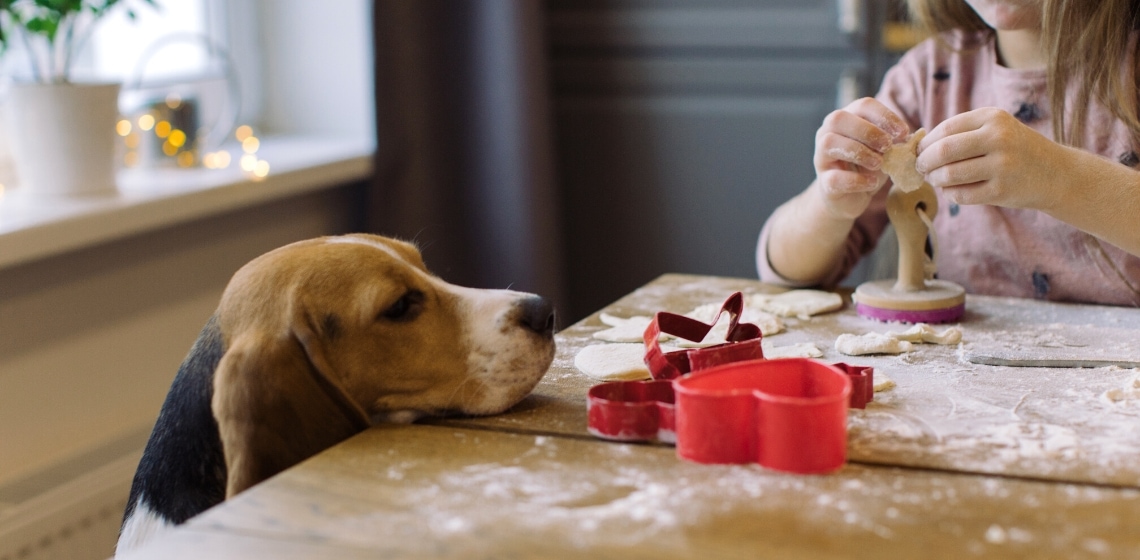 Stick to Their Usual Diet, With a Few Additional Treats
Sharing a meal with those we love is special, especially when there are so many rich and decadent holiday treats available. Keep in mind that any change in your pet's diet can lead to gastrointestinal upset such as vomiting and diarrhea. There are also some human foods that are toxic to pets, including the list below: 
Garlic, onion, leeks, chives: These plants, belonging to the allium family, are toxic to both dogs and cats in any form. Initially they may cause gastrointestinal upset, such as vomiting and diarrhea. More concerning is the damage that they cause to red blood cells leading to anemia. 
Grapes, raisins, currants: Even small amounts of these fruits can cause kidney failure. 
Excessive salt or sugar: Too much salt and sugar are unhealthy for anyone, including our furry family members. Ingestion of excessively salty food can cause increased thirst and urination, and in severe cases salt poisoning. 
High-fat foods: Foods that are especially rich or high in fat, like meat trimmings or gravy, can lead to pancreatitis. 
Bones: Bones can cause intestinal obstruction or break into sharp pieces and puncture the esophagus, stomach, or intestines. 
Bread dough: Raw bread dough containing yeast can expand in the stomach, potentially leading to a dangerous condition known as bloat. 
Nuts: While some types of nuts may be safe, others (like the macadamia nut) are actually toxic. However all nuts are high in fat and calorie dense, and due to their size and texture may also cause risk of choking or obstruction. 
Chocolate: Chocolate contains theobromine and caffeine, both of which are toxic to dogs and cats. Higher concentrations of these substances are found in baking chocolate, semisweet chocolate, and dark chocolate, however consumption of any chocolate can cause an issue. Depending on the amount and type of chocolate ingested, signs of toxicity include gastrointestinal upset progressing to a racing heart, tremors, and seizures in severe cases.
Desserts, especially artificial sweeteners: Desserts are too high in sugar and fat to be healthy for pets. Some may also contain the artificial sweetener xylitol, which is extremely toxic and can cause a dangerous drop in blood sugar. 
If you would like to treat your pet, the safest options are plain unseasoned meat such as turkey breast, veggies (such as carrots, peas, yams, green beans, broccoli) minus the sauce or seasoning, and fruits (such as apple, banana, and berries). These treats should only be given in moderation.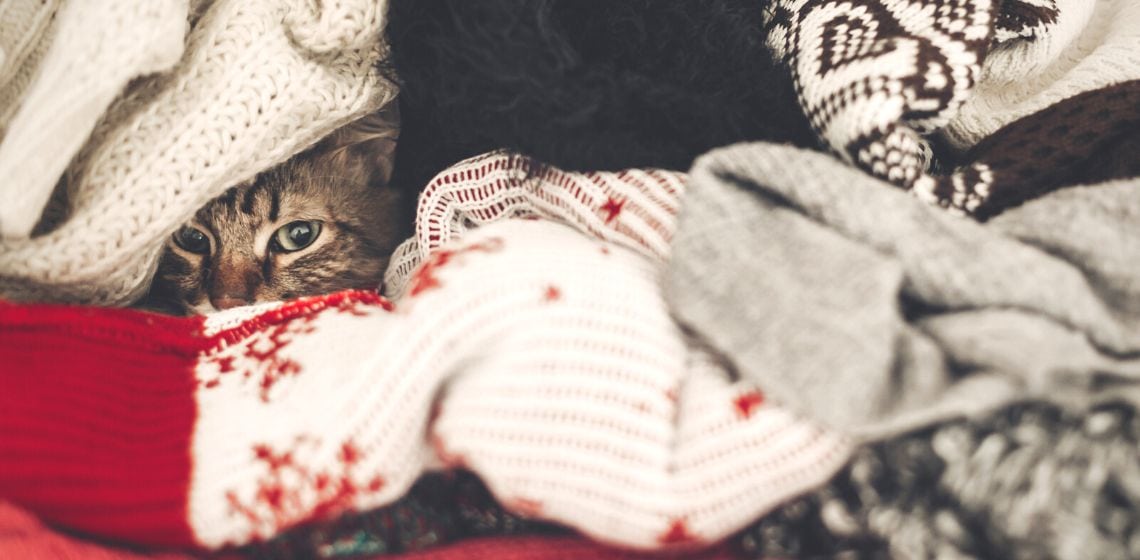 Prepare Your Pets for House Guests
If you have guests coming to stay you may want to discuss how they should interact with your furry family members as well. Consider the following recommendations: 
Check-in with guests prior to their arrival: Have a discussion about any allergies or concerns, especially if there will be young children present. Make sure your guests know not to let indoor cats out, and what food, treats, and toys are safe. 
Brush up on manners: Many dogs can get overexcited when guests arrive or if the doorbell rings. Take the opportunity to brush up on some training and good manners. 
Have a safety plan for aggressive animals: If you have any concerns that your pet may be aggressive towards guests, make sure to have a plan in place to be able to keep them separate and avoid putting your pet in a situation that may be stressful,  triggering, or dangerous. 
Provide a safe space for your pet(s): Even if your pet seems happy to share their home with guests, be sure they have a safe space where they can go if they are feeling overwhelmed or need a break. This may be a crate (if your dog is crate trained), a separate room, or a high vantage point where a cat may simply observe. 
Keep guests' belongings out of reach: Guests should be sure to keep their luggage out of reach of curious pets. Not only will they prefer to keep their belongings fur-free, but luggage may contain medications or other things that could be dangerous for your pet. 
When You Leave the House
Be sure to take out the garbage, clear all food from the tables, unplug your decorations, and blow out any candles before leaving your pets unsupervised. It is also important to clean up any loose pine needles, wrapping paper, ribbons, etc. 
Have an Emergency Plan 
Many veterinary clinics may have altered hours or be closed over the holidays. Make note of the contact information and location of your closest emergency clinic. This information can be found online and should also be listed on your vet's phone message recording and the door of the clinic. 
If you have any concerns that your pet has eaten something they shouldn't have, including those food and products listed above, immediately contact a veterinarian. The pet poison hotline is also available 24/7 at 855-764-766 and online at petpoisonhelpline.com. Depending on what your pet ate, they may need to see a vet for prompt treatment. See here for a complete list of food and other products that should be avoided.