If you've recently adopted a puppy, they'll probably be needing a check-up with a veterinarian soon. These puppy health consultations are really important, not only to discuss vaccinations and parasite control but to make sure your pup is fit and well. But what if the veterinarian finds that your puppy has a hernia? What does it mean for your new fluffy bundle?
What is a puppy hernia?
A hernia occurs when there is a hole in the muscle wall of the abdomen, through which a pouch or sack of abdominal contents can protrude. Depending on the size of the hole, the contents of the hernial sac will vary. If the hole is very small, only a small amount of abdominal fat may fit through. However, if the defect is large, portions of the guts or other organs may protrude. 
Although puppies can get hernias in other places, the term 'puppy hernia' usually refers to an umbilical hernia. This is a hernia of their belly button, where their umbilical cord would have been attached in the womb. Hernias can be congenital, which means present from birth, or they can develop later, usually through trauma. But even though puppies can occasionally acquire hernias through trauma, a puppy hernia refers to a congenital umbilical hernia.
If your pup used to have a small hernia but you start to struggle to find it, it might have closed on its own.
What other types of hernias can dogs get?
Aside from umbilical hernias, dogs can also get hernias in other locations. An acquired traumatic hernia can occur anywhere where the abdominal wall becomes damaged, but other specific hernia locations include:
Groin (Inguinal hernia)
Where the abdominal and leg muscles meet in the groin, there is a small opening that allows some nerves, blood vessels, and — in male dogs — the spermatic cord to pass through. This opening is called the inguinal ring and is formed of two layers. If the hole is too large, abdominal fat or organs like the bladder or intestine can pass through.
Diaphragm (Diaphragmatic or hiatal hernia)
A hernia of the diaphragm, the muscular barrier that separates the chest from the abdomen, can be congenital or due to trauma. A large diaphragmatic hernia or rupture can cause organs like the intestines to pass through the diaphragm, restricting the lungs. If there is a small hernia around the point where the esophagus enters the abdomen, this is called a hiatal hernia, and it's not uncommon for part of the stomach to slip through into the chest cavity.
Bottom (Perineal hernia)
A perineal hernia occurs when the muscles and tissues supporting the rectum and other organs in the pelvis become weakened. This can lead to the protrusion of a hernia on either side of a dog's bottom. Sometimes the hernia contains part of the rectum or bladder and causes problems with passing urine or feces. This usually happens later in life and is more common in unneutered males.
A hernia becomes a health risk to your dog if the hole is too small and restricts the blood flow to the hernial sac.
Can a puppy hernia affect your dog's health?
Puppy hernias can vary in size and be classified as either reducible or non-reducible. A reducible hernia is where the pouch contents can be replaced into the abdomen, through the hole. A non-reducible hernia is when the hole is too small to allow the herniated tissue back into the abdomen. 
A hernia becomes a health risk to your dog if the hole is too small and restricts the blood flow to the hernial sac. This is called a strangulated hernia, and it can cause the tissue within the hernial sac to die. It can be very painful, but it can also be life-threatening, especially if organs are involved in the hernia. Therefore, a small, reducible hernia is less risk than a larger or non-reducible hernia, but, over time, the hernia can gradually become smaller. So, strangulation is a risk at any age.
What are the signs that your dog's hernia is causing a problem?
The best way to ensure that your puppy's hernia isn't causing a problem is to check it regularly. If you used to be able to replace the hernia easily, but it suddenly becomes non-reducible, that could be a sign that it might strangulate. You should also check the hernia for pain, redness, or swelling. If your dog's umbilical hernia contains intestines and has started to strangulate, they might also develop vomiting and diarrhea or go off their food. These signs can become severe and lead to weakness, dehydration, and collapse. If you notice any of these symptoms, you must seek help from our veterinary team immediately.
What are the treatment options for puppy hernias?
Our veterinarians will check for puppy hernias during your new furry family member's first appointment. If they find one, they'll discuss the treatment options and the various pros and cons with you.
Monitoring
If your puppy's hernia is tiny and reducible, the veterinarian may offer the option of monitoring. Although this means that your puppy's hernia is low risk, it doesn't mean that it won't become a problem in the future. So, it's essential to keep a close eye on it and be aware of the signs of a strangulated hernia.
Surgical repair
If your puppy's hernia is large or non-reducible, the veterinarian may recommend an operation to repair the hernia. If the hernia is not strangulated, this can be performed under a quick anesthetic or alongside a routine procedure like neutering.
Emergency surgery
If, at any point, your dog's hernia starts to strangulate, they will require urgent surgery. Any damaged or dying tissue will need to be removed, as well as repairing the hernia. Sadly, the risk of complications is higher, and not every dog recovers.
If your puppy's hernia is large or non-reducible, the veterinarian may recommend an operation to repair the hernia.
Can puppy hernias be prevented?
There is evidence that many umbilical hernias are hereditary, meaning that they are passed on through breeding. So, it's not recommended to use dogs with umbilical hernias for breeding to reduce the prevalence of puppy hernias. If your puppy has a hernia, it's a good idea to phone the breeder and inform them, so they can track problems in their breeding dogs.
So, what does it mean if my puppy has a hernia?
Everyone wants their puppy to be in perfect physical condition. So, if your veterinarian finds a puppy hernia, it might be worrying. Don't fret though, with the right advice, you'll be able to keep your pup safe and well.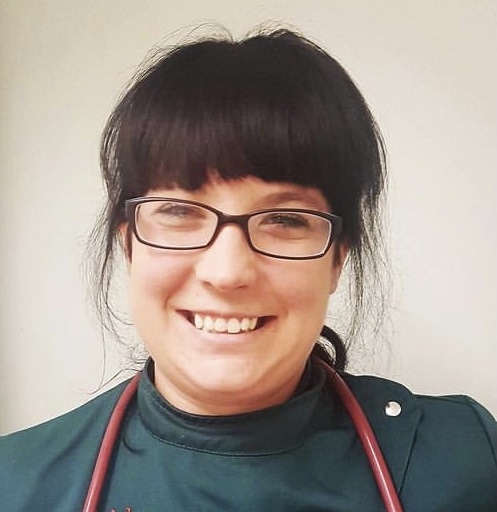 Dr. Hannah Godfrey MRCVS graduated from the Royal Veterinary College in 2011. Although she initially worked in mixed practice treating all species, she found a love for small animal work and has worked exclusively with dogs and cats since 2014. She lives in Wales with her partner, son, and two cats (named Poppy and Ashton Kutcher), and writes comedy fiction in her spare time.