Space City offers plenty of options when it comes to dining out. However, if you wish to bring your fateful hound with you, then the options become limited. This is why it's useful to explore the 10 best dog-friendly restaurants in Houston.
West Alabama Ice House in Montrose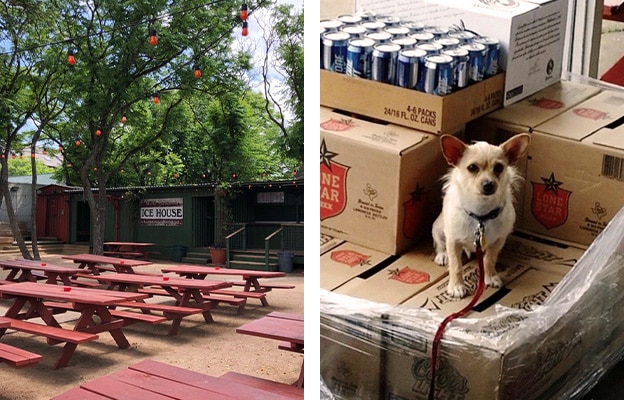 Photos by Bob S. (Yelp), @westalabamaicehouse (Instagram)
With the COVID-19 restrictions in force in Texas, open-air dinning has become ever more important. West Alabama Ice House is a venue that offers plenty of picnic-table seating outside. Here you can order everything from frosty beer to cider.
This popular Montrose watering hole features widescreen TVs showing sports, a corn hole, and there is a taco truck parked next by. They even have ping pong tables and a basketball hoop, so it's a great place for a run-out with your dog.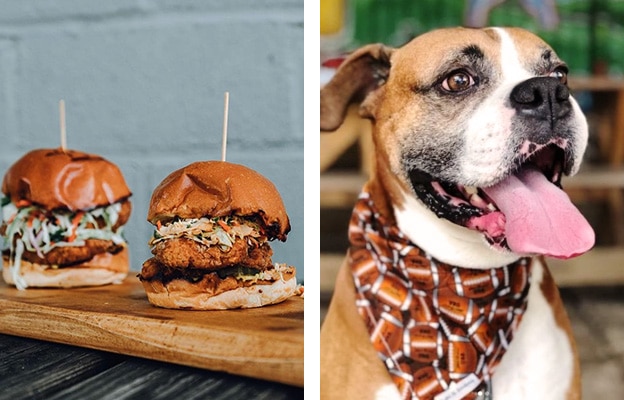 Photos by Cottonwood Houston / Facebook
Another joint that boasts a sizeable outdoor seating area is Cottonwood next to Graham Park. Dog owners in Houston and in Texas in general know this place well, so sometimes there are more four-legged patrons than hungry humans. 
The spacious patio on two sides of the restaurant is precisely what pet owners look for. Their dogs can run free, while they taste any of the 42 beers on tap available at Cottonwood. Oh, and did we mention that there is a professional dog park right next to the pub?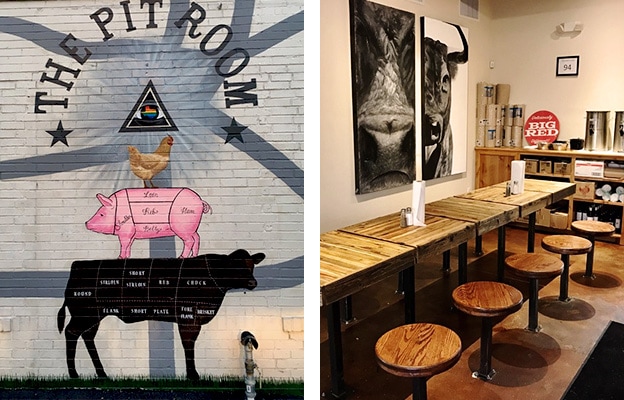 Photos by The Pit Room / Facebook
Montrose is the hotspot for hungry dog owners in Houston, as The Pit Room is another popular BBQ in the neighborhood. The beef ribs and brisket tacos served there are hand-crafted and expertly sources, as these Texans take pride in the meat they serve.
The patio at The Pit Room is the biggest draw-in for dog owners, as your dog would love to gnaw on the food scraps. The patio was recently redecorated, so it's no wonder that the Pit Room made it into the list of the Top 50 Barbecue Joints in Texas.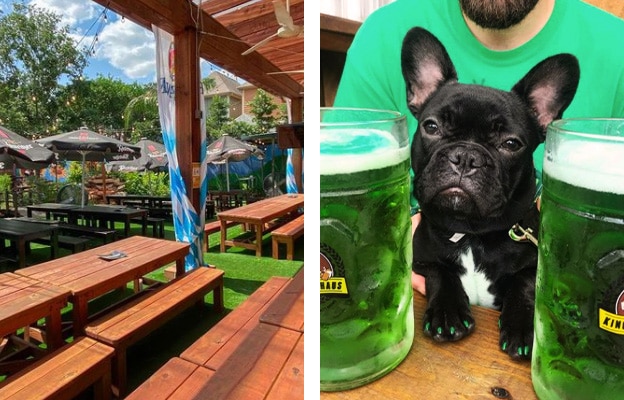 Photos by @kingsbierhaus /Instagram
If you wish to make a nice change from BBQ, the German wurst is the right choice. King's BierHaus is just the place for you and your dog, as you can try beer pretzels, gourmet hotdogs, lightly fried and breaded schnitzels, and bratwurst. A menu that makes humans and dogs salivate alike.
The German-American restaurant has a large outdoor seating area, so you'll feel as if dining at the Oktoberfest in Munich. Apart from the Heights location, you can find a King's BierHaus Biergarten in League City as well, at 828 FM646 W.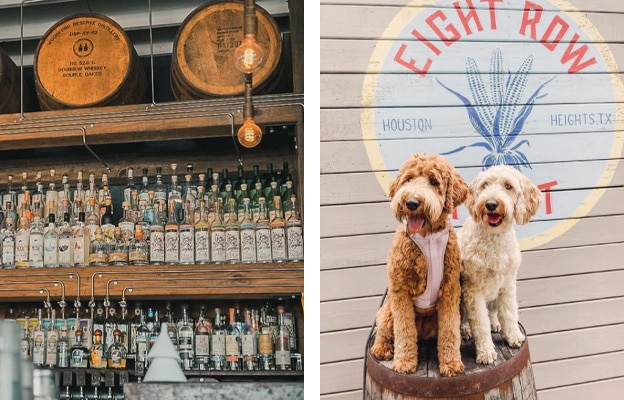 Photo by @eight_row_flint / Instagram
Houston Heights are home to another pet-friendly hospitality establishment: Eight Row Flint. This upscale Texas ice house serves craft beer, hard-to-find bourbons, and tacos with Berkshire pork. The bar's patio is ideal for your dog to interact with other pooches. 
Moreover, the owners organize a traditional Halloween costume contest for dogs every October. This is a clear signs to their patrons that dogs are more than welcome in Eight Row Flint. The Greater Heights area is also served by vets, so you can tranquilly sip a seasonal cocktail, such as "Ghost of Jupiter."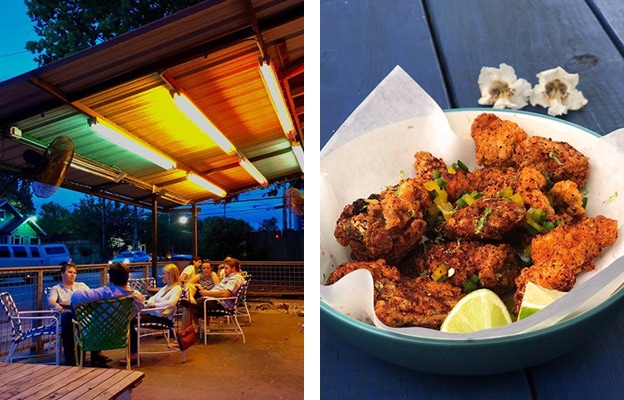 Photos by @bltomorrow / Instagram
As its name suggests, The Rustic is all about the quintessential aspects of hospitality: a kitchen, a bar, live music, and a backyard. The latter is what attracts dog owners the most, as they get to enjoy home-style meals made from farm-to-table ingredients and sip coc
The Heights has another great pet-friendly bar & grill: Better Luck Tomorrow. Now, we should say straight away that guests are not allowed to bring dogs inside because animals are only allowed on the patio outside.
This is a small price to pay for a food menu that was designed by Justin Yu, the award-winning chef who is a well-known name in Houston's restaurant business. Some of the dishes you and your four-legged friend can try include sweet-and-sour lamb belly and schmaltz fried chicken.ktails and/or craft beer (40 beers on tap).
The owners, Josh and Kyle, often invite local and national performers to entertain their guests in live concerts. As already stated, the food ingredients are sourced from Texas vendors and the seafood comes from the Gulf. Apart from their Downtown location, there is a Rustic at the Post Oak as well.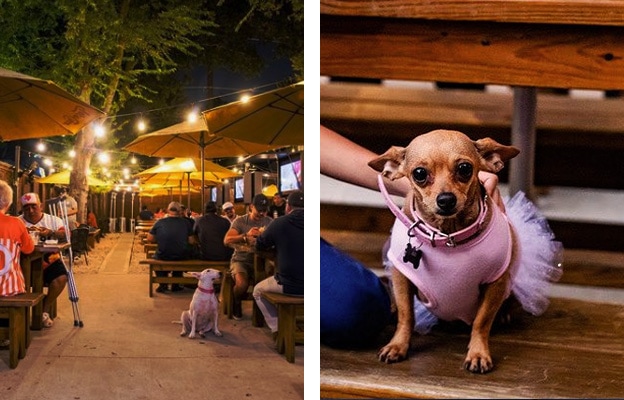 Photos by @monkeystailhou / Instagram
Monkey's Tail is a modern bar that has a funky vibe to it. Situated in Northside village, this bar is the go-to place for dog owners who like to drink tropical cocktails. Guests can also order various dishes, from bacon-wrapped hot dogs, across pizza, to savory burgers.
Also, there are specials every fall, such as Taco Tuesday, Weekend Brunch, and Monday Steak Night. The front patio was designed with pet-friendliness in mind, as there is a small gate at the back that dogs can use to relieve themselves on the green beyond it.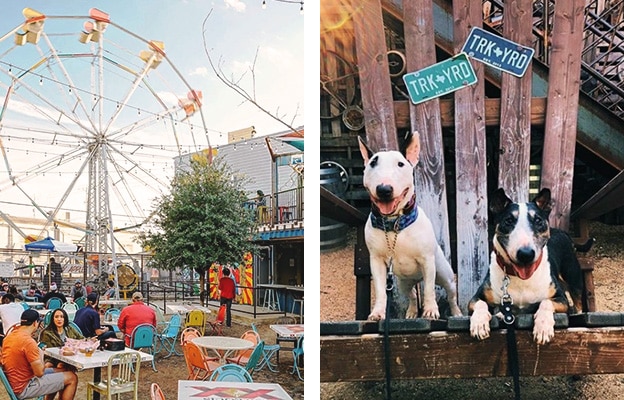 Photos by @truckyardhouston / Instagram
Although some folks deem it as kitschy, the Truck Yard is a great open-door venue for dog owners. Their motto is "Brews – Grub – Tunes," which goes together with the trucker image they have created for themselves, boasting the fact they are an "adult playground."
The name is there for a reason, as the beer garden is truly monster truck-sized! Guests can enjoy sports on flat screens, listen to live rock music, and taste waffles. Since the place is packed most of the time, your dog will have a canine pal to play with, provided it is not scarred of loud noises.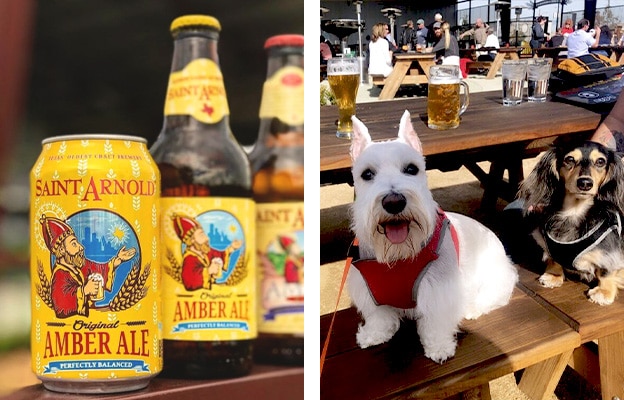 Photos by @saintarnoldbrewing (Instagram), Jessika M. (Yelp)
The Saint Arnold Brewery is situated in the Warehouse District for a good reason, as it's considered Texas' oldest craft brewery. The pet-friendly outdoor beer garden was reconstructed in 2018, so you can taste all of the brewery's fresh beers here.
The Texas brewery offers tours as well, which you can take before sampling the beverage in the beer hall. They have also added a food menu that features pretzels with mustard, pizza served with sauerkraut, and a sausage plate that will leave no hound and human hungry.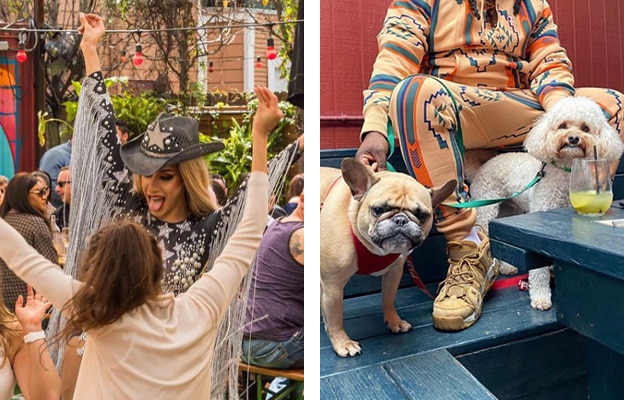 Photos by @barboheme / Instagram
Finally, we return to the Montrose neighborhood, where Boheme wine bar offers a dining experience like no other. The establishment has a European vibe to it and more importantly, it features a spacious garden where you can bring your dog.
Friday nights at Boheme are exceptional, as they organize drink specials, Latin dancers, and even belly dancers. The seasonal menu has everything from smoked jalapeno hummus to Vietnamese fries with drizzled hoisin sauce.
We have only listed 10 pet friendly restaurants in Houston but once you exhaust all of the establishments on the list, you'll have no trouble finding new and exciting restaurants for you and your dog to enjoy.