It's a big decision choosing a canine companion to bring home to share your family life. Dogs bring all kinds of benefits to children, from learning responsibility and care to getting them outside and being active. But not every dog is suitable to live with children, so how do you know which one to choose? We've compiled a list of some dog breeds most suited to life with a family. Don't forget, though, the list isn't exhaustive, and you should use your judgment too.
What should you know before choosing a family dog?
Dogs are individuals. While we often generalize about different dog breeds, not every dog of the same breed will have the same temperament and behavior. Although they may share some traits with other dogs of their breed, their life experiences will also affect their characteristics. When you choose a dog, you should spend plenty of time with them first before committing, preferably introducing them gradually to any children or other dogs in the household. You should also remember that no dog is guaranteed to be safe around children in every situation, so never leave a child or baby unsupervised with a dog.
When you've found the dog or puppy that's the perfect fit for your family, you should register them with your veterinarian. You can even book an appointment to a mobile vet near you so that the vet can check them over and give you information about how to care for them. Here are some questions that you might want to ask your veterinarian. If you're considering fostering a dog rather than adopting, you probably have lots of questions. You can find some more information here.
When you choose a dog, you should spend plenty of time with them first before committing, preferably introducing them gradually to any children or other dogs in the household.
Which dogs are best for children?
The dog breeds that suit your family best will depend on your lifestyle, the age of your children, and whether you have kept dogs before. For instance, some very active dogs might need lots of exercise and intense training, so they might not be the best choice for families who are out all day. Similarly, some dog breeds are more challenging and are better suited to people with previous dog-owning experience.
Here are some of the best dogs for children:
Beagle
Beagles are the Goldilocks of dog breeds- they're not too big or too small! This medium-sized dog is friendly, playful, and full of fun. They're also great with kids and other dogs, so what's not to love? Well, this fun-loving breed is so energetic they might be challenging for first-time dog owners. They would be best suited to an active family where they wouldn't be left alone for long periods.
Bichon Frise
The Bichon Frise is an excellent choice for young families, especially those with allergies because they have a low-shedding coat. This isn't just a bonus for people with respiratory allergies; it's also great news for family members who aren't so keen on vacuuming! Bichons are loving and friendly, making great canine companions.
Border Terrier
Border Terriers are lovely little dogs. This affectionate and playful breed is pretty laid back, not requiring as much exercise as the more active breeds. They're pretty good with other dogs and even better with children. If you're not familiar with the Border Terrier, you can find some more breed information here.
Boxer
Boxers are great with young kids, and they make a loving companion. Their low-shed coat means they won't be so likely to cause allergy symptoms, and you won't find dog hair all over the house. However, before you cancel your cleaner, be aware that Boxers can be quite drooly!
The dog breeds that suit your family best will depend on your lifestyle, the age of your children, and whether you have kept dogs before.
Cavalier King Charles Spaniel
Cavalier King Charles Spaniels tick many boxes when it comes to being a family pet. They're affectionate and friendly, even with other dogs and young children. They're not particularly yappy, don't shed much hair, and are pretty easy to train. They require some grooming, though, particularly around their beautifully fluffy ears!
Cocker Spaniel
Cocker Spaniels require quite a lot of grooming, but they won't ruin your home with dog hair or drool! The Cocker Spaniel is a high-energy breed, so they're best suited to an active home where they're not left alone too much. On the plus side, they're very trainable, as long as you've got the time.
Crossbreed
Perhaps the best choice of them all, a crossbreed dog is a great option. Of course, unless you have some idea of their breeding, you might not have any reliable information on their personality traits. However, as long as you act sensibly and socialize them gradually, you might find that your crossbreed dog is the perfect fit for your family.
English Setter
English Setters are beautiful, and they have a lovely nature, even around kids and other animals. However, that glossy coat isn't going to keep itself looking perfect without your help! Along with the downside of regular grooming, you'll also find that Setters need a lot of mental stimulation. So, they might suit an experienced dog-owner best, and you'll definitely need to invest in some toys and puzzles.
Perhaps the best choice of them all, a crossbreed dog is a great option.
Labrador Retriever
Another great choice for a family dog is the Labrador. These dogs are playful, energetic, and affectionate. They do shed some hair, but surely we can forgive them! Labradors are usually great with children and other dogs, but they might not be the breed for you if you're looking for a small breed.
Newfoundland
If you've got the space and you're up for owning a giant breed dog, why not consider a Newfoundland? These dogs are used for search and rescue roles due to their intelligence, energy, and swimming ability! If you don't mind doggy drool, you'll love having an affectionate fluff-ball in your home.
Poodle
Poodles are very intelligent, affectionate, and playful. They don't drool, and they don't shed. They're also great with children. However, they're not always brilliant with other dogs, and they do require lots of grooming. You can find some more fun facts about poodles here.
Summary
Choosing your new furry family member is an exciting time, but you need to know some background on different dog breeds to make the right choice. Remember that every dog is different, and any dog breed can be a lovely family pet. The most important thing is ensuring that you know the necessary measures to keep all of your loved ones (furry and human!) safe.
Every dog is different, and their traits will vary even if they are the same breed. This means it's impossible to say that a particular dog is safer than another. However, many of the breeds above, including Labradors, Border Terriers, and Bichon Frises, will make excellent family pets. If you need advice on introducing a dog into your home, you should speak to your veterinarian or a certified behaviorist.
No dog should be the sole responsibility of a child. Still, a pet is an excellent opportunity to teach them about caring and commitment. You should never leave your children with a dog unless they are under supervision. You might want to consider dogs that require less regular grooming and shed less hair. You should avoid choosing a very active breed, like a Beagle, or one that requires constant mental stimulation.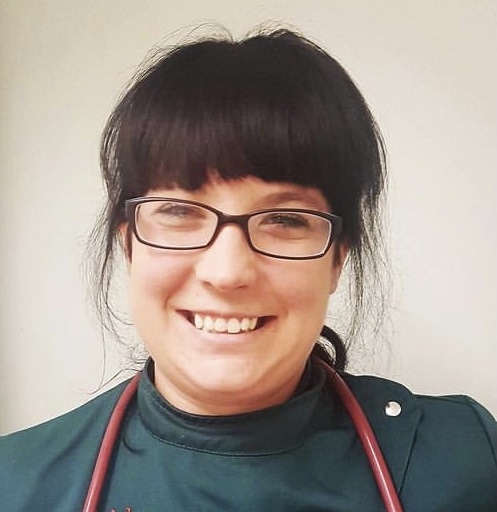 Dr. Hannah Godfrey MRCVS graduated from the Royal Veterinary College in 2011. Although she initially worked in mixed practice treating all species, she found a love for small animal work and has worked exclusively with dogs and cats since 2014. She lives in Wales with her partner, son, and two cats (named Poppy and Ashton Kutcher), and writes comedy fiction in her spare time.