Being a pet parent isn't easy. There are a lot of dos and don'ts, especially when it comes to what to feed your dog. Even if you know the basics of a healthy diet for humans, a dog's diet is completely different. Not only that but some foods that we eat can be harmful or even poisonous to our furry family members. So, what about apples? Can dogs eat apples safely? And what are the risks? Read on to find out.
What are the possible health benefits of apples?
If you're looking for a healthy snack for your four-legged friend, there are far worse things you could choose than an apple. Apples are high in fiber, which is vital for keeping your dog's gut healthy and avoiding constipation. They're also low in calories and fat, so as long as they're given in moderation, your pooch won't pile on the pounds like they might with other treats. Apples are rich in vitamins, minerals, and antioxidants, meaning they help keep your dog healthy. Finally, the texture of apples makes it great for helping to remove plaque and bacteria from your dog's teeth, keeping their teeth pearly white for as long as possible.
What are the risks of apples for dogs?
It's not all good news, though. Although apples are high in fiber and low in calories, they're full of sugar. If given too often, apple could cause your canine companion to develop diabetes. All that sugar is also bad for their teeth, so you'll still need to brush your dog's teeth even if they have apples as a regular treat.
Another risk of feeding your dog apples is the risk of choking. Chunks of apple can be pretty firm, and the core is especially tricky to chew, leading to a choking risk. You can find out more about how to help your dog who is choking here. This isn't the only risk posed by the apple core. If it makes it down into the stomach whole, it could cause a blockage in your dog's guts, which can be very serious. You can find out more about bowel obstruction in dogs here.
Apple seeds contain cyanide, but only a tiny amount. Even if your dog eats apple seeds occasionally, they're unlikely to get cyanide poisoning because the amount of cyanide is so small. However, it's really not worth the risk.
Finally, when feeding your dog any new food, there's the potential that it could upset their tummy. Vomiting and diarrhea are common symptoms if a new food is introduced too quickly. These symptoms are usually temporary and improve on their own unless your pet is particularly sensitive or has an allergy to the food. If your dog is vomiting and you're unsure why you can find out more here.
If given too often, apple could cause your canine companion to develop diabetes.
So, can dogs eat apples?
Dogs can eat apples safely, but they should only be given a small amount occasionally. Before offering your pooch a piece of apple, you should make sure you have thoroughly removed the seeds, apple core, and stem. While you do have to remove the core, seeds, and stalk, removing the apple skin is unnecessary. The skin has the highest levels of fiber and is safe for your dog to eat. 
If your dog has never had an apple before, you should start with a tiny amount, the size of your fingernail, then monitor for any signs of a tummy upset. After a day or two, you can offer a little more next time if they seem okay. 
A dog's diet needs to contain the right balance of nutrients for them to stay healthy. Nutritionally complete dog food will have everything they need and in the right amounts. You risk disrupting this balance and causing them a nutritional deficiency by offering them any little extras. Therefore, it's best only to offer treats occasionally, perhaps two or three times a week.
Summary
If you're always encouraging your human family members to eat more fruit, you might find yourself staring at the fruit bowl, wondering what you can safely offer your dog. The good news is your furry family member can enjoy small amounts of apple as a treat, as long as the core, seeds, and stem are removed. In fact, apples are full of healthy nutrients like fiber, vitamins, minerals, and antioxidants, so it's a great treat option. Don't forget, though; apples contain a lot of sugar, so you shouldn't give them too often, and, no matter how good apples are for your dog's teeth, you'll still need to brush them regularly!
Dogs can absolutely eat apples with skin. In fact, the skin of an apple contains the most fiber, which is excellent for your dog's gut health and to make sure they're pooping regularly. However, it's worth remembering that apple skin could get stuck in between their teeth, just like when we eat an apple. Any food debris lodged in your dog's teeth will cause dental disease, so make sure you brush their teeth regularly.
If you have never given your dog any apple before, you should start small and build up. Initially, offering a small amount of apple the size of your thumbnail should be sufficient. This will also allow you to assess whether they enjoy a bit of apple or not. If they don't like it, you can search for another healthy treat! If they do like it and don't develop a bad belly over the next few days, you can try giving double the amount. In general, two or three slices of apple twice a week would be more than enough for a medium-sized dog.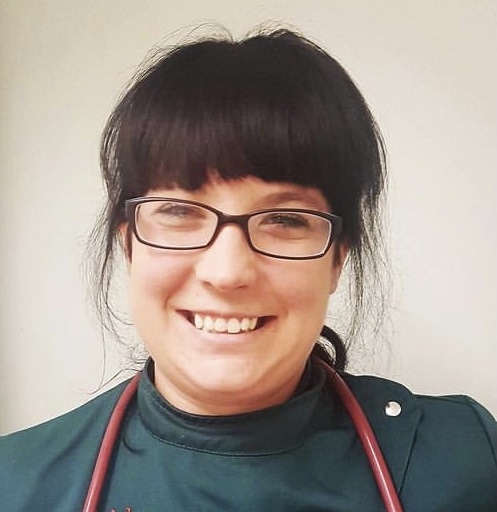 Dr. Hannah Godfrey MRCVS graduated from the Royal Veterinary College in 2011. Although she initially worked in mixed practice treating all species, she found a love for small animal work and has worked exclusively with dogs and cats since 2014. She lives in Wales with her partner, son, and two cats (named Poppy and Ashton Kutcher), and writes comedy fiction in her spare time.