What is Cefpodoxime?
Cefpodoxime is a type of antibiotic that belongs to the group of antimicrobials known as cephalosporins. Cephalosporins are divided into different generations, with higher generations reserved for specific uses. This helps to reduce antibiotic resistance.
The Cefpodoxime drug is a third-generation cephalosporin and is available under the brand names Simplicef' and 'Vantin' but is also available as a generic version.
Cefpodoxime for dogs is licensed to treat dog skin infections caused by certain bacteria.
What is Cefpodoxime used for?
Cefpodoxime is licensed to for dog skin infections caused by certain bacteria including Staphylococcus and Streptococcus, which are common causes of itching in dogs. It's effective against some other bacterial sicknesses too, like Pasteurella and E. Coli.
Although it's not licensed, Cefpodoxime is sometimes used to treat urinary tract infections (UTIs) and respiratory infections too. This off-license, non-FDA approved, use is based on the knowledge of many cases of prior use with positive results, so you shouldn't be put off by the fact it's off-label.
Because it's useful for skin infections, you might wonder whether it's also effective against ear infections. Although external ear infections (otitis externa) need topical ear drops, Cefpodoxime can be used as a treatment for certain inner and middle ear infections.
You can hide the tablet in a treat or tasty tidbit if your poor pooch isn't too keen on taking tablets.
What is the dosage of Cefpodoxime in dogs?
Cefpodoxime is available as 100 milligrams and 200 milligrams tablets, which can be given with or without food. This means that you can hide the tablet in a treat or tasty tidbit of food if your poor pooch isn't too keen on taking tablets.
The medication is also available as a palatable liquid suspension, which can make treating smaller dogs easier and more accurate.
The dosage of Cefpodoxime is based on your dog's weight and is dosed as 5-10 milligrams per kilogram of body weight, and this dose should be given once daily.
The duration of the course of antibiotics will be determined by your vet, depending on the type of bacterial infection. Courses for dogs can range from 5 days to 4 or 6 weeks.
Are there any side effects of Cefpodoxime in dogs?
There aren't many recognized side effects of Cefpodoxime, but infrequently some dogs experience vomiting, diarrhea, and reduced appetite. As with any medication, it's possible that your dog may have an allergic reaction.
If you think that your dog is experiencing any adverse reactions or you suspect an allergic reaction due to medication, you should notify your veterinarian immediately so that they can report the case to the licensing authority.
Are there any situations where Cefpodoxime is not safe to use?
You should let your vet know if your dog has ever had adverse reactions or serious side effects from medication in the past. That way they can make sure they choose the most appropriate medication for your dog.
Equally, if you, as a pet parent, have a penicillin allergy, you should tell your vet and avoid handling Cefpodoxime or any other antibiotics. 
Cefpodoxime is broad is not yet proven to be safe during pregnancy or lactation, although it is sometimes used off-label. Your veterinarian will be able to discuss any risks with you. Giving Cefpodoxime may also affect the absorption of certain other medications, so make sure your vet is fully aware of your pet's current health, if your pet has a known allergy and any treatment regimes.
If you, as a pet parent, have a penicillin allergy, you should tell your vet and avoid handling Cefpodoxime or any similar antibiotics.
What happens if you give too much or miss a dose of Cefpodoxime?
If you forget to give your dog its required dosage of Cefpodoxime, you can safely give the missed dosage of medication when you realize it. However, if the next medication dosage is due, don't give a double dose, just miss the dose entirely.
If you accidentally give your dog too much Cefpodoxime, perhaps because of a miscommunication with other family members, it's unlikely to cause much of an issue. You might notice they have vomiting or diarrhea, become a little lethargic, or have a loss of appetite, but these symptoms should not be severe and resolve quickly.
If the clinical signs are severe or your dog has managed to get into the packet of tablets, it's best to speak to a veterinarian directly for proper pet care.
If you forget to give your dog its dose of Cefpodoxime, you can safely give the missed dose when you realize it.
How should Cefpodoxime be stored?
Cefpodoxime medicine tablets do not need to be stored in the fridge. The drugs can be stored in a cool, dry cupboard, ideally between 20 and 25 degrees.
If you are using a liquid suspension, which offers easy administration, replace the cap securely and store it in the fridge and keep the temperature between 2 and 8 degrees. It's important to keep all medications out of the reach of children and animals.
Summary
If your dog has been prescribed a course of Cefpodoxime medicine for an infection caused by bacteria, you might have some questions about the drug.
Hopefully, after reading this article you understand the precautions and you'll feel confident giving your pet the medication and know what to do if you notice any Cefpodoxime side effects.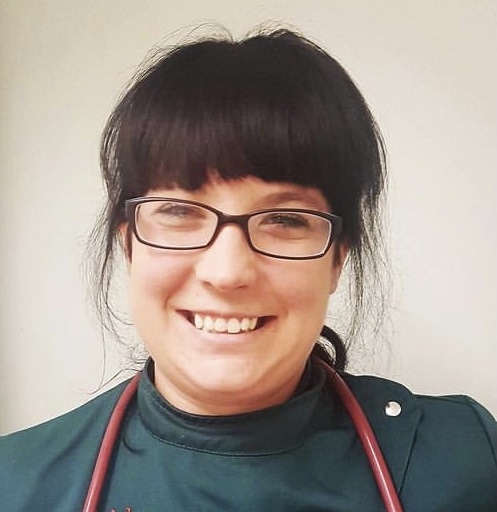 Dr. Hannah Godfrey MRCVS graduated from the Royal Veterinary College in 2011. Although she initially worked in mixed practice treating all species, she found a love for small animal work and has worked exclusively with dogs and cats since 2014. She lives in Wales with her partner, son, and two cats (named Poppy and Ashton Kutcher), and writes comedy fiction in her spare time.