Phoenix is predominantly flat since it sits in a valley but there are plenty of mountains around the city, ideal for hiking. These mountains and hills feature a vast number of hiking trails of varying difficulty levels, depending on the stamina you and your canine brandish.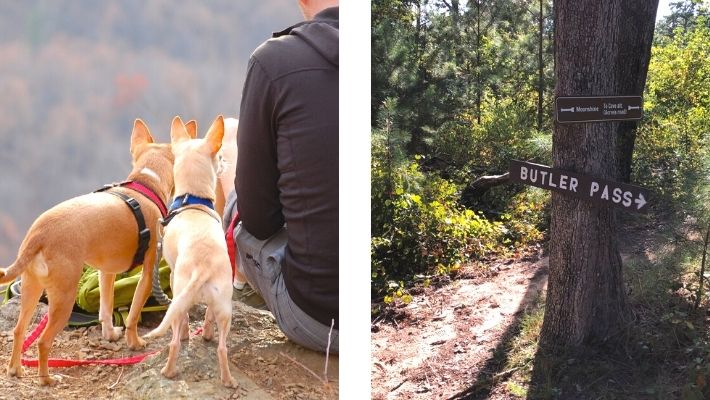 Photos by Canva & Todd Mims / Alltrails.com
One of the shortest and the easiest trails on our list, Butler's Pass Trail is a loop one mile and 317 yards long. Since the trail is super short, as it takes only half an hour to complete it, which should be a walk in the park even for the family pet dog, i.e. smaller dog breeds.
The elevation gain of 150 feet attracts hikers, families with children, and even cyclists, so make sure your four-legged friend is leashed. Also, hikers have repeatedly complained of dog poop along the trail, so make sure you bring a waste bag.
8800 S. 46th St. (trailhead)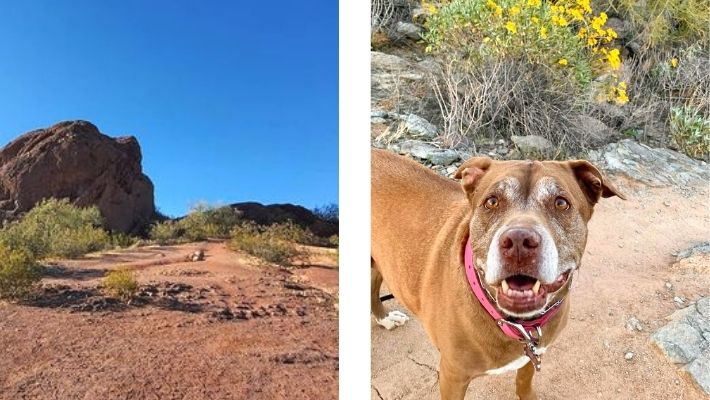 Photos by @see_matt_make & @thedogfriendlyginger / Instagram
South Mountain Preserve is home to Beverly Canyon Trail which is 2.4 miles long (out & back). The trail is moderate in difficulty with an elevation gain of just 300 feet. The area along the trail is popular among birdwatchers and hikers, so expect to see other people in one of America's largest municipal parks.
Like on most other trails, Fido should be on a leash, except during certain stretches. Also, the park authorities organize once a month a Silent Sunday, when only non-motorized vehicles are allowed on roads in the morning. There is no specific time of the year when the trail is best to visit.
North Mountain National Trail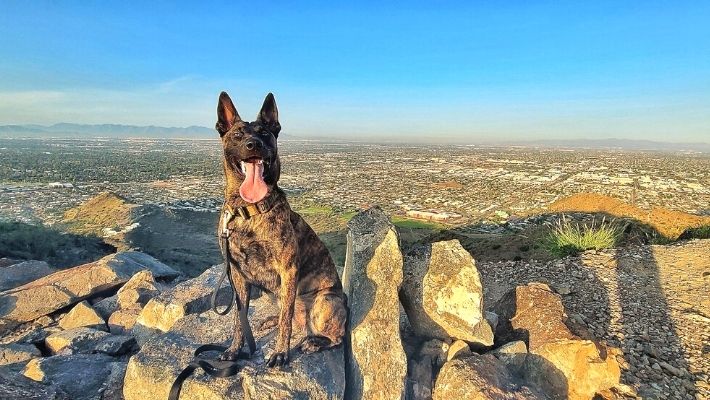 Photos by Joe Smith / Alltrails.com
Nearly 1.7 miles long, North Mountain National Trail is a loop where most hikers can be seen with their dogs; so much for its dog-friendliness! The animal should, however, be on a leash at all times but that won't diminish the excitement of going up and then down North Mountain.
Although its highest peak sits at 2,060 ft., the elevation gain of this trail is just 675 feet, making it moderately challenging. The trail is open year-round and quite popular among the locals, so expect foot traffic. It takes about one hour to complete the loop.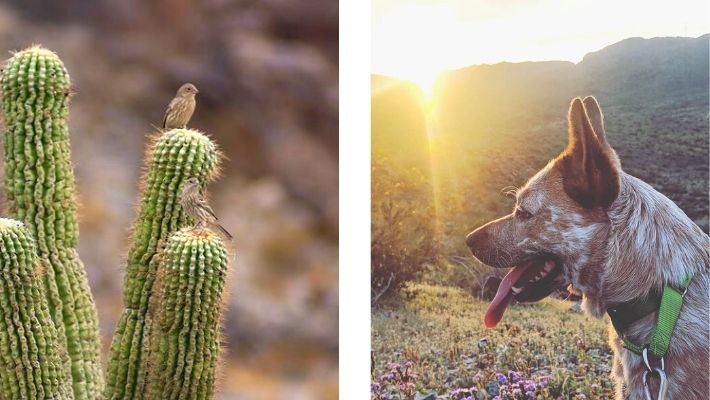 Photos by @jrenae000 & @zoomtoperfection / Instagram
Serving primarily as a bike trail, Corona de Loma Trail is the most challenging trail on our list. The total length of this out & back trail is 6.4 miles and the elevation gain is impressive: 1,305 feet! Leashed dogs are welcome on the trail and there are some off-leash areas as well.
Taking on the Corona de Loma Trail means that both you and your dog should be hale, so a quick home visit from the local vets couldn't hurt. The best time to ascend to the Buena Vista Lookout along this trail is from September to June (you'd want to avoid the summer heat).
12898 N Central Ave. (trailhead)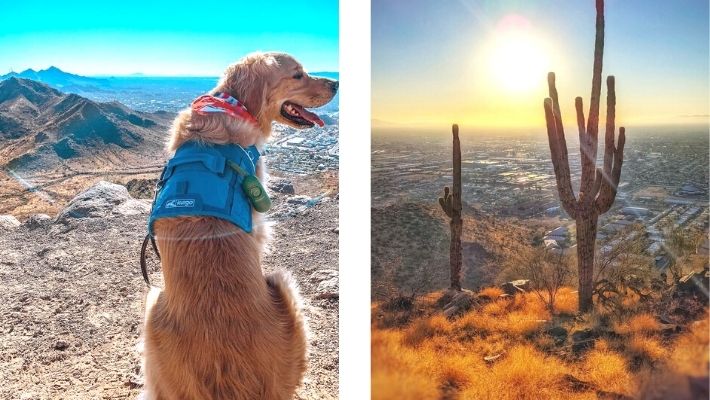 Photo by @thegoldenhiker & @arizonasfamily / Instagram
Along with North Mountain, Shaw Butte is the most distinctive feature in the north valley skyline. The 4.8 miles loop trail starting from Shaw Butte Trailhead is moderately challenging. It takes a little over two hours to complete it, ascending a total of 930 feet.
Parking hours at Shaw Butte Trailhead, where you drive to with your pup, are from 5 AM to 7 PM, from May to September and from 6 AM to 7 PM the rest of the year. Like on all other Phoenix trails, leashed dogs are permitted, as long as the temperature doesn't soar past 100°F.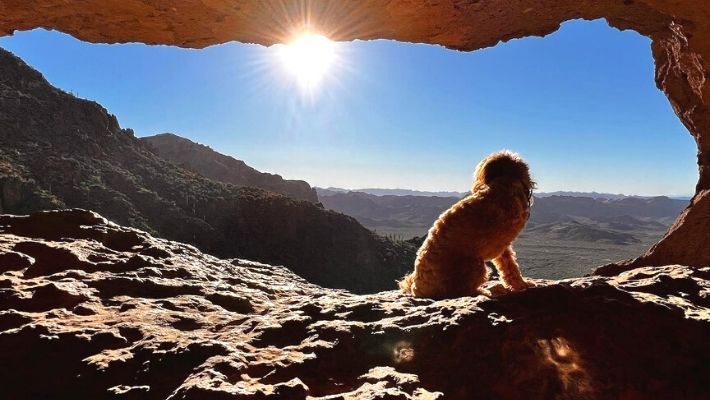 Photo by @trimewendy / Instagram
Although it's about half of Corona de Loma Trail's length (3 miles), Wave Cave Trail is just as hard to complete. The trail starts at Carney Springs Trailhead and takes hikers past an abandoned gold mine with great views of Superstition Mountains.
The elevation gain on this out & back trail is 870 feet, which means it will take you an hour and a half to complete. Your dog can come along provided it's on a leash and you bring enough water. Avoid the summer months and venture into Superstition Wilderness some time from September to April.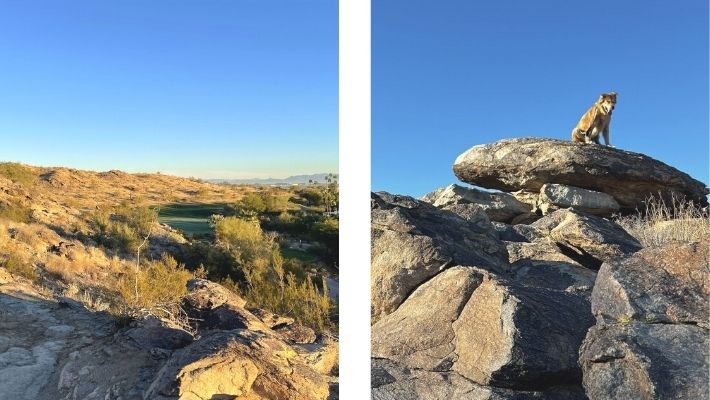 Photos by Matt Ryan & Timothy Lara / Alltrails.com
Another dog-friendly trail in South Mountain Preserve, Pima East Loop is some 2.3 miles long. The route is considered easy as the elevation gain is mere 292 feet, which you should cover within an hour. The trail is ideal for beginners and people with children.
The best time of the year to tackle the loop is October through April. Needless to say, bring a leash for your pet dog, even though there are off-leash sections on the trail. Expect crowds at the trailhead but once you start hiking, you and your four-legged friend should get some privacy.
Near Hawks Nest trailhead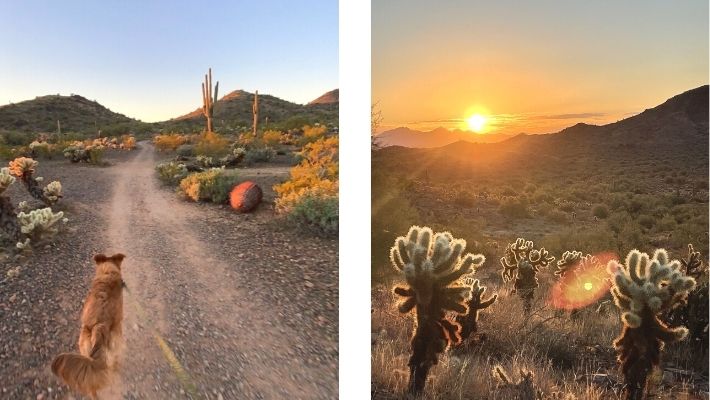 Photos by Joy Genova & Bonnie Grove / Instagram
Situated in Phoenix Sonoran Preserve, Desert Tortoise Trail is moderate in difficulty. It should take about an hour to complete the loop that is 2.7 miles long. The trail is popular both among cyclists and birdwatchers, so expect company.
Because of other hikers, Fido should be leashed all the time. Also, beware of the Cholla cactus which dots the trail's sides (bringing a pair of hiking shoes with durable soles couldn't hurt). The elevation gain is some 350 feet and the best time to go is from September to May.
As long as you avoid setting out at midday in July, for instance, it's perfectly safe (and fun) to go hiking in the mountains around Phoenix. We had listed only some dog-friendly Phoenix hikes but areas like the Sonoran Desert or North Mountain have plenty more trails for you and Fido to discover.
Don't forget to make sure that your furry friend is ready for an outdoor adventure. Schedule an appointment with our mobile vets in Phoenix today.