Many types of worms can affect your dog, from heartworm to tapeworm to roundworms. Your veterinarian can recommend the best treatments to keep your dog worm-free.
Severity:
Most worm infections cause mild to moderate symptoms. However, certain worms, like heartworm, can be very serious.
Key points
Intestinal worms can cause symptoms like vomiting, diarrhea, weight loss, lethargy, and a dull coat.
Heartworm is transmitted by mosquitos and can cause severe symptoms like coughing, breathing distress, and collapse.
Your veterinarian can test for worms using a feces sample or a blood sample.
Your veterinarian will use the results of worm egg counts to select the most appropriate dewormer for your dog.
Common in
Dogs of any age, gender, and breed are at risk of picking up worms.
Symptoms & types
Any dog that spends any time outdoors is at risk of getting worms, and the symptoms they show depend on the type of worm and how many worms they have. In fact, many dogs have small numbers of worms without showing any signs.
Many worms, including roundworms and tapeworms, can cause gut symptoms like vomiting, diarrhea, and blood in the stools. They might also cause your dog to be hungrier than usual or lose weight. Dogs with large numbers of worms or those who have had worms for a long time might develop dehydration, anemia, or nutritional deficiencies. Rather than being 'bright-eyed and bushy-tailed,' they may start to look like they're not thriving, with a poor, dull coat, wasted muscles, and a pot-belly. A large worm burden in the gut can occasionally cause a blockage, which can be very serious.
Compared to the majority of worms, heartworm is a little unusual. Rather than being within the gut, heartworms enter the bloodstream. They can cause severe damage to the heart, lungs, and blood vessels and cause symptoms like coughing, reluctance to exercise, breathing distress, and even collapse or death.
Many dogs have small numbers of worms without showing any signs.
Understanding the diagnostics
You might assume that if you can't see worms in your dog's poop, they don't have any. Actually, though, it's not that easy to diagnose worms. Many worms can be diagnosed by examining a feces sample under a microscope, known as fecal flotation or a worm egg count. This is why your veterinarian will request regular stool samples from your dog so that they can use this information to prescribe the most appropriate de-wormer.
Heartworms are a little trickier to diagnose since they won't show up in a stool sample. To diagnose heartworm, your veterinarian might recommend a blood test, ultrasound scan, or x-ray.
You might assume that if you can't see worms in your dog's poop, they don't have any. Actually, though, it's not that easy to diagnose worms.
Learning About The Causes
So, what puts your dog at risk of getting worms? And what can you do to reduce the risk? Firstly, most puppies are born with worms since roundworms are often passed on from their mother. So, it's impossible to remove the threat of worms altogether. They can also pick up roundworms from the environment, especially in areas where dogs are walked frequently because infected dogs will pass eggs in their poop. Eating raw meat can also prove risky since it could be infected with various parasites.
Tapeworms are spread via fleas, and dogs can get tapeworms from eating fleas or from scavenging animal carcasses that are infected. And these aren't the only worms spread by creepy crawlies; heartworm is spread by mosquitos. When an infected mosquito feeds from your dog, it passes the heartworm larvae into your dog's bloodstream. Once the adult worms develop, they often congregate within one of the heart chambers.
It's impossible to remove the threat of worms altogether.
Best Treatment Options
If you want to reduce the likelihood of your dog getting worms, there are a few measures you can take. Firstly, keeping up to date with flea control should prevent them from consuming fleas infected with tapeworm. However, they'll still be at risk of tapeworm if they scavenge on wild animal carcasses. You should also ensure you always pick up your dog's poop. Any eggs within their poop will infect the environment, making them more likely to become reinfected. Picking up their poop while out and about will also reduce the risk that other dogs will catch worms.
Even if you do all you can to reduce the risk of worms, your dog will still need de-worming regularly. Different de-wormers are available to treat specific worm infections. Your veterinarian will be able to choose the right one depending on your dog's fecal flotation results. It's also best to protect your dog against heartworm by using a preventative regularly. If you are concerned that your dog has any kind of worms and needs treatment, speak to your veterinarian right away.
Summary
Worms are very common in dogs, but thankfully de-worming treatments are very effective. So, speak to your veterinarian today about how they can help keep your dog safe from these nasty parasites.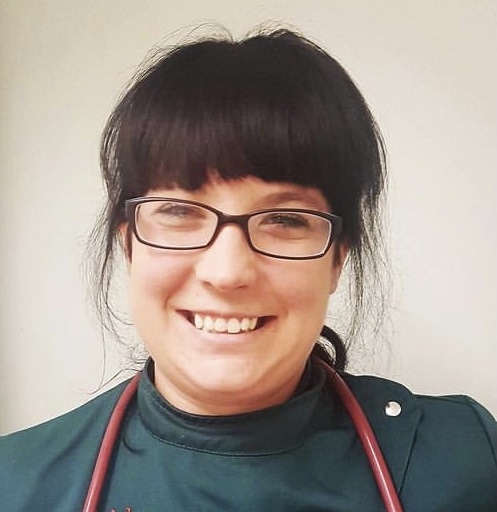 Dr. Hannah Godfrey MRCVS graduated from the Royal Veterinary College in 2011. Although she initially worked in mixed practice treating all species, she found a love for small animal work and has worked exclusively with dogs and cats since 2014. She lives in Wales with her partner, son, and two cats (named Poppy and Ashton Kutcher), and writes comedy fiction in her spare time.