Can dogs be on the beach in Florida?
While dogs aren't allowed on many of the main beaches in Florida, especially not off-leash, wherever you go along the Atlantic Coast and the Gulf of Mexico within the state you will find stretches of beach designated as "dog friendly."
This generally means fenced-off areas of the beach where dogs are free to roam off-leash under the supervision of their owners.
Looking for a dog-friendly beach near you? Check out this list of our favorite beautiful dog-friendly beaches in Florida.
1. Bark Beach, North Beach Oceanside Park, Miami
8232 Collins Avenue, Miami Beach, FL 33140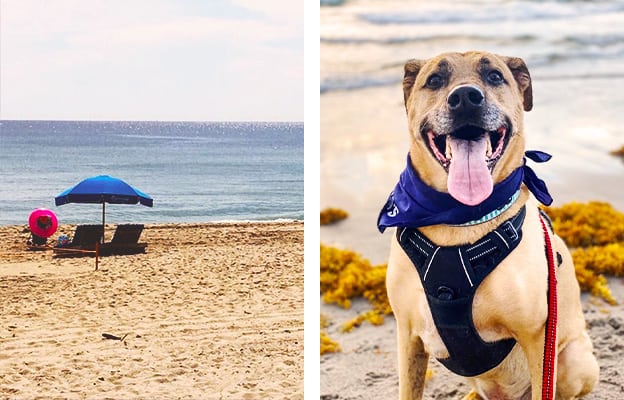 Photos by Brianna G., Tim S. / Yelp
While Bark Beach is only open to dogs Friday through Sunday from 1.30-5.30pm, this just makes this the perfect time to take your pup down to the beach for a play.
Dogs are allowed off-leash as long as they are supervised, and there is also a nearby green, grassy park where your dog can join you on-leash and play in smaller off-leash, fenced sections.
2. Brohard Paw Park, Venice
1600 S Harbour Dr, Venice, FL 34285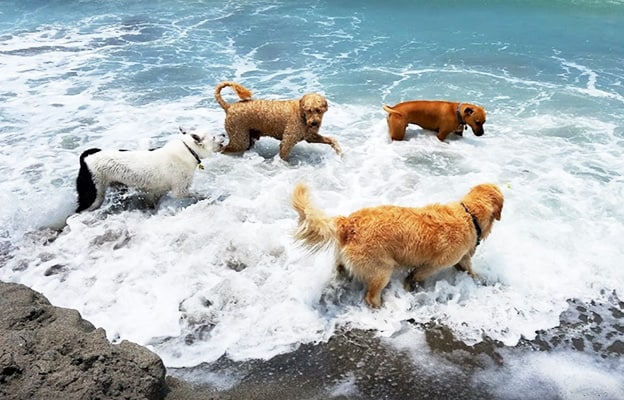 This dog-friendly beach, which your pup is free to enjoy off-leash, is refreshingly well-equipped compared to many of the beaches open to dogs in Florida.
You will find both canine and human drinking fountains, doggy showers, fire hydrants, leash posts, picnic tables, and of course plenty of sand, surf, and space to stretch their legs and play.
1002 Severn Avenue, Tampa, FL 33606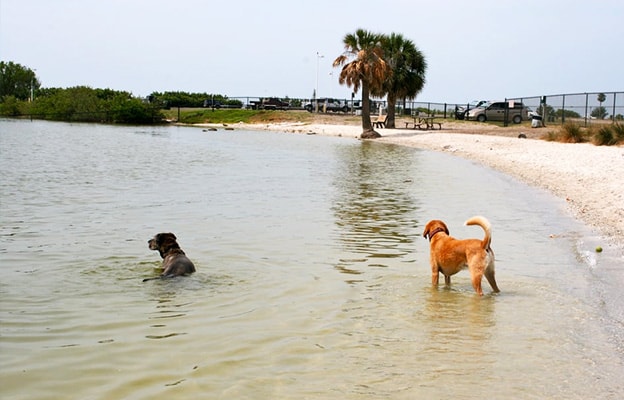 Photo by Rachel W. / Yelp
This beach has a bit of everything, with grassy areas meeting the sand then descending into crystal blue waters.
About one acre encompassing 200 feet of waterfront is available for your dog to roam off-leash. There is no seating available, so bring a chair or towel if you are staying for a while.
4900 N Surf Rd, Hollywood, FL 33019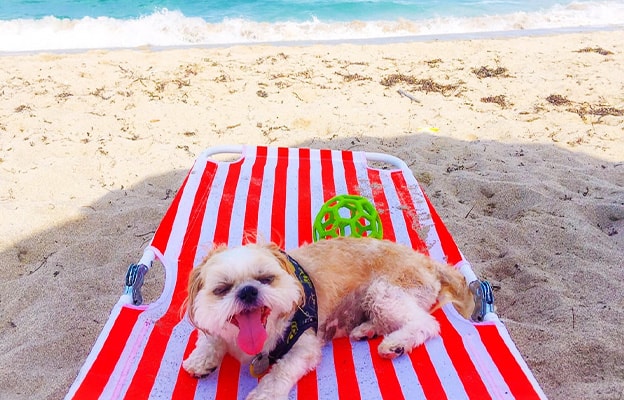 Photo by Rachel M. / Yelp
This is a popular beach for both humans and pups, so it has specific dog-friendly hours, usually on weekend afternoons, so that everyone can enjoy the beach the way they prefer.
This beach follows many of the same rules as dog parks and is monitored during canine hours by a park ranger. Your dog will need to be registered to get access to the beach, and you need to clean up after your pup and maintain control of them at all times.
3500 Pinellas Bayway S, Tierra Verde, FL 33715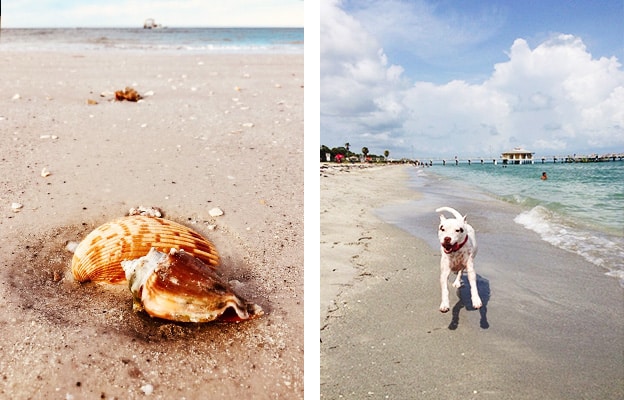 Photos by Jess M., Shannon O./ Yelp
Fort De Soto Park covers seven miles along the glorious white sandy beach and contains two designated areas where your pup is free to roam off-leash under supervision.
The park is fully equipped for a day out for the whole family, with a variety of playgrounds, picnic shelters, and restroom facilities.
10800 Collins Avenue, Miami Beach, FL 33154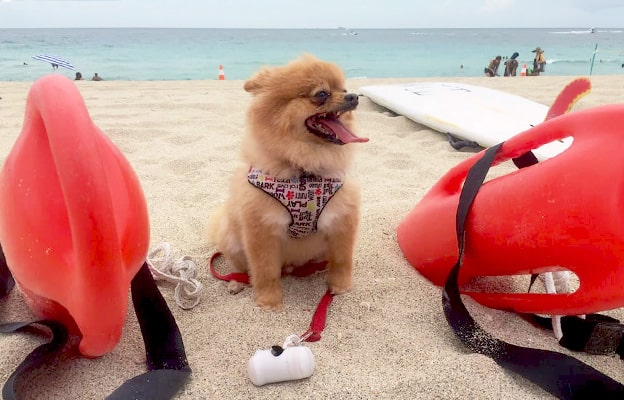 Wedged between the Atlantic Ocean and the Intracoastal Waterway, this is a 177-acre park that both humans and dogs will love.
There is an off-leash section for dogs called the Bark Park, which sits between the second and third lifeguard towers. There are separate fenced areas for small and large dogs to play freely.
3501 Rickenbacker Cswy, Key Biscayne, FL 33149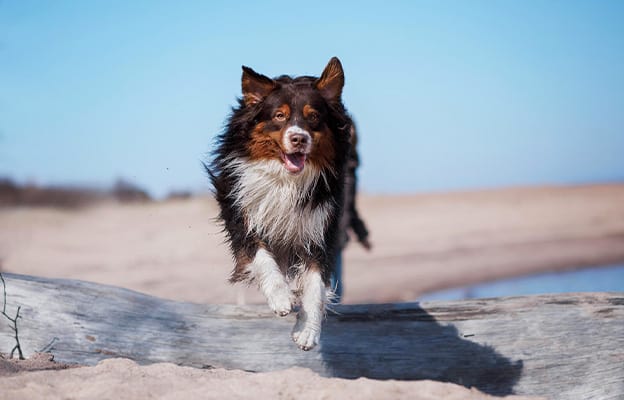 This is one of the few dog-friendly beaches that you will find in Miami-Dade county, where your dog is free to run around in the surf and sand off-leash.
The beach is accessible all day from sunrise to sunset, and there are plenty of shady, chill spaces available as well as sun. Parking is generous and free.
7404 Picnic Island Blvd, Tampa, FL 33616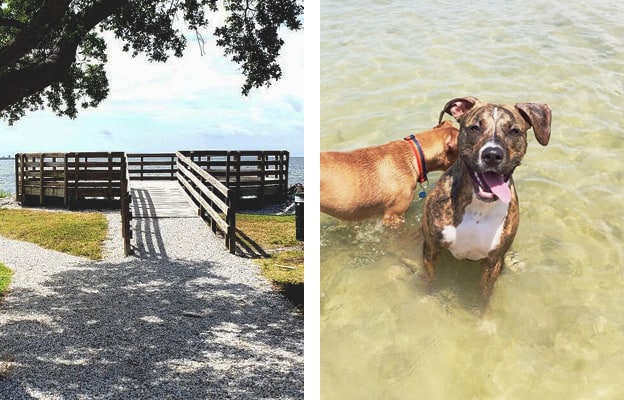 Photos by Chrystal H., B. M. / Yelp
This beach is a little off the beaten path, but that just means you are more likely to find that you have the sand and sea all to yourself for a few hours. Also, the parking is free.
Dogs are welcome to play off leash on this beach, but be aware that the area is not fully fenced, so you'll want to keep an eye on your dog at all times. There is a hose available so you can rinse the sand and salt off your pup and yourself before getting back into the car.
615 Channelside Dr, Tampa, FL 33602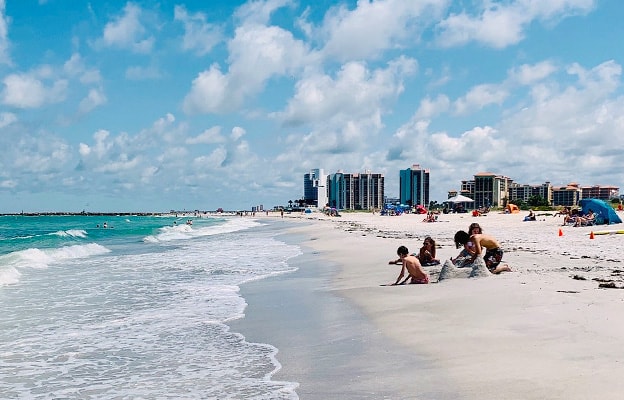 Photos by Michele B. / Trpadvisor
If you want to take your dog to Clearwater beach, you will be disappointed. They are excluded from many of the beaches; however, there are some areas, such as North Beach, where you can take your dog while on a leash.
The exception is nearby Sand Key Dog Park in the Clearwater area, which has separate fenced-off, off-leash areas for small and large dogs, each with its own facilities.
Choosing a dog-friendly beach means you will usually find yourself in a place with sand and surf, as well as access to shade and fresh drinking water. But these aren't the only things to consider when taking your dog to the beach.
Pack a leash (even if the beach is dog friendly, they may need to enter and exit on a leash)

Bring poop bags (you will be expected to clean up after your dog).

Teach your dog to swim.

Invest in doggy sunscreen (

never use human sunscreen

).

Watch out for hazards for their paws in the sand and rocks.

Bathe your pup after a day at the beach.