Ringworm in dogs is a fungal skin infection that can cause hair loss, rough skin, brittle nails, and occasionally itchiness. Once confirmed, ringworm can be treated with medicated shampoo or oral medicine.
Severity:
Moderate
Key points
The scientific name for ringworm is dermatophytosis.
Ringworm is caused by a fungal infection of the skin and hair follicles. It can sometimes affect the nails too.
Dogs can be asymptomatic carriers of ringworm, passing on the infection to others.
Cats are often the original source of ringworm in multi-pet households
The most common dermatophytes affecting dogs are zoonotic, meaning that they can also infect humans and other animals.
Common in
Any dog can get ringworm. It's especially common in dogs who are young, old, immunocompromised, and those who live with cats.
Symptoms & types
If your dog has ringworm, there are a few things you might notice. The first sign of a ringworm skin infection is usually a circular bald patch, hence its name. However, just because your dog's hairloss doesn't form a circle or a ring doesn't mean the cause isn't ringworm; the bald patch can be any shape. Ringworm isn't usually an itchy condition but opportunistic bacteria can cause infection, which can be very itchy. Depending on the severity and how long your dog has had ringworm, you might notice that their skin is scaley or scabby and red or inflamed.
The first sign of a ringworm skin infection is usually a circular bald patch.
Ringworm isn't the only cause of skin lesions in dogs. If your dog has red spots on their belly, you can find out more about this here or you can find out more about dog skin problems in general here. Ringworm can also infect the nail bed. If this is the case, you might notice that your dog has brittle claws that are rough and crumble or break easily.
It's not just dogs; ringworm can cause symptoms in other animals and people, so you should carefully check your furry and non-furry family members. If you, your family, or your other pets have symptoms, you should visit your veterinarian because ringworm might be the cause. However, some animals can carry ringworm with no signs, and these asymptomatic carriers can spread the condition to others.
Understanding the diagnostics
In order to decipher ringworm from other causes of hair loss or inflamed skin, your veterinarian will need to do some tests. First, they will examine your dog from head to tail to check for any other signs of illness. They'll have a close look at your dog's skin and nails to find clues about what's causing the symptoms. If the veterinarian suspects ringworm, they might use a special UV light called a 'wood's lamp' to check for the signs of ringworm. However, the wood's lamp won't show all types of ringworm, so the mobile veterinarian will probably take a few samples to send to the lab for testing and culture to confirm. A few plucked hairs or coat brushings are usually sufficient, but they might take extra if they want to rule out other issues, like mites or other parasites. If they have concerns about your dog's overall health, they might recommend a blood test.
Despite its name, ringworm isn't caused by a worm or any other parasite for that matter!
Learning About The Causes
Despite its name, ringworm isn't caused by a worm or any other parasite for that matter! Ringworm is caused by a group of fungi called dermatophytes; hence the scientific name for it is dermatophytosis. There are different groups of dermatophytes that cause ringworm, and some will pass between species, while others will only affect one species. Unfortunately, the most common dermatophytes in dogs are zoonotic, meaning that they pass between dogs and humans. Cats, especially Persians, are particularly prone to ringworm and are often asymptomatic carriers. This means that if your cat has ringworm but isn't showing any signs, they can still pass it on to your dog or other pets and humans in your family. You can find out more about ringworm in cats here.
Once your dog has ringworm, it takes time and commitment to cure it.
Best Treatment Options
Once your dog has ringworm, it takes time and commitment to cure it. However, some measures can help clear the fungal infection more quickly and prevent infection of other pets. First, your veterinarian may prescribe a medicated shampoo or an oral medicine for your dog. Often, both are used in combination to speed up recovery and reduce the number of spores in the environment. Your veterinarian might also recommend clipping your dog's fur to help the shampoo reach the entire skin and coat. If your dog has a secondary bacterial infection, they might need a course of antibiotics too.
To try to prevent re-infection or infection of other animals, you should remove spores from your home environment by vacuuming regularly and washing bedding and other removable soft furnishings.
You may have to bring any other pets for an examination or ringworm testing in case they are also carrying the infection. If any humans in your family have skin rashes, you should contact your doctor for advice.
Conclusion
It's important to know the signs of ringworm so that you can keep an eye on your pets and keep your human family safe too. Ringworm infection can vary in how it looks, so if you're unsure, you should speak to a veterinarian. Once caught, ringworm can be frustrating and time-consuming to treat, so noticing the signs early will help get them on the road to recovery as soon as possible.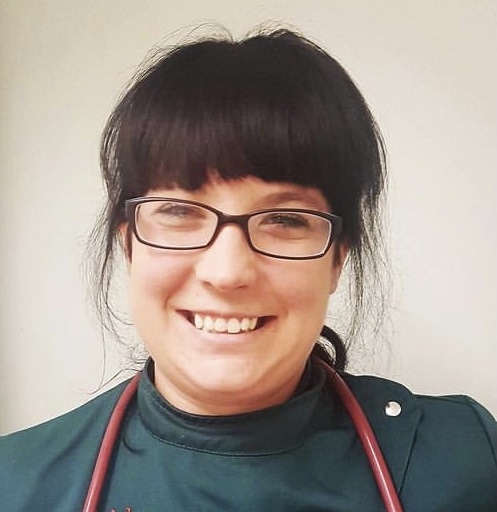 Dr. Hannah Godfrey MRCVS graduated from the Royal Veterinary College in 2011. Although she initially worked in mixed practice treating all species, she found a love for small animal work and has worked exclusively with dogs and cats since 2014. She lives in Wales with her partner, son, and two cats (named Poppy and Ashton Kutcher), and writes comedy fiction in her spare time.